Forward Into Light: How Women Are Reshaping Politics and Power
A'shanti Gholar refuses to call it "The Year of the Woman."
"This is a movement," she declared to NWHM when asked about the 2018 elections, in which historic numbers of women ran for office and won. "This is the result of recruiting and training women to run for office and them taking their seats at the table. This is what a power shift looks like."
Gholar facilitated that power shift as the president of Emerge, an organization that recruits and trains Democratic women to run for office in order to "change the face of politics." Two years later, that mission is still underway: According to an analysis by the Center for American Women in Politics (CAWP), 583 women vied for seats in the U.S. House in 2020, besting the 2018 record of 476, and 60 women ran for Senate, seven more than 2018's historic 53. Kamala Harris' own barrier-breaking vice presidential bid ran parallel to the campaign trails of an unprecedented 130 Black women, 75 Latina women, 41 Asian women, 16 Middle Eastern or North African women, and 18 Native women who ran for Congress in 2020.
Despite these victories, women have a long way to go to achieve equal political representation. According to CAWP, women held only 23.7 percent of Congressional seats in advance of the 2020 elections, and only 28.9 percent of elected state executive offices and 29.3 percent of state legislature seats.
The work is far from over. Luckily, the women paving the way for these historic gains show no signs of slowing down.
Emerge's in-depth training program provides cohorts of Democratic women with "a total comprehension of what it takes to run for office and a plan for when they start to run." Through 29 state chapters, Emerge has supported thousands of women candidates since its 2002 founding—but Gholar's team is not alone in pushing more women into the political pipeline on either side of the aisle.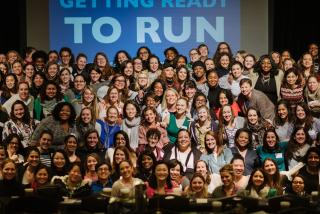 EMILY's List, founded in 1985 to provide Democratic, pro-choice women with the financial strategies and support necessary to build viable campaigns, also paved the way for the 2018 boom. "For too long, the so-called establishment has failed to recognize women for the leaders we are, even when discussing issues that impact women," President Stephanie Schriock told NWHM. "We're working to change that." Through its Run to Win program, EMILY's List offers strategic resources and connections to women candidates and "reminds them that they are a powerful voice for so many others."
After her own campaign ended in 2018, Liuba Grechen Shirley expanded the movement by founding Vote Mama in 2019, an organization that supports Democratic moms with young children running for office. "When you run for office as a woman, you already face different obstacles. People don't take you as seriously," Grechen Shirley shared with NWHM. "But when you run as a woman with young children, donors don't take you as seriously, the press doesn't, voters don't."
When Vote Mama endorses candidates, they pair them with a mentor and plug them into a community of like-minded mothering politicos, in addition to providing them with strategic and financial support. Vote Mama also advocates nationwide for policies allowing campaign funds to be used for childcare. After Grechen Shirley demanded as much during her campaign, nearly 50 parents running for federal office have benefitted, and nearly 20 states have opened doors for candidates down the ballot to do the same.
Across the aisle, Ann Schockett advances women's representation in GOP politics as president of the National Federation of Republican Women (NFRW) and overseer of its network of state and local clubs nationwide. Schockett was called to the work from the campaign trail: After she became the youngest GOP woman elected to a New York state committee, she "kept on going to more and more political meetings" and realized "there weren't many women in the room."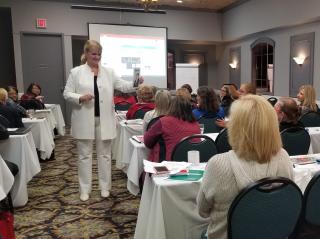 Now, Schockett encourages women to take up more space in the party. Founded in 1938, NFRW launched its full-day Campaign Management School in 1978 to offer Republican women a deep dive into "the fundamentals of a winning campaign," from opposition research to fundraising, media, and get out the vote (GOTV). "I've experienced myself, firsthand, how politics is about bettering our communities," she explained, "and by bettering the opportunities of responsible women who traditionally have not had that seat at the table, we're always forging new opportunities and better opportunities for our daughters and our granddaughters—for other women."
The movement to encourage women to run has also taken shape beyond the two-party system. "Being for women's representation does not hold party lines," Jarinete Santos, the political pipeline director for She Should Run—an organization founded in 2011 that aims to invite 250,000 women to run for office by 2030—told NWHM. "Because there are so few women [in politics], we expect them all to share ideas and share positions, when the reality is that women come from varied perspectives, varied ideas, varied expertise. There should be enough women in a room to disagree with one another."
Erin Vilardi echoed the sentiment in an interview with NWHM. In 2011, Vilardi co-founded Vote Run Lead (VRL), a nonpartisan organization that fueled many Election Night victories in 2018, "with a very diverse group of women" across lines of geography, age, experience, and racial representation, which led to "a healthier and more robust perspective to how we do our work."
Dr. Anne Moses wants to see women bucking the parties altogether. After working at EMILY's List and running Emerge, she also realized that younger women needed to be encouraged to run. "We need fresh perspectives and people who are willing to say: 'I know this is the way it was always done, but maybe we should question it,'" Moses told NWHM. "I think the system needs a lot of shaking up." Moses launched Ignite in 2010 to cultivate political ambition among girls in grades K-12 and collegiate women through mentorship and nonpartisan political leadership programs.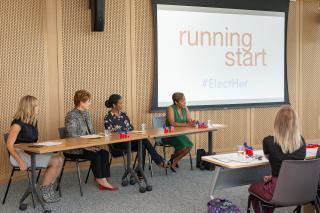 Another organization that works with young women is Running Start, which offers week-long sessions for high schoolers, an annual Congressional Fellowship program, and its cornerstone program, Elect Her. "We will have your student body president or your student body vice president come in and tell you: These are the constituencies you need to know about, this is how I won my election," staff assistant Serena Saunders explained to NWHM. "We also bring in local elected officials [...] usually, the women who actually represent that school or nearby areas." Running Start was founded in 2007 and launched Elect Her in 2009; it has since trained women in 40 states and four countries at over 100 schools.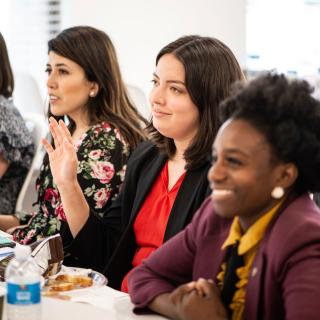 The "pink wave" of women interested in running for office after the 2016 election infamously led to an overwhelming demand for these programs. She Should Run launched its online incubator, which helps women navigate running for office, in the fall of 2016. "We thought it'd be really great if we could get a few hundred women," Santos remembered. "By the end of the year, we were just shy of 5,000 women wanting to join." Over 10,000 more signed up over the next two years, including 130 who later ran in 2018.
That surge has not subsided. "We called it the 'Hillary Bump,'" Schriock said of the 60,000 women who signed up with EMILY's List in the wake of Clinton's 2016 loss, "but after the results of that election, women protested, women marched, and then women decided to run."
It wasn't a wave, Schriock explained. It was "a sea change for women in politics."
Women are more likely to doubt themselves and even be discouraged from pursuing office. Being prodded into the pipeline is how many women's campaigns begin, and recruitment has been a major and consistent focus for these organizations. These days, however, many women don't need the extra encouragement.
"A lot of the programming was around getting women to say yes," Vilardi remembers of VRL's work prior to 2016. Afterward, "instead of leaving the training like, 'Okay, I think I might run in a few years,' women were leaving the training going, 'Okay, I need a step-by-step plan.'"
In response to this transformation, VRL partnered with NationBuilder to help women find open seats in their community, organized a 20-city training across America, and grew their network of certified trainers to 120 people in 37 states. Seeing that young women no longer wanted to wait to run, Ignite took similar action and launched an online series called "Run Now."
Four years later, the coronavirus pandemic has upended the political landscape—but this movement has not faltered. Instead, it has taken new shape. In a virtual series called "Campaigns Through Crisis," Emerge helped women grapple with running from a social distance. NFRW launched a free course on campaigning without direct contact called "Let Your Fingers Do the Walking" and re-envisioned their Campaign Management School as a video series. Vote Run Lead moved their standard programs online and released new video seminars on virtual fundraising. Ignite trained 2,500 young women online during nearly 100 digital sessions and began hosting virtual forums for alumni. Running Start convened Elect Her cohorts of students from across the country. EMILY's List added materials about digital campaigning to their virtual Run to Win resource library.
These tales of transition prove that organizations equipping women to run for office still play a critical role in women's political journeys, because they offer empowerment that would-be candidates won't find anywhere else.
It often begins with a quick civics lesson—likely the first many attendees have received that's taught by experts who look like them and in their own language.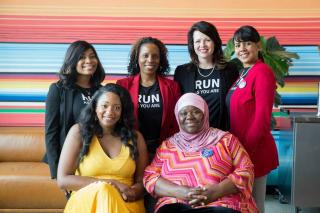 Vote Run Lead uses a community organizing model to ensure that the cohorts they convene and the panels they host are representative of the communities in which its events are based. Ignite uses social justice issues about which young women are passionate to encourage them to run, connecting the dots between their experiences and the power of government.
"If you can then connect those issues to who gets to make that decision," Moses explained, "then the light bulb goes on: '…I don't want that guy elected. I need to vote. I need to be that guy.'"
Facilitators also walk women through what public life looks like—warts and all. "We pull the curtain back and say: Here's what the experience is of women who are currently serving in elected office," Santos explained. "We all are going to have different sexist barriers [...] We help highlight what those are and prepare women to navigate them well."
Education and skill-building are critical, but the most powerful resource these programs offer is community. "The key is that ongoing network of support," Gholar noted. "They walk away with like-minded women who support them, who will be going through the same thing, that they can call when they're having struggles—women who will be their campaign manager, their press secretary, a part of their kitchen cabinet."
Women will also be a lifeline. "They run knowing that people are going to criticize the way that they look, the way that they dress, the way that they talk, spending time away from their family," Gholar added. "And they know that they have a network that is 4,000-strong of people who will support them."
Conversations with moms in public office kept Grechen Shirley afloat during her campaign; now, she pays it forward for Vote Mama candidates. The team even works on "mom time" to provide them with necessary support: "We will fall asleep putting our children to bed, and then we all are, in the middle of the night, working. We're texting with candidates at two, three o'clock in the morning."
"We know the candidates because they are us," Schockett shared when celebrating NFRW's network. "It's my family. It's my neighbors. It's my community."
The name of Vote Run Lead's training program—Run As You Are—sums up much of the magic that women leading this movement bring to the campaign trail, and to public life in general. "That has been so emotionally resonant for women," Vilardi observed. "They want to bring their full selves to this. They are not interested in shaving off parts of themselves to run for office."
"We've seen our candidates worry less about not breaking the 'rules' for women candidates and running as themselves more than ever before," Schriock echoed. "We believe our government and our campaigns are better for getting to see women as their authentic selves."
"There is no 'You're not this enough, you're not that enough, you're not viable enough.' You just don't get that at Vote Run Lead," Vilardi added. "You get: We've been waiting for you, and we already love you."
"The first time I talked to [Georgia State House candidate] Rebecca Mitchell, she had four babies in a creek," Grechen Shirley remembered. "She was literally doing the interview with four babies, and they're walking around a creek." Grechen Shirley has also spoken to candidates fighting back tears, and she's watched her community rally around moms in moments of doubt. "You know, a lot of men have that old boys' network—the people to reach out to and to talk to," she explained. "We're building the mama's network."
The women who emerge from those networks become pioneers. They bring new models of leadership to life. They run, win, and serve like women. "Women are incredible multitaskers," Schockett observed. "They can not only see what's needed, they can act upon that—and do 25 other things at the same time [...] There is no greater reward than to really serve and to be able to get done what needs to be done, in the way that a woman knows how to do it."
"This system was built for straight white men," Gholar noted. "Every time that we show up, we are letting them know that the system has been disrupted. And with the work that we do, we're letting them know that we're going to disrupt the system some more."
Women are ready to continue that disruption. "We are fueling our own candidates," Vilardi explained. "There's a lot of anecdotal evidence that women candidates are getting boatloads of money from women, who are donating more [...] Our political capital as donors is very clear. Our political capital as volunteers is very clear."
"When women tap into their power and influence," Schriock declared, "the sky's the limit."
The energy and optimism women candidates from these programs embody are contagious. "It is this almost self-fulfilling prophecy: The more I do to help women, the more women get elected, and then I want to help more women," Vilardi explained. "There is a quiet and consistent energy for feminist leadership."
"I can't tell you how many moms came up to me after my campaign and said: You know, I saw you doing this with a baby on your boob, and I figured I can do the same thing," Grechen Shirley recalled. "When you see other people who look like you running for office, you think, I can do it. If she can do it, I can do it too. And that's who steps up and runs."
CAWP director Kelly Dittmar once declared, "When women run, we all win." And when women candidates run as they are, women everywhere find the courage not only to step off the sidelines, but to bring their whole selves to the fore for the first time.
"Young women who come from an adverse background—with a lot of poverty or community trauma or family issues—they've used those things as the thing that they have to hide and disqualifies them from office," Moses has noticed. But instead of obscuring the tough stuff in shame, Moses encourages women to celebrate how thorny experiences have shaped their lives and their politics. "The minute you do that reframe—that the thing you're trying to hide is the thing that qualifies you to serve—it pulls them out of the shadows."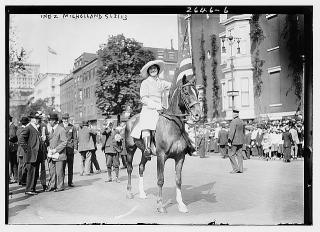 Suffragist Inez Mulholland once held a banner that declared, "Forward out of error / Leave behind the night. / Forward through the darkness, / Forward into light." It foreshadowed what thousands of women have since realized—that we must carry the country forward together, as only women can.
---
Carmen Rios is a feminist writer and broadcaster who has spent the last decade telling feminist stories. Her work has been published by platforms including Ms., Autostraddle, BuzzFeed, Bitch, CityLab, DAME, Everyday Feminism, Feministing, GirlBoss, SIGNS, and the Women's Media Center. Follow her at @carmenriosss.