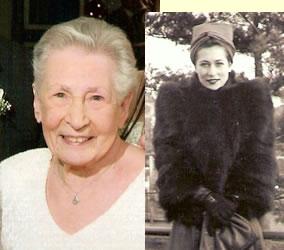 Father
Jack Berman
Mother
Anna Pollack
Spouse
Herbert Eyth
Children

Joan Kahn

Lois Byalick

Education
Lincoln High School, Brooklyn, NY 1938
Awards

Her awards are not the tangible ones that you see hanging on people's walls. Her honors are the love and respect of those who know her.

Interests and Hobbies

Her interests always centered around her home and her family.

Societal Contributions

She studied to become a braillist and produced many volumes of Braille books for people to enjoy. She was always busy every summer working on textbooks for blind school children so they would be ready for September.

Additional Comments

Rhoda is a wonderful grandmother, much loved by her 6 grandchildren. My sister and I learned the fine art of grandparenting from watching our parents with our children. Thank you for that gift. She is now a wonderful great-grandmother as well.

My mother Rhoda Eyth will never be written about in history books. She is not a movie star or a Nobel prize winner. Her's is not a life that inspires TV movies. Her's is simply a life well-lived. She grew up in a home that didn't always provide the safety and stability that children need, but managed to grow up sane and strong. When she was 14 she met my father, playing ball in the schoolyard. It took courage to maintain this relationship, as they are from different religious backgrounds. When WW II started my father enlisted in the Army. She went to SC where he was stationed to marry him. She was one of those strong women who carried on at home while her husband went to war. She always made due, never asking for much. She provided the safe, stable home for her children that she never had.