Mary Ruthsdotter
Fairfield, Iowa | October 14, 1944 - January 8, 2010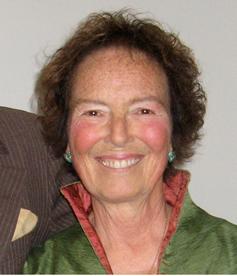 Spouse
Dave Crawford
Children
Alice
Her Story

Mary Ruthsdotter, women's rights activist and longtime Sonoma County resident, died January 8 at age 65. Born in Fairfield, Iowa on October 14, 1944, she traveled extensively in her youth as part of a military family. She lived in places as far-flung as Cherry Point, NC and Taipei, Taiwan. Ruthsdotter is survived by her husband of 46 years, Dave Crawford of Sebastopol, her mother Ruth Moyer, Santa Rosa, her daughter Alice, son in law Geoff and grandsons Marcus and Ian, all of Sydney Australia, as well as numerous relatives and friends.

Ruthsdotter was a founder of the National Women's History Project (NWHP), past chair of the Sonoma County Commission on the Status of Women, an aide to state Assemblywoman (now State Senator) Pat Wiggins and a supporter and confidante to numerous progressive causes and politicians including Congresswoman Lynn Woolsey.

Ruthsdotter moved from Los Angeles to Sonoma County with her husband and daughter in 1977, attracted by the pristine environment and slower pace of life. After living in Windsor and Santa Rosa, she and husband Dave Crawford among the founders Two Acre Wood cohousing community in Sebastopol, where they have lived as active members for the past 10 years.

Mary was dedicated to women's history and feminism, changing her last name in 1981 to Ruthsdotter, a name she created in honor of her mother Ruth Moyer. She infused her political work with infectious enthusiasm, organizing an annual women's history parade in Santa Rosa in 1979 which grew to include school marching bands and hundreds of participants.

While active on the Commission on the Status of Women, Ruthsdotter also organized the Women's Support Network, a non-profit organization, which sponsored the women's history parades, as well as Brown Bag Readers' Theatre, Women's Voices News Journal and, for several years, the National Women's History Project.

During her 15+ years on the staff of the NWHP, Ruthsdotter traveled around the country making presentations, training teachers and lobbying for the inclusion of women's accomplishments into our nation's history. The Project designated National Women's History Week in March, 1980, and prevailed on President Ronald Reagan to place March as National Women's History Month on the US calendar. Ruthsdotter was instrumental in the conception, research and writing of numerous posters, publications and multi-media resources published by the NWHP during her tenure there. She also created and diligently maintained the Women's History Network, an affiliation of women's history enthusiasts, educational equity officers and educators across the country. She constantly wowed people with her encyclopedic recollection of women's historic details.

In 2006-7, Ruthsdotter saw a longtime dream or hers come to fruition when, at her urging, Sonoma State University undertook a project to document the phenomenal early history of feminist activity in Sonoma County from the 1960s-1980s. Mary conceived and inspired the idea and worked with Michelle Jolly (professor of history at Sonoma State University) who mobilized students in her classes to begin the work of gathering the stories.

In the first 18 months of work, members of the project conducted 49 interviews with activists, began to index coverage of women in the Santa Rosa Press Democrat, analyzed the annual reports of the Sonoma County Commission on the Status of Women, and put together the first presentation of the project.

Ruthsdotter was active in Sonoma County politics, and served for 3 years as an aide to State Assemblywoman (now State Senator) Pat Wiggins. She has been a constant advocate and supporter for qualified women running for office.

Following her retirement in 2004, she was diagnosed with multiple myeloma. She successfully fought and contained this disease, but developed congestive heart failure in late 2009 and died suddenly at Kaiser Santa Rosa as she walked around the hospital unit in preparation for her discharge.

According to her longtime friend Trynn, "It was Mary's mission in life to always have friends around. The cohousing concept was in her blood from a very young age. She knew there would always be people to have dinner with and to be there for each other." She never passed up the opportunity for a good conversation and cohousing dinners provided that opportunity. The Two Acre Wood community became her extended family and is feeling the loss of one of their staunchest members.

One of Mary's greatest pleasures after her retirement was to work in the cohousing landscape almost every day. Her daughter Alice said, "When I think of my mother, I think of the deceptively simple Buddhist maxim to 'let a thousand flowers bloom.'"

Her friends remember her as a loyal friend and a playmate that was always up for anything. Her continuous thirst for knowledge made her a resource to all – especially for anything to do with women's history. Ruthsdotter's joie de vivre included winning ribbons at the county fair for grapevine pruning, riding any roller coaster she encountered, traveling the world visiting 5 continents, and always making time for family and friends.

To her daughter Alice, "my dear mother was an amazing gal, kick-ass activist, friend, maker of fun, spreader of wisdom – a truly remarkable rare bird indeed.