Maj. Gen. Charles F. Bolden (USMC, Ret.)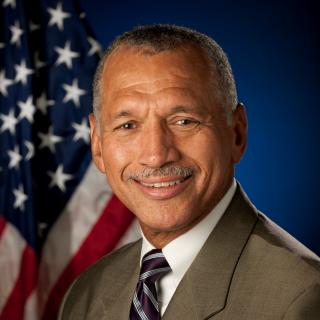 Charles F. Bolden Jr. was selected as an astronaut in 1980. During his 14 years as an astronaut, the South Carolina native logged more than 680 hours in space during four space shuttle missions, twice as commander and twice as pilot. His missions included deployment of the Hubble Space Telescope, the first SPACELAB "mission to planet Earth" to study our atmosphere, and the first joint U.S.-Russian shuttle mission, which featured a cosmonaut as a member of his crew. In 1994, Bolden returned to operational duty in the Marine Corps, retiring as a Major General after 34 years of service. He has received many honors including the Defense Superior Service Medal and the Distinguished Flying Cross and was inducted into the U.S. Astronaut Hall of Fame in 2006. In 2009, Bolden was nominated by President Barack Obama and confirmed by the Senate as the twelfth NASA Administrator, leading the space agency in its vision to reach for new heights and reveal the unknown for the benefit of humanity. Bolden retired as NASA Administrator on Jan. 20, 2017.
A resident of Alexandria, Va., Bolden was born Aug. 19, 1946, in Columbia, S.C. He is married to the former Alexis (Jackie) Walker of Columbia, S.C. The couple has two children: Anthony Ché, a colonel in the Marine Corps who is married to the former Penelope McDougal of Sydney, Australia, and Kelly Michelle, a plastic surgeon at the Howard University Hospital in Washington, D.C.
Bolden graduated from C. A. Johnson High School in 1964 and received an appointment to the U.S. Naval Academy. He earned a Bachelor of Science degree in Electrical Science in 1968 and was commissioned as a second lieutenant in the Marine Corps. After completing flight training in 1970, he became a Naval Aviator. Bolden earned a Master of Science degree in systems management from the University of Southern California in 1977.
Bolden flew more than 100 combat missions in North and South Vietnam, Laos, and Cambodia, while stationed in Namphong, Thailand, from 1972-1973. In 1978, he was assigned to the Naval Test Pilot School at Patuxent River, Md., and completed his training in 1979. While working at the Naval Air Test Center's Systems Engineering and Strike Aircraft Test Directorates, he tested a variety of ground attack aircraft until his selection as an astronaut candidate in 1980.
After his final space shuttle flight in 1994, he left the agency to return to operational duty in the Marine Corps as the Deputy Commandant of Midshipmen at the U.S. Naval Academy. Bolden was assigned as the Deputy Commanding General of the 1st Marine Expeditionary Force in the Pacific in 1997. During the first half of 1998, he served as Commanding General of the 1st Marine Expeditionary Force Forward in support of Operation Desert Thunder in Kuwait. Bolden was promoted to his final rank of major general in July 1998 and named Deputy Commander of U.S. Forces in Japan. He later served as the Commanding General of the 3rd Marine Aircraft Wing at Marine Corps Air Station Miramar in San Diego, C.A., from 2000 until 2002, before retiring from the Marine Corps in 2003.