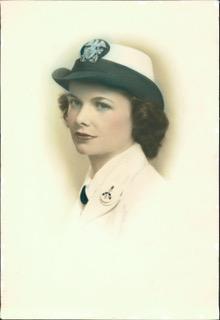 Her Story
Lt. Jane Reilly USNR — later Jane Reilly Slattery — was one of the first female commissioned officers in the United States Navy.  She served during World War II in the WAVES ­— Women Accepted for Volunteer Emergency Service —  a division of the U.S. Navy created to free up male personnel for sea duty.  During the war, more than 350,000 women served in the American Armed Forces, a group of female pioneers who proved that women could do virtually all the military jobs men could do. They were mechanics, pilots, gunnery trainers, engineers, air traffic controllers, code breakers, radio operators, as well as finance and logistic executives. The WAVES  comprised roughly 80,000 of those women; of that number, 8,000 were officers, and Lt. Reilly was one of them.  She served in the Supply Corps based at the Navy Overseas Freight Terminal in San Francisco, California.  There she was part of the effort to source, ship, and account for the vast amount of supplies needed for the war in the Pacific.
      Born in Billings, Montana, in 1918, she was raised in Chicago and attended Loyola University.  She graduated in 1942 summa cum laude, having served as Senior Class President.  Her graduation coincided with the call for women to volunteer in the military.  While women had previously served in various military capacities, Army Nurses, for example, the U.S. Navy was the first to enlist women on equal footing as men – same pay, rankings, and training, plus the same commitment to serve until the end of the war plus six months.  
      As a college graduate, Reilly immediately made rank as an officer.  Her academic resume and her professional work as a bookkeeper for the City of Chicago qualified her for the Navy's elite Officer Training School at  Harvard University.  There she completed coursework the equivalent of a wartime MBA to prepare for the logistical and financial accounting required by the Navy's massive military deployment.
      It was at Harvard that she met her future husband, another Navy officer named Lt. Roger. C. Slattery, a communications specialist who served in the Marshall Islands.  They married at the end of the war.  As was the case for all women who joined the wartime military, she was summarily discharged after the war.  It took only a few short years before the Navy and the other military service corps, recognizing the skills enlisted women had demonstrated during the war, supported the Women's Armed Services Integration Act of 1948, which allowed women to join the permanent U.S. Armed Forces.
      Roger and Jane Slattery were married for 57 years and had seven children and 16 grandchildren.    She died in Los Angeles in May 2002 and received full military funeral honors.