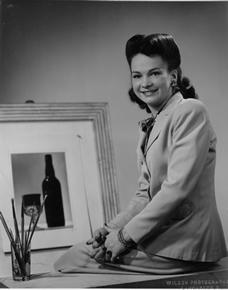 Father
Andrew Joseph Habrat
Mother
Agnus Theresa Lopusnak
Spouse
Bruce Taylor
Children
Stephanie Taylor
Siblings

Joe

Tom

Bob

Ray

Education
Art School, Detroit, Michigan 1938
Employment

President, Gay Fad Studios

In 1938, with a $30.00 investment, Fran Taylor started her own company which would go on to become one of the major forces in glass ware design during the 1940s and 1950s. Today, she has left a great legacy of hand-decorated glassware that collectors are rediscovering

Societal Contributions

The first-born child of a Pennsylvania coal miner, she became head of her own multimillion dollar business. She was one of a handful of professional women at the time. She stepped out from poverty and prejudice and became a brilliant and successful professional.

Additional Comments

She was a colorful, vital and immensely kind person and is remembered fondly by her friends and family.