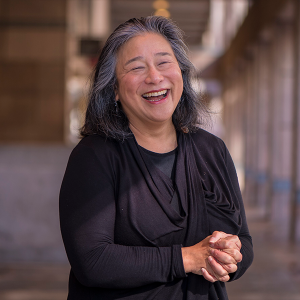 As women around the world speak out against sexual harassment and unfair treatment, Tina Tchen continues to support the movement through her legal activism. Even though she was once the Assistant to President Obama and Chief of Staff to First Lady Michelle Obama, she now serves as the President and CEO of TIME'S UP Now and the TIME'S UP Foundation. Tchen's role is to focus on achieving justice for women on a daily basis.
Tina Tchen was born on January 25, 1956 in Columbus, Ohio. Her parents were Chinese immigrants that moved to Beachwood, Ohio in 1949. Tchen's father Peter completed medical school before relocating, so he became a psychiatrist when he arrived in the United States. Tchen's mother Lily obtained a student visa to attend Syracuse University to study chemistry. Tchen grew up in Beachwood, Ohio, outside of Cleveland and attended Beachwood High School. Upon graduating from high school, she enrolled at Harvard University to pursue her bachelor's degree. She graduated in 1978 and moved to Springfield, Illinois to work as an analyst for the Department of Child and Family Services at the state's Budget Bureau. Tchen also expanded her women's advocacy by serving as the chapter vice president for the National Organization for Women (NOW) in Springfield. After a few years, Tchen decided to return to school and earned her law degree (J.D.) from Northwestern University Pritzker School of Law in 1984.
After graduating from law school she joined the international law firm, Skadden, Arps, Slate, Meagher & Flom. She started as an associate in the Chicago office in 1988, but by 1992 she became a partner at the firm. That year, she successfully argued on behalf of the State of Illinois before the United States Supreme Court in the Artist M. v. Suter case. Tchen continued to work at that firm for several years and handled complex cases from arbitrations to high-profile corporate litigations. Her work on several of these cases came with recognition and many awards. In 1994 she earned Chicago Lawyer Magazine's "Person of the Year." Two years later, she earned the "Women of Achievement" award from the Anti-Defamation League. Tchen also received the Leadership Award from the Women's Bar Association of Illinois in 1999. Although she was very successful, she still faced challenges that inspired her to advocate for women. In a recent interview she said, "my entire career as a practicing lawyer, I was a single mother raising two kids. And I was on a tightrope—I had resources [not available to many women] and it was still hard."[1]
By the early 2000s, Tchen began supporting the campaigns of Barack Obama, who was also working in the legal field in Chicago. During his 2008 presidential race, Tchen became one of his biggest fundraisers. When President Obama was elected, he appointed Tchen as the Director of the Office of Public Engagement. By 2011 she was promoted to Deputy Assistant to the President and Executive Director of the White House Council on Women and Girls. Before long, she was promoted again to Assistant to the President and Chief of Staff to the First Lady. She served in that role until the end of Obama's presidency in 2017. Following her role at the White House, Tchen became a partner at the Buckley Sandler law firm in Chicago and served as the leader of their Workplace Cultural Compliance Practice. While serving in this role, she worked on sexual harassment, diversity, and workplace culture cases. That same year, Tchen and others including as Robbie Kaplan, Fatima Goss Graves, and Hilary Rosen, came together to work on a new way to advocate for women.
By the fall of 2017, women internationally were speaking out against sexual assault and unfair practices in their workplaces. One of the biggest scandals during this time was when Hollywood producer Harvey Weinstein was exposed for using his power to sexually harass and exploit women in the entertainment industry. In response to the public outcry, TIME'S UP launched on January 1, 2018 with an open letter published in the New York Times. This letter of solidarity was signed by 300 women in the entertainment industry. Tchen and her colleagues simultaneously founded the TIME'S UP Legal Defense Fund to connect survivors of sexual harassment with a network of lawyers and resources. She currently serves as the President and CEO of TIME'S UP Now and the TIME'S UP Foundation.
[1] https://www.colorlines.com/articles/qa-tina-tchen-new-president-times
American Bar Association. "Chicago Lawyer Tina M. Tchen to Receive ABA Margaret Brent Award." July 17, 2018. https://www.americanbar.org/news/abanews/aba-news-archives/2018/07/chicago_lawyer_tina/.
Byrd, Ayana. "Q&A With Tina Tchen, The New President of Time's Up." Colorlines, November 1, 2019. https://www.colorlines.com/articles/qa-tina-tchen-new-president-times.
National Archives and Records Administration. "Tina Tchen to Join Office of the First Lady as Chief of Staff." January 5, 2011. https://obamawhitehouse.archives.gov/the-press-office/2011/01/05/tina-tchen-join-office-first-lady-chief-staff.
TIME'S UP Now. "Our Staff: Tina Tchen, President and Chief Executive Officer." Accessed May 15, 2020. https://timesupnow.org/about/our-staff/.
Zraick, Karen. "Tina Tchen, Ex-Obama Aide, Will Take Over Time's Up." The New York Times, October 7, 2019. https://www.nytimes.com/2019/10/07/arts/tina-tchen-times-up.html.
Photo: TIME'S UP Now.
MLA – Alexander, Kerri Lee. "Tina Tchen." National Women's History Museum, 2020. Date accessed.
Chicago – Alexander, Kerri Lee. "Tina Tchen." National Women's History Museum. 2020. www.womenshistory.org/education-resources/biographies/tina-tchen.
Herbert, Ian. "Christina M. Tchen." WhoRunsGov.com. Washington Post, June 23, 2009. https://web.archive.org/web/20090820090158/http://www.whorunsgov.com/Profiles/Christina_M._Tchen.