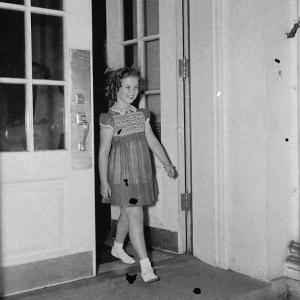 Most Americans know Shirley Temple as the adorable child actor with curly hair who graced movie screens from 1935 to 1938. After enjoying a successful career as an entertainer, Temple dedicated herself to public service, working as a politician and ambassador.
Shirley Temple was born on April 23, 1928 in Santa Monica, California. Her mother was a homemaker and her father worked at a bank. As a child, Temple showed interest in the arts. She loved dancing and singing. In 1931, her mother decided to enroll her in dance school. After a casting director noticed her in class, she was offered a contract to appear in short films. In no time, Temple attracted the attention of a major movie studio.
Temple's acting career started off rocky. She was the star in several unsuccessful short films. In 1933, a talent agent recognized her dancing in a hotel lobby and he immediately signed her to Fox Film Corporation. For the next few years, Temple turned out box office hits. She was even honored with a miniature Oscar for her acting. With her curly hair and dimples, she captured the hearts of Americans during one the country's worst economic recessions, the Great Depression. Her films often centered on jovial themes which provided Americans with an escape during hardship.
Although Temple was one of the most popular actresses, she remained underpaid. Since she was a child, her finances were managed by her parents. Her family fought for her to receive just compensation as a child actor. Throughout her career, Temple's brand was used in popular merchandise. Fans owned Temple clothes, sheet music, and soap. In 1958, Temple hosted a television series called Shirley Temple's Storybook. The show was cancelled but her role spawned another line of successful merchandise which included dolls, handbags, and coloring books. At the height of her career, Temple endorsed several major companies such as General Electric and Quaker.
As Temple aged, her appeal as a child star decreased. She played in a few films as a teenager and even transitioned to radio for a short while. Eventually Temple decided to turn her attention elsewhere. By 1967, she began to look towards politics. She joined the Republican Party and ran for a congressional seat. Although she did not win, her campaign marked the beginning of a long career in politics. In 1974, She was appointed as the US Ambassador to Ghana.  She also worked as Ambassador to Czechoslovakia under President George H.W. Bush. In her position, Temple played a crucial role in negotiations and international diplomatic relations. For her service, she was made an honorary foreign service officer.
Temple received various awards throughout her lifetime. She was recognized by the Screen Actors Guild and the American Center for Films for Children. She was also honored by the Kennedy Center. In 2014, Temple died at the age of 85, leaving behind successful career in public service and entertainment.
Edwards, Anne. Shirley Temple: American Princess. William Morrow and Company, Inc, 1988.
Hatch, Kristen. Shirley Temple and the Performance of Girlhood, Rutgers University Press, 2015.
PHOTO: Library of Congress
MLA – Norwood, Arlisha. "Shirley Temple." National Women's History Museum. National Women's History Museum, 2017. Date accessed.
Chicago- Norwood, Arlisha. "Shirley Temple." National Women's History Museum. 2017. www.womenshistory.org/education-resources/biographies/shirley-temple.