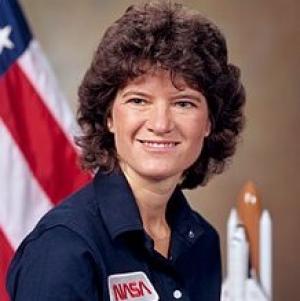 Sally Ride was the first American woman in space. She made her journey into history on June 18, 1983. Throughout her life, Dr. Ride broke barriers and worked to ensure that girls and women were encouraged to do the same.
Sally Kristen Ride was born on May 26, 1951, in Encino, California to Carol Joyce and Dale Burdell Ride. Growing up, Sally and her sister were encouraged to follow their individual interests and they had a happy, loving home.
As a child, Ride was an avid tennis player and had dreams of becoming a professional. She began playing tennis at age 10, and subsequently won a scholarship to the Westlake School for Girls in Los Angeles. While in her teens, Ride was ranked in the top 20 nationally on the junior tennis circuit. After graduating from high school, she attended Swarthmore College in Pennsylvania. During her sophomore year, she left Swarthmore to pursue a career in tennis. After three months she determined that college was a better option for her, and enrolled at Stanford University. In 1973, she received a Bachelor of Science in physics and a Bachelor of Arts in English. She continued at Stanford, earning her Master of Science and doctorate degrees in physics in 1975 and 1978.
In 1977, Ride answered a newspaper ad placed by the National Aeronautics and Space Administration (NASA). Realizing that technological and scientific skills were as important to the future of the Space Program as good pilots, NASA began a search for young scientists to serve as "mission specialists" on future space flights. Ride was one of only 5 women selected for NASA's class of '78. Her natural athletic ability was an incredible asset as she trained with NASA in 1977. Parachute jumping and water survival training accompanied her technical and scientific instruction. 
Ride was one of five crew members aboard the space shuttle Challenger STS-7. On June 18, 1983, she became the first American woman in space and the youngest American in space at that time. The mission took one week to complete. Before her launch, Dr. Ride was interviewed several times about her preparation for going into space. Among questions about her training, she was also asked questions about how space was going to affect her ability to reproduce, and what kind of makeup she was going to take on the mission. She handled the questions with grace and later said, "It's too bad this is such a big deal. It's too bad our society isn't further along."
During the mission, Ride was the flight engineer. She launched two communication satellites and operated the shuttle's mechanical arm as well as conducted experiments. During a 2008 interview, Ride recalled, "On launch day, there was so much excitement and so much happening around us in crew quarters, even on the way to the launch pad, I didn't really think about it that much at the time—but I came to appreciate what an honor it was to be selected to be the first to get a chance to go into space."
On October 5, 1984, Ride went on another shuttle mission- the STS-41G. She spent eight days conducting scientific observations of the Earth. She also worked on refueling techniques for shuttles. After her second mission, Ride worked on investigating the 1986 Challenger accident. After the investigation, she took the role of special assistant to the NASA administrator for long range and strategic planning.
Ride served as the Director of the California Space Science Institute, a research institute of the University of California. She also worked as a physicist and physics professor at the University of California, San Diego. Ride was a member of the President's Committee of Advisors on Science and Technology and served on the Advisory Board of the National Women's History Museum. 
She passed away on July 23, 2012 after a 17-month battle with pancreatic cancer. She was 61. During her life, Ride kept her personal life private. She married fellow astronaut Steve Hawley in 1982, but they divorced in 1987. After her passing, Tam O'Shaughnessy opened up about their 27-year relationship. They met as children while competing in tennis competitions, remained close friends, and the friendship blossomed into love. Ride and O'Shaughnessy were open about their relationship as partners and as business partners, especially toward the end of Ride's life. Not only is Ride the first American woman in space, she is also the first acknowledged gay astronaut. In 2013, President Obama posthumously honored Ride with a Presidential Medal of Freedom, and O'Shaughnessy accepted the award.
Dr. Sally Ride was passionate about improving science education and helping young women and girls foster an interest in science. One of her endeavors was Imaginary Lines, which supports girls interested in math, science, and technology. She also wrote seven children's books with space exploration themes. She and O'Shaughnessy established Sally Ride Science, a nonprofit organization that encourages children from all backgrounds to take an interest in science, technology, engineering and math (STEM). Even after her death, Sally Ride's legacy inspires people to reach for the stars.
APA: Anderson, A. (2018, August 16). Sally Ride. Retrieved from https://www.womenshistory.org/education-resources/biographies/sally-ride
MLA: Anderson, Ashlee. Sally Ride. 16 Aug. 2018, www.womenshistory.org/education-resources/biographies/sally-ride.
Chicago: Anderson, Ashlee. "Sally Ride." August 16, 2018. https://www.womenshistory.org/education-resources/biographies/sally-ride.