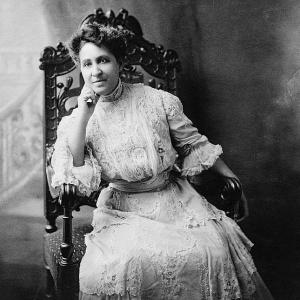 Mary Eliza Church Terrell was a well-known African American activist who championed racial equality and women's suffrage in the late 19th and early 20th century. An Oberlin College graduate, Terrell was part of the rising black middle and upper class who used their position to fight racial discrimination.
The daughter of former slaves, Terrell was born on September 23, 1863 in Memphis, Tennessee. Her father, Robert Reed Church, was a successful businessman who became one of the South's first African American millionaires. Her mother, Louisa Ayres Church, owned a hair salon. She had one brother. Terrell's parents divorced during her childhood. Their affluence and belief in the importance of education enabled Terrell to attend the Antioch College laboratory school in Ohio, and later Oberlin College, where she earned both Bachelor's and Master's degrees. Terrell spent two years teaching at Wilburforce College before moving to Washington DC, in 1887 to teach at the M Street Colored High School. There she met, and in 1891, married Heberton Terrell, also a teacher. The Terrells had one daughter and later adopted a second daughter.
Her activism was sparked in 1892, when an old friend, Thomas Moss, was lynched in Memphis by whites because his business competed with theirs. Terrell joined Ida B. Wells-Barnett in anti-lynching campaigns, but Terrell's life work focused on the notion of racial uplift, the belief that blacks would help end racial discrimination by advancing themselves and other members of the race through education, work, and community activism. It was a strategy based on the power of equal opportunities to advance the race and her belief that as one succeeds, the whole race would be elevated. Her words—"Lifting as we climb"—became the motto of the National Association of Colored Women (NACW), the group she helped found in 1896. She was NACW president from 1896 to 1901.
As NACW president, Terrell campaigned tirelessly among black organizations and mainstream white organizations, writing and speaking extensively. She also actively embraced women's suffrage, which she saw as essential to elevating the status of black women, and consequently, the entire race. She actively campaigned for black women's suffrage. She even picketed the Wilson White House with members of the National Woman's Party in her zeal for woman suffrage. Terrell fought for woman suffrage and civil rights because she realized that she belonged "to the only group in this country that has two such huge obstacles to surmount…both sex and race."
In 1909, Terrell was among the founders and charter members of the National Association for the Advancement of Colored People. Then in 1910, she co-founded the College Alumnae Club, later renamed the National Association of University Women.
Following the passage of the 19th amendment, Terrell focused on broader civil rights. In 1940, she published her autobiography, A Colored Woman in a White World, outlining her experiences with discrimination. In 1948, Terrell became the first black member of the American Association of University Women, after winning an anti-discrimination lawsuit. In 1950, at age 86, she challenged segregation in public places by protesting the John R. Thompson Restaurant in Washington, DC. She was victorious when, in 1953, the Supreme Court ruled that segregated eating facilities were unconstitutional, a major breakthrough in the civil rights movement. Terrell died four years later in Highland Beach, Maryland.
MLA- Michals, Debra. "Mary Church Terrell." National Women's History Museum. National Women's History Museum, 2017. Date accessed.
Chicago- Michals, Debra. "Mary Church Terrell." National Women's History Museum. 2017. https://www.womenshistory.org/education-resources/biographies/mary-church-terrell.