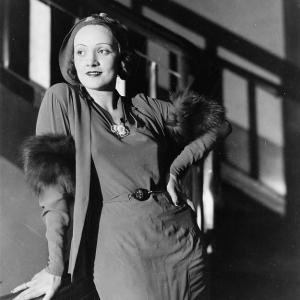 One of the most popular film and music stars of the 1930s and 1940s, Marlene Dietrich was known for her fashionable style and diverse portrayals of women. She was a firm advocate for the American war effort, contributing much of her time, energy and musical talents to aid the troops.
Marie Magdalene "Marlene" Dietrich was born on December 27, 1901 in Berlin, Germany. In her youth, her family's nickname for her was "Lena". When she was a small child, her father, Louis Otto Dietrich, a former military officer turned imperial police lieutenant died, leaving her mother a widow with two small children. A few years later, Dietrich's mother married her husband's best friend Eduard von Losch. He was killed in World War I.
Dietrich was raised in a middle-class family in Germany. Before entering school, Dietrich and her older sister, Liesel, were tutored at home, learning French, English, ballet, violin, and piano. The two sisters attended the Augusta Victoria School for Girls and continued to have private language and musical lessons at home. Dietrich also took up playing the mandolin.
Dietrich's interest in music led her to want to become a violinist. However, she suffered a wrist injury in her teens and could no longer consider a career in musical performance. Instead, she turned to an interest in the stage. She auditioned for a place at the Max Reinhardt Acting Academy, but did not get in. Undaunted, she continued acting in a diverse range of small roles.
In 1930, Dietrich was launched into stardom with her performance in the film, The Blue Angel. After this time, she moved to Hollywood and became a popular actress. In the 1930s and 1940s, she stared in many hits including: Shanghai Express (1932), I Love a Soldier (1936), Manpower (1941), and The Lady is Willing (1942). In such films, she co-starred with many famous actors including: Charles Boyer, Fred MacMurray, John Wayne, and Cesar Romero.
In 1939, when World War II began in Europe, Dietrich became an American citizen and renounced her German citizenship. After Pearl Harbor was attacked on December 7, 1941, America declared war on Japan, and Germany subsequently declared war on the United States. Americans were encouraged to help with the war effort in a number of ways, including: volunteering, joining the military, and selling war bonds. From 1942, Dietrich toured the country to help sell war bonds. Some historians have estimated that the US government was able to raise over a million dollars from the purchase of war bonds due to Dietrich's efforts. That same year, the Office of Strategic Services (OSS) asked Dietrich to help with their propaganda activities to demoralize foreign troops. They asked her to record American songs in German that they could use in overseas broadcasts to Axis troops. She readily agreed and produced several songs for the OSS to use on the radio. These songs included: "Time On My Hands," "Mean to Me," and "Taking a Chance on Love".
Throughout the country, canteens were set up for soldiers to visit while off-duty. These canteens offered the soldiers a hot meal and a place to relax and socialize. One of these canteens was set up in Hollywood and was often staffed by celebrities. Always interested in helping soldiers, Dietrich volunteered to work in the canteen, serving coffee to members of the armed services and talking with them.
The United Service Organizations (USO), founded in 1941 to support servicemen and women worldwide, sponsored USO tours to entertain troops in Europe, Africa, the Middle East, and Asia. Many famous actors and actresses, comedians, and entertainers volunteered for these tours, including Bob Hope, Bing Crosby, and the Andrews Sisters. Dietrich was among those who volunteered for USO tours in 1944 and 1945. She travelled to Algeria, France, Italy, and Germany to sing to the troops. Often these tours were made under difficult and dangerous conditions. In some instances, Dietrich performed without power, slept in tents, and worked very close to the frontline. During her shows, she was most noted for playing music on a saw, which the soldiers greatly enjoyed.
Dietrich's many activities in wartime were recognized nationally and internationally. In 1945, she was given the title of daughter of the Seventy-first Infantry Regiment of the army. In 1947, she was awarded the Medal of Freedom by the United States government, which is the highest honor that can be bestowed on an American. France gave Dietrich the Legion d'Honneur for her wartime activities in the country, and Belgium awarded her the Knight Order of Leopold.
Dietrich returned to making movies and performing on stage after the war. But as the years passed, her movie roles diminished, and she shifted her focus to performing on stage. She stopped acting in the 1970s, although she continued to write poetry and biographies about her life. Marlene Dietrich died in Paris, France on May 6, 1992 at the age of 90.
Audio Recording
Stanberg, Susan. "Gallery Gives Movie Star Marlene Dietrich The Big-Picture Treatment." NPR Morning Edition, June 19, 2017. Accessed August 4, 2017.
Books:
Higham, Charles. Marlene: The Life of Marlene Dietrich. New York: W.W. Norton & Company, Inc., 1977.
Riva, Maria. Marlene Dietrich: By Her Daughter. New York: Alfred A. Knopf, 1993.
Newspaper
Websites
PHOTO: Library of Congress
MLA - Spring, Kelly. " Marlene Dietrich." National Women's History Museum. National Women's History Museum, 2017. Date accessed.
Chicago - Spring, Kelly. " Marlene Dietrich." National Women's History Museum. 2017. www.womenshistory.org/education-resources/biographies/marlene-dietrich.
Book
Dietrich, Marlene. Marlene Dietrich's ABC. New York: Frederick Ungar Publishing  Co., 1984.
Magazine