Elouise Cobell ("Yellow Bird Woman")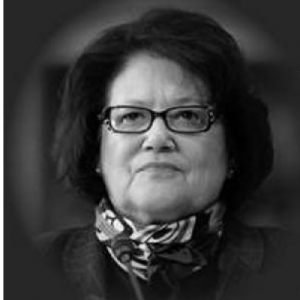 An entrepreneur, advocate, and member of the Blackfoot Nation, Elouise Pepion Cobell ("Yellow Bird Woman"), fought tirelessly for government accountability and for Native Americans to have control over their own financial future. During her life, she won countless awards, founded the first Native American owned bank, and successfully won a class-action lawsuit against the U.S. Government. 
Cobell was born on November 5, 1945 on the Blackfeet Reservation in Montana. The middle of nine children, she was the great, great granddaughter of the respected Mountain Chief of the Blackfoot Nation who refused to compromise with the U.S. Government in the nineteenth century. Cobell grew up without running water or electricity and three of her siblings died during childhood. When she was 4, her father successfully got a one-room schoolhouse built on the reservation. She attended that school until high school. 
Cobell grew up hearing stories and complaints from family and friends about the Bureau of Indian Affairs (BIA). The BIA managed Native American owned land and any proceeds made from its lease in trusts, but Cobell kept hearing stories about missing money. The story that impacted her the most was that of her aunt and uncle—when they sought money to pay for medical care, the BIA agent first refused to see them and then sent a check after a long delay. The delay cost her uncle his life due to the lack of timely medical care. Because of the stories, she started looking into her own trust money at 18 but was told time and again by BIA agents that she did not understand what she was looking at, or for. 
After studying accounting at Great Falls Commercial College, Cobell went to the University of Montana to study business. While there, she interned as a clerk at the reservation's BIA office and saw many people turned away when they came to the office asking for their money. 
After graduation, Cobell became the Treasurer for the Blackfoot Nation. In this role, she saw that the numbers just did not add up; for all the product going out of the reservation money was not coming in. She began attending government meetings and asking questions. Officials told her she did not know how to read an account statement despite the fact she had a degree in business and had studied accounting. 
When the only bank on the Blackfeet reservation closed, and no other bank wanted to open a branch, Cobell took matters into her own hands. In 1987, she helped found the Blackfeet National Bank, now the Native American Bank, the first American bank owned by a tribe. After she stepped down as bank director, she served as director of the Native American Community Development Corporation, the bank's nonprofit affiliate. In recognition of her work, she received a "Genius Grant" from the John D. and Catherine T. MacArthur Foundation in 1997. She joked "about having made the leap from 'dumb Indian' to 'genius' in one lifetime." In 2000, the Blackfoot Nation honored her with warrior status. In 2002, she received an Honorary Doctorate from Montana State University. 
Cobell also went to court in order to demand accountability from the government for abuse of Native American property and to receive moneys owed. On June 10, 1996, Cobell, along with the Native American Rights Fund, filed a class-action lawsuit against the U.S. Department of Interior for the mismanagement of the Indian Trust Funds belonging to over 300,000 individual tribal members. Cobell v. Salazar remains one of the largest class-action lawsuits ever filed against the United States government.  The lawsuit alleged that the BIA had been mismanaging and abusing the Indian Trust Funds for over a century, leaving Native Americans in poverty and without alternatives.  
Cobell was not only the lead plaintiff but raised money for the suit, donating part of the $310,000 from her "Genius Grant" to the cause. After 13 years of contentious court battles, Cobell and her lawyers agreed to a $3.4 billion settlement with the U.S. Government in December 2009. The settlement included $1.5 billion for the members of the lawsuit, $1.9 billion for a Land Consolidation Program, and $60 million for a college scholarship fund for Native American youth. The settlement was given the final stamp of approval in June 21, 2011. 
Cobell died after a long battle with cancer on October 16, 2011. Besides her MacArthur grant and status as a warrior, the Montana Trial Lawyers Association gave Cobell its annual Citizens Award in 2011. She posthumously received the Congressional Medal of Freedom in 2016 from President Barack Obama; and Montana Governor Steven Bullock issued a 2015 proclamation recognizing November 5 as Elouise Cobell Day. The Cobell Scholarship, named in her honor, is a merit and need-based scholarship to support students enrolled in U.S. Federally-Recognized tribes who are seeking post-secondary degrees. The University of Montana has an Elouise Cobell Land and Culture Institute, a learning center for students focusing on collaborations with Tribal Colleges and the story-telling traditions in Native American culture. 
Berger, Bethany R. "Elouise Cobell." https://cobellscholar.org/wp-content/uploads/2015/11/cobell_chapter.pdf. 
Hevesi, Dennis. "Elouise Cobell, 65, Dies; Sued U.S. Over Indian Trust Funds." New York Times. October 17, 2011. https://www.nytimes.com/2011/10/18/us/elouise-cobell-65-dies-sued-us-over-indian-trust-funds.html. 
Janko, Melinda. "Elouise Cobell: A Small Measure of Justice." American Indian Vol. 14, No. 2 (Summer 2013). https://www.americanindianmagazine.org/story/elouise-cobell-small-measure-justice. 
O'Brien, Edward. "Montana Honors Memory Of Blackfeet Activist Elouise Cobell." Montana Public Radio. November 4, 2019. https://www.mtpr.org/post/montana-honors-memory-blackfeet-activist-elouise-cobell. 
"Tester Announces Elouise Cobell Honored with Presidential Medal of Freedom." November 16, 2016. https://www.tester.senate.gov/?p=press_release&id=4858. 
MLA – Rothberg, Emma. "Elouise Cobell ("Yellow Bird Woman")" National Women's History Museum, 2020. Date accessed.
Chicago – Rothberg, Emma. "Elouise Cobell ("Yellow Bird Woman")." National Women's History Museum. 2020. www.womenshistory.org/education-resources/biographies/elouise-cobell-yellow-bird-woman.