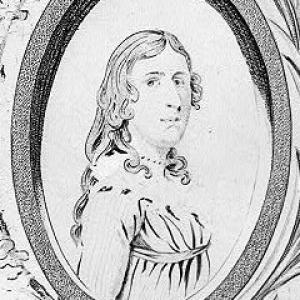 Deborah Sampson became a hero of the American Revolution when she disguised herself as a man and joined the Patriot forces. She was the only woman to earn a full military pension for participation in the Revolutionary army.
Born on December 17, 1760 in Plympton, Massachusetts near Plymouth, Sampson was one of seven children to Jonathan Sampson Jr. and Deborah (Bradford) Sampson. Both were descendants of preeminent Pilgrims: Jonathan of Myles Standish and Priscilla Alden; his wife, the great granddaughter of Massachusetts Governor William Bradford. Still, the Sampsons struggled financially and, after Jonathan failed to return from a sea voyage, his impoverished wife was forced to place her children in different households. Five years later, at age 10, young Deborah was bound out as an indentured servant to Deacon Benjamin Thomas, a farmer in Middleborough with a large family. At age 18, with her indenture completed, Sampson, who was self-educated, worked as a teacher during summer sessions in 1779 and 1780 and as a weaver in winter.
In 1782, as the Revolutionary War raged on, the patriotic Sampson disguised herself as a man named Robert Shurtleff and joined the Fourth Massachusetts Regiment. At West Point, New York, she was assigned to Captain George Webb's Company of Light Infantry. She was given the dangerous task of scouting neutral territory to assess British buildup of men and materiel in Manhattan, which General George Washington contemplated attacking. In June of 1782, Sampson and two sergeants led about 30 infantrymen on an expedition that ended with a confrontation—often one-on-one—with Tories. She led a raid on a Tory home that resulted in the capture of 15 men. Sampson—like many veterans of the Revolution—also claimed she fought during the siege of Yorktown, digging trenches, helping storm a British redoubt, and enduring canon fire. However, a neighbor's diary discovered in 2019 casts doubt on Sampson's claim she fought at Yorktown.
For over two years, Sampson's true sex had escaped detection despite close calls. When she received a gash in her forehead from a sword and was shot in her left thigh, she extracted the pistol ball herself. She was ultimately discovered—a year and a half into her service—in Philadelphia, when she became ill during an epidemic, was taken to a hospital, and lost consciousness.
Receiving an honorable discharge on October 23, 1783, Sampson returned to Massachusetts. On April 7, 1785 she married Benjamin Gannet from Sharon, and they had three children, Earl, Mary, and Patience. The story of her life was written in 1797 by Herman Mann, entitled The Female Review: or, Memoirs of an American Young Lady. She received a military pension from the state of Massachusetts. Although Sampson's life after the army was mostly typical of a farmer's wife, in 1802 she began a year-long lecture tour about her experiences—the first woman in America to do so—sometimes dressing in full military regalia.
Four years after Sampson's death at age 66, her husband petitioned Congress for pay as the spouse of a soldier. Although the couple was not married at the time of her service, in 1837 the committee concluded that the history of the Revolution "furnished no other similar example of female heroism, fidelity and courage." He was awarded the money, though he died before receiving it.
Bellesiles, Michael. "Sampson, Deborah." Encyclopedia of the American Revolution: Library of Military History. Ed. Harold E. Selesky. Vol. 2. Detroit: Charles Scribner's Sons, 2006. 1026. U.S. History in Context. Web. Accessed February 10, 2015. 
Berkin, Carol. Revolutionary Mothers: Women in the Struggle for America's Independence. (New York: Alfred A. Knopf, 2005).
Keiter, Jane. "Deborah Sampson, Continental Soldier: The Westchester Connection." The Best of the Westchester Historian. Winter 2000 (Vol. 76, No. 1). Accessed January 10, 2015.
Leonard, Patrick. "Deborah Samson: Official Heroine of the State of Massachusetts." Canton Historical Society. Accessed January 10, 2015.
Weatherford, Doris. American Women's History: An A to Z of People, Organizations, Issues, and Events. New York: Macmillan General Reference, 1994.
PHOTO: Library of Congress
MLA - Michals, Debra.  " Deborah Sampson."  National Women's History Museum.  National Women's History Museum, 2015.  Date accessed. 
Chicago - Michals, Debra.  "Deborah Sampson."  National Women's History Museum.  2015.  www.womenshistory.org/education-resources/biographies/deborah-sampson. 
Web Sites:
Books:
Diamant, Lincoln, Ed. Revolutionary Women: In the War For American Independence. Westport: Praeger, 1998.

Resmond, Shirley Raye. Patriots in Petticoats: Heroines of the American Revolution. New York: Random House Children's Books, 2004.

Roberts, Cokie. Founding Mothers: The Women Who Raised Our Nation. (New York: HarperCollins Publishers Inc., 2004).

Young, Alfred F. Masquerade: The Life and Times of Deborah Sampson, Continental Soldier. New York: Afred A. Knopf, 2004.