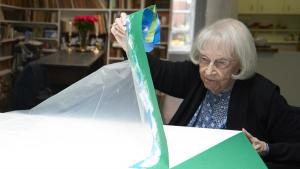 Carmen Herrera influenced a generation of artists. As an abstract painter, sculptor, and minimalist, Herrera made art for over 70 years. However, she was only recently recognized for her groundbreaking creations.
Carmen Herrera was born on May 30, 1915 in Havana, Cuba. The youngest of seven children, she grew up surrounded by art and literature. At about eight years old, Herrera and her older brother Addison began taking private art lessons from the famous artist Federico Edelmann y Pinto. The siblings learned classical sculpture technique, academic drawing, and artistic discipline for several years. She recalled, "I guess I was born a feminist because I always thought I was superior to my brothers."[1] In addition to her art lessons, Herrera attended a local Catholic school in Havana. However when she was fourteen, she traveled to Paris to attend the Marymount School. Herrera fell in love with Paris as she studied art history, French, and visited cultural centers. In 1931, she returned to Havana to continue her studies at the Lyceum women's club. During the Spanish Civil War in 1936, many outspoken artists retreated to Cuba and often lectured at the Lyceum. Their presentations exposed Herrera to the discrimination the Jewish population faced. Inspired to make "protest work," she created a carved wooden sculpture called Cristo that was featured in the Primera Exposición de Pintura y Escultura al Aire Libre (First Outdoor Exposition of Painting and Sculpture) in Havana.
Due to political unrest in Cuba, Herrera's ideal art school was often shut down. She decided to attend the Universidad de La Habana in 1938 to study architecture instead. Although she was only enrolled at this school for one year, she found the structure of architecture interesting. Unfortunately, Herrera knew that the field was very competitive and difficult for women. During this time, her brother Addison introduced her to an American teacher named Jesse Loewenthal. Herrera and Loewenthal dated long-distance for a few years and decided to get married in the summer of 1939. That year, Herrera moved to New York with her new husband. She began visiting the local New York museums, but was disappointed by their lack of openness to modern art. The only American artists that inspired her were Stuart Davis and Georgia O'Keeffe. Herrera began studying privately at the Young Men's Hebrew Association with the Australian painter Samuel Brecher until she received a scholarship to attend the Art Students League. While at the league, Herrera focused on painting instead of sculpting and wood carving. Although, mahogany wood was her favorite material to use, it was much more expensive in New York than it was in Cuba.
By 1943, Herrera left the league to find a new artistic challenge. She started taking classes in printmaking at the Brooklyn Museum, but still longed to find a creative community. To make matters worse, many of her friends and fellow artists that she worked with in Havana were featured in the Museum of Modern Art's Modern Cuban Painters exhibition, and Herrera was left out. A few years later, Herrera and her husband relocated to Paris for five years to find inspiration. Surrounded by creativity, Herrera experimented with abstract art and unusual materials. During a trip to Cuba in 1950, she presented her unique work in a solo show at the Lyceum where she used to study. However, Herrera recalls that some of the local audience did not understand her abstract art.
Herrera returned to Paris and continued to experiment with artistic styles. For the next few years, she created a series of black-and-white paintings that included geometric lines across multiple canvases. Although her art was groundbreaking at the time, Herrera was not recognized for her innovation. When she returned to New York, Herrera also had a hard time finding an art gallery that would display her pieces. She noted, "A Latin woman, painting in the manner that I did, stood no chance."[2] One gallery explicitly told her that even though she was more talented than many male artists, they would not represent her because she was a woman. Finally, at the age of 89, Herrera was able to sell her first painting. Since then, her work has been acquired by museums such as the Whitney, the Museum of Modern Art, the Walker Art Center, the Hirshhorn Museum and Sculpture Garden, and the Boston Museum of Fine Arts. In July of 2019, her sculptures were exhibited by the Public Art Fund in New York's City Hall Park. At 104 years old, Herrera continues to create in her studio almost daily.
Carmen Herrera died in her home in New York City on February 12, 2022. She was 106 years old.
[1] Miller, Dana. Carmen Herrera: Lines of Sight. New Haven: Yale University Press, 2016, pg 13.
[2] Miller, pg 21.
Coopersmith, Haley. "Review of 'Carmen Herrera: Lines of Sight' by Dana Miller." College Art Association, April 27, 2018. https://doi.org/10.3202/caa.reviews.2018.142.
Hattenstone, Simon. "Carmen Herrera: 'Men Controlled Everything, Not Just Art'." The Guardian. Guardian News and Media, December 31, 2016. https://www.theguardian.com/artanddesign/2016/dec/31/carmen-herrera-men-controlled-everything-art.
Lisson Gallery. "Carmen Herrera." Accessed September 1, 2019. https://www.lissongallery.com/artists/carmen-herrera.
Miller, Dana. Carmen Herrera: Lines of Sight. New Haven: Yale University Press, 2016.
The Farber Foundation - Cuban Art News. "Moving into the 3rd Dimension - Carmen Herrera Sculptures in NYC.", October 10, 2018. https://cubanartnews.org/2018/10/10/moving-into-the-3rd-dimension-carmen-herrera-sculptures-in-nyc/.
The Metropolitan Museum of Art. "Carmen Herrera - Equilibrio." Accessed September 1, 2019. https://www.metmuseum.org/art/collection/search/725932.
Whitney Museum of American Art. "Carmen Herrera: Lines of Sight.", Accessed September 1, 2019. https://whitney.org/Exhibitions/CarmenHerrera.
Photo: Public Domain.
MLA - Alexander, Kerri Lee.  "Carmen Herrera." National Women's History Museum.  National Women's History Museum, 2019.  Date accessed.
Chicago - Alexander, Kerri Lee.  "Carmen Herrera."  National Women's History Museum.  2019.  www.womenshistory.org/education-resources/biographies/carmen-herrera.
Fedderly, Eva. "At 104, Carmen Herrera Reaches Yet Another Career Milestone." Architectural Digest. Architectural Digest, July 10, 2019. https://www.architecturaldigest.com/story/carmen-herrera-reaches-yet-another-career-milestone.
Neuendorf, Henri. "At 101, Carmen Herrera Looks Back On Her Astonishing Career." HuffPost. HuffPost, September 28, 2016. https://www.huffpost.com/entry/at-101-carmen-herrera-looks-back-at-her-astonishing-career_n_57584b5be4b0e39a28ac2a8a.