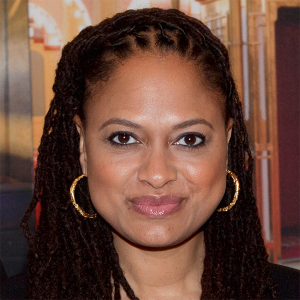 Although she did not pick up a camera until she was thirty-two, Ava DuVernay has made history as a writer, director, and producer. She was the first African American woman to win Best Director at the Sundance Film Festival, be nominated for a Best Director Golden Globe, direct a film nominated for a Best Picture Oscar, and direct a film with a budget over $100 million. Her work has made her the highest grossing Black woman director in American box office history. Her latest project, When They See Us, was nominated for 16 Emmy awards, making her and Beyoncé the first African American women in Primetime Emmy history to receive multiple nominations in their careers for directing.
Ava DuVernay was born on August 24, 1972 in Long Beach, California. As a child, DuVernay's Aunt Denise encouraged her passion for art and creativity. Her aunt worked the night shift as a nurse so she could pursue her love for art, literature and theater during the day. She introduced DuVernay the 1961 film West Side Story, and DuVernay fell in love with it. DuVernay learned by example that art could be a vehicle for activism. Similarly, DuVernay's mother was socially conscious and taught her to "say something through the arts." Although DuVernay grew up in Compton with her family, she spent every summer in Lowndes County, Alabama where her father's family lived for generations. DuVernay's father recalled watching the historic civil rights march over the Edmund Pettus Bridge in the neighboring town of Selma, Alabama. The summers DuVernay spent there would later inspire her to direct a movie about Dr. Martin Luther King, Jr. and the Civil Rights Movement.
In 1990, DuVernay graduated from Saint Joseph High School in Lakewood, California. After graduating, she attended the University of California, Los Angeles where she earned degrees in English and African American studies. While she was still a student, DuVernay became interested in producing for broadcast journalism. She began as an intern for CBS News during the O.J. Simpson trial. DuVernay remembers being assigned to watch the home of one of the members of the jury and look through their trash. Her tasks left her disappointed with journalism, so she decided to move towards the publicity industry. DuVernay was hired right out of college as a junior publicist at a small studio. From this position, she started her own public relations company called The DuVernay Agency in 1999. In addition to PR, her agency also launched several lifestyle and promotional networks including; the Urban Beauty Collective, Urban Thought Collective, Urban Eye, and HelloBeautiful.
The DuVernay Agency also worked on campaigns for movies and television shows. While on film sets, DuVernay was able to observe prominent filmmakers like Steven Spielberg, Michael Mann, Clint Eastwood, Raoul Peck and Gurinder Chadha. She became interested in directing and started writing her first script in 2003. By 2006, DuVernay made her first short film called Saturday Night Life based on her mother's experiences. The next year, she made her first documentary called Compton in C Minor. A more cost-effective style of film, DuVernay's next project was a documentary that she wrote, produced, and directed called This Is the Life about hip hop culture. In 2010, DuVernay released her first narrative feature film called I Will Follow. This film was released theatrically and became the official selection of the American Film Institute Fest, Pan-African Film Festival, and the Chicago International Film Festival. Her second feature film, Middle of Nowhere, premiered at the 2012 Sundance Film Festival and won the award for Best Direction.
DuVernay's career quickly took off following this film as she steadily became a household name. In addition to directing many TV shows, commercials, and music videos, DuVernay's films Selma and 13th received critical acclaim and multiple awards for their portrayal of racial prejudice in the United States. She collaborated with Oprah Winfrey to create and direct the TV series Queen Sugar on the Oprah Winfrey Network, as well as the Disney live-action film, A Wrinkle in Time. In 2010, she started her own film distribution company called African-American Film Festival Releasing Movement (AFFRM) but rebranded the company in 2015 under the name ARRAY to focus on racial and gender inclusion in filmmaking. In 2019, DuVernay created, directed, and co-wrote the Netflix drama When They See Us. This five-part miniseries based on the 1989 Central Park jogger case quickly became Netflix's number one most watched series daily in the U.S., with over 23 million viewers during its first month of release, and 16 Emmy nominations at the 71st Primetime Emmy Awards.
Berman, Eliza. "Ava DuVernay on Oscar-Nominated Netflix Documentary 13th." Time. February 10, 2017. https://time.com/4662871/ava-duvernay-13th-documentary-interview/.

Connley, Courtney. "How a Career Change at 32 Led Ava DuVernay to Become the First Black Woman to Direct a $100 Million Film." CNBC. March 10, 2018. https://www.cnbc.com/2018/03/09/a-career-change-at-32-led-ava-duvernay-to-directing-blockbusters.html.

Feldman, Dana. "Ava DuVernay On 'When They See Us': 'What Kind Of People Are We If We Turn Our Eyes To This?'" Forbes. June 19, 2019. https://www.forbes.com/sites/danafeldman/2019/06/19/ava-duvernay-on-when-they-see-us-what-kind-of-people-are-we-if-we-turn-our-eyes-to-this/#7cd933ea6342.
Simon, Bob. "Where "Selma" Meets Hollywood." CBS News. February 08, 2015. https://www.cbsnews.com/news/selma-ava-duvernay-60-minutes/.
Ward, Jesmyn. "Ava DuVernay's Visionary Filmmaking Is Reshaping Hollywood." Smithsonian Institution. December 01, 2017. https://www.smithsonianmag.com/arts-culture/ava-duvernay-visionary-filmmaking-reshaping-hollywood-180967217/.
Wright, Bekah. "Direct Action." UCLA Magazine. October 01, 2012. http://magazine.ucla.edu/depts/style/direct-action/.
Photograph: Public Domain
MLA – Alexander, Kerri Lee. "Ava DuVernay." National Women's History Museum, 2020. Date accessed.
Chicago – Alexander, Kerri Lee. "Ava DuVernay." National Women's History Museum. 2020. www.womenshistory.org/education-resources/biographies/ava-duvernay.
Array Film Collective - www.arraynow.com

Ava DuVernay Official Website - www.avaduvernay.com

Today Show "The Duvernay Sisters Open up about Their Family Bond and How They Lift Each Other up." NBC Universal. October 26, 2017. https://www.today.com/video/the-duvernay-sisters-open-up-about-their-family-bond-and-how-they-lift-each-other-up-1081906243571.