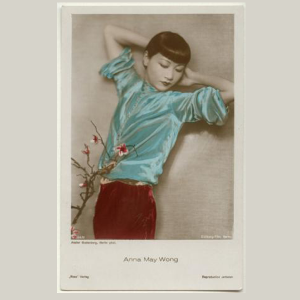 Appearing in over sixty movies throughout her career, Anna May Wong was the first Chinese American film star in Hollywood. In addition to her roles in silent films, television, and stage, Wong landed a role in one of the first movies made in Technicolor. Internationally recognized, her legacy continues to influence entertainers around the world.
Anna May Wong was born on January 3, 1905 in the Chinatown area of Los Angeles, California. The second child of eight children, her birth name was Wong Liu Tsong, which means "Frosted Yellow Willows." She was given the English name Anna May by her family. Her family was originally from Taishan, China, but her grandfather emigrated to the United States in the 1850s. He opened a store in California near the area where gold had been discovered in 1848. In 1858, Wong's father, Sam Sing, was born in California.
Soon after, Sing's father died while he was trying to rescue a woman that fell into a well. Sing returned to China, but came back to the United States after his first marriage. Sing married Gon Toy Lee, who had also been born in California. The couple opened a laundry mat on North Figueroa Street in Los Angeles. When Wong was born, the family lived in a diverse neighborhood and the children attended California Street public elementary school. However, Wong and her older sister were teased and bullied because of their race. Wong's parents later moved them to the Chinese Mission School in Chinatown where they were welcomed.
Growing up, Wong worked in her family's laundry mat and attended Chinese language classes after school. When film production moved from New York to California in the 1910s, Wong started visiting movie sets. She would often skip school and use her lunch money to go to the movies. At the age of nine, she decided she wanted to become a movie star. She came up with her stage name, Anna May Wong, at the age of eleven by combining her English and Chinese names. In 1919, a casting call went out for Chinese women in the new film called The Red Lantern. Without her father knowing, Wong asked her father's friend to introduce her to the assistant director of the movie. She was then cast as an extra and was asked to carry a lantern in one of the scenes. This was Wong's first movie role, but it would not be her last.
Wong continued to work as an extra in many movies while still attending school. In 1921, Wong dropped out of Los Angeles High School to become an actress full-time. That same year, she landed a role as Toy Ling's wife in the film Bits of Life. At age seventeen, Wong landed her first leading role in The Toll of the Sea (1922), the first feature length film made by Technicolor. This movie was a silent version of a movie called Madame Butterfly.
Wong continued to audition for lead roles, but she was always cast as a supporting character or as typical "Asian characters."[1] Anti-miscegenation laws in the United States at the time prevented interracial marriages and even prevented interracial actors from kissing on-screen. This prevented Wong from landing some leading roles in romantic movies. In March of 1924, she created her own production company called Anna May Wong Productions, so she could make her own films about her culture. However, the company closed after her business partner was caught using bad business practices.
After many years trying to work in American films, Wong left Hollywood due to the constant discrimination. She moved to Europe where she starred in many plays and films including; Schmutziges Geld in 1928, Piccadilly in 1929, and her first talking film in 1930 called The Flame of Love. She also starred in the operetta Tschun Tschi in fluent German, and in the play A Circle of Chalk with Laurence Olivier. In the 1930s, Paramount Studios in the United States contacted Wong and promised her leading roles upon her return. Wong returned to the United States and starred in the Broadway production of On the Spot. In November of 1930, Wong's mother was hit by a car in front of the family's home. The rest of her family stayed in the family home until 1934 when they returned to China.
While working on films in the United States, Wong was still asked to play stereotypical Asian roles. When the director of the film Dangerous to Know asked her to use Japanese mannerisms when playing a Chinese character, Wong refused. Wong later accepted another stereotypical role in Daughter of the Dragon because she was promised that she would be able to appear in a Josef von Sternberg film. She later appeared in one of her most famous films, Shanghai Express, with her friend Marlene Dietrich. After this movie in 1932, Wong spent the next year touring China. She returned to the United States in the 1950s and became the first Asian American to lead a US television show for her work on The Gallery of Madame Liu-Tsong. Wong was also planning to return to film in the United States.
Wong died on February 3, 1961 of a heart attack. She was 56 years old. After her death, the Asian-American Arts Awards and the Asian Fashion Designers group named annual awards after her.
Leong, Karen. The China Mystique: Pearl S. Buck, Anna May Wong, Mayling Soong, and the Transformation of American Orientalism. Berkeley and Los Angeles: University of California Press, 2005.
Lim, Shirley Jennifer. Anna May Wong: Performing the Modern. Philadelphia: Temple University Press, 2019.
See, Lisa. On Gold Mountain: The One-Hundred Year Odyssey of My Chinese-American Family. New York: St. Martin's Press, 1995.
Jackson, Denny. "Anna May Wong." IMDb. 1990. https://www.imdb.com/name/nm0938923/bio?ref_=nm_ov_bio_sm.
National Portrait Gallery. "Anna May Wong." Accessed July 6, 2019. https://www.npg.org.uk/collections/search/person/mp59693/anna-may-wong.
New York Historical Society. "Anna May Wong (1905-1961)." October 29, 2014. http://chineseamerican.nyhistory.org/anna-may-wong-1905-1961/.
Photo: National Portrait Gallery, London.
https://www.npg.org.uk/collections/search/portrait/mw205924/Anna-May-Wong
MLA – Alexander, Kerri Lee. "Anna May Wong." National Women's History Museum, 2019. Date accessed.
Chicago – Alexander, Kerri Lee. "Anna May Wong." National Women's History Museum. 2019. www.womenshistory.org/education-resources/biographies/anna-may-wong.
Desta, Yohana. "Lucy Liu Pays Tribute to Anna May Wong During Touching Walk of Fame Ceremony." Vanity Fair. May 02, 2019. https://www.vanityfair.com/hollywood/2019/05/lucy-liu-walk-of-fame-speech.
Metzger, Sean. "Patterns of Resistance?: Anna May Wong and the Fabrication of China in American Cinema of the Late 30s." Quarterly Review of Film and Video, 23 (2006): 1-11.
Wann, Yiman. "The Art of Screen Passing: Anna May Wong's Yellowface Performance in the Art Deco Era." Camera Obscura, 60 (2005): 159-191.