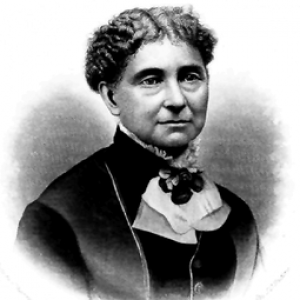 Amelia Jenks Bloomer was an early suffragist, editor, and social activist. Bloomer was also a fashion advocate who worked to change women's clothing styles.
Bloomer was born in Homer, New York. With only a few years of formal education, she started working as a teacher, educating students in her community. In 1840, she married David Bloomer and moved to Seneca Falls, New York. Bloomer quickly became active in the Seneca Falls political and social community. She joined a church and volunteered with the local temperance society. Noticing his wife's fervor for social reform, David encouraged her to use writing as an outlet. As a result, she started a column which covered a plethora of topics.
In 1848, Bloomer went to the Seneca Falls Women's Rights Convention. The next year she created The Lily, a newspaper solely dedicated to women. At first, the newspaper only addressed the temperance movement, however due to demand the bi-weekly paper expanded to cover other news. After meeting activist Elizabeth Cady Stanton, Bloomer started to publish articles about the women's rights movement. In 1849, Bloomer's husband was elected Postmaster for Seneca Falls. He immediately appointed his wife as his assistant. Bloomer used her office as makeshift headquarters for the Seneca Fall's women's rights movement. 
Bloomer's most influential work was in dress reform. After noticing the health hazards and restrictive nature of corsets and dresses, Bloomer pushed for women to adopt a new style of dress. The pantaloons, now called Bloomers, not only illustrated a departure from the accepted dress for women, the garments also came to represent activists in the women's rights movement. The style of dress attracted much ridicule from conservative men and women.
In 1851, Bloomer introduced Elizabeth Cady Stanton to Susan B. Anthony. The meeting set in motion a long-standing partnership between the two activists. In 1853, Bloomer and her husband moved West. While traveling she stopped in many towns and lectured about temperance. She attempted to keep The Lily going, however her move made publishing the paper harder. In 1854, Bloomer decided to sell the paper. Eventually, the couple settled in Council Bluff, Iowa. There, she called on women to become property owners. During the Civil War, Bloomer started the Soldier's Aid Society of Council Bluffs to help Union soldiers.
Until her death, Bloomer preached on temperance and women's rights. She served as the President of the Iowa Suffrage Association from 1871-1873. However, because of her relentless dedication to temperance, she often found her ideas at odds with other activists who wanted to focus on other topics in the women's rights movement. Nonetheless, she never abandoned her commitment to the movement's agenda. Bloomer passed away at the age of 76 in 1894.
"Amelia Jenks Bloomer," National Park Service, Accessed 5 May 2017, https://www.nps.gov/wori/learn/historyculture/amelia-bloomer.htm.
"Amelia J. Bloomer," Ohio History Central, Accessed 5 May 2017, http://www.ohiohistorycentral.org/w/Amelia_J._Bloomer.
"Bloomer J. Amelia," The Biographical Dictionary of Iowa, Accessed 5 May 2017, http://uipress.lib.uiowa.edu/bdi/DetailsPage.aspx?id=35.
PHOTO: Published in 1881 in History of Woman Suffrage Vol. 1 by Elizabeth Cady Stanton, Susan B. Anthony, Matilda Joslyn Gage, and Ida Husted Harper.
MLA – Norwood, Arlisha. "Amelia Bloomer." National Women's History Museum. National Women's History Museum, 2017. Date accessed.
Chicago- Norwood, Arlisha. "Amelia Bloomer." National Women's History Museum. 2017. www.womenshistory.org/education-resources/biographies/amelia-bloomer.