Dr. Phyllis Trible
Richmond, Virginia | 1932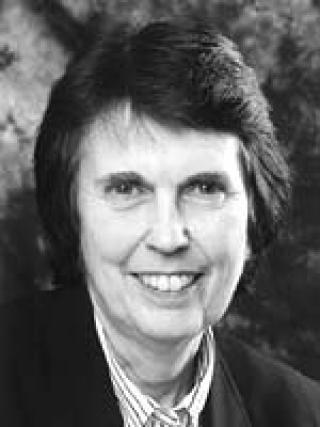 An esteemed pioneer in the text-based exploration of women and gender in scripture, Dr. Phyllis Trible (1932-) is an internationally recognized biblical scholar and rhetorical critic. The author of two groundbreaking works in feminist biblical scholarship—God and the Rhetoric of Sexuality (1978) and Texts of Terror: Literary-Feminist Readings of Biblical Narratives (1984)—she is the Baldwin Professor Emerita of Sacred Literature at Union Theological Seminary in New York and a past president of the Society of Biblical Literature (1994).
A native of Richmond, Virginia, Trible received her B.A. at Meredith College (1954), pursued post-graduate studies at Union Theological Seminary (1956), and acquired a joint Ph.D. from Union/Columbia University (1963) with an emphasis in Biblical Studies. She then taught at Wake Forest University and Andover Newton Theological Seminary before joining Union as Professor of Old Testament (1979), where she was the fourth woman to hold a full professorship and the first to be named Baldwin Professor of Sacred Literature (1981). She left Union in 1998 to help found the School of Divinity at Wake Forest, first serving as Associate Dean and Professor of Biblical Studies, then as University Professor until 2012. The university's Phyllis Trible Lecture Series (2003-2013), in which she played an active role, featured a series of globally renowned feminist scholars who challenged a decade of attendees "to reflect on the contributions of feminist thought and theology and to recognize the unfinished work that still lies ahead." 1
Trible's additional books include Rhetorical Criticism: Context, Method, and the Book of Jonah; Hagar, Sarah, and Their Children: Jewish, Christian, and Muslim Perspectives (edited with Letty M. Russell, 2006); and Faith + Feminism: Ecumenical Essays (edited with B. Diane Lipsett, 2014). She also contributed the commentary on "The Book of Jonah" to the New Interpreters' Bible Commentary Series and an autobiographical sketch in I (Still) Believe: Essays on Ecumenical Scholarship (2015). She has written numerous articles and book reviews for magazines and scholarly journals, as well. Trible's papers constitute the inaugural collection of the Archives of Women in Theological Scholarship (AWTS) at Union's Burke Library (Columbia University Libraries), one of North America's largest theological collections.
Complementing her writings, Trible has lectured extensively domestically and abroad, including talks in Australia, Canada, England, Italy, Japan, New Zealand, Scotland, Spain, and Taiwan. She participated in the Smithsonian Institution's Feminist Interpretation of the Bible symposium (1994) and provided expert commentary on Bill Moyers's public television series, Genesis: A Living Conversation (1996).
Trible's academic honors include Doctor of Divinity degrees from Franklin College (1985), Lehigh University (1994), and Wake Forest University (1997), and a Doctor of Humane Letters from Meredith College (2001). She received Union's Unitas Award in 2009, honoring graduates who have distinguished themselves in the church, academy, and society nationwide and around the world, and she was the inaugural recipient of the Meredith College Woman of Achievement Award in 2007.
The distinguished Dutch-Israeli biblical scholar Athalya Brenner calls Trible one of the "prominent matriarchs of contemporary feminist bible criticism." 2 John J. Collins, Holmes Professor of Old Testament Criticism and Interpretation at Yale Divinity School, says: "Phyllis Trible, more than any other scholar, put feminist criticism on the agenda of biblical scholarship in the 1970s." 3 Dr. Trible is a charter member of the National Women's History Museum.
1 "Phyllis Trible Lecture Series," Wake Forest University website: https://events.wfu.edu/event/phyllis_trible_lecture_series#.V_UkxOArLIU.
2 Brenner, Athalya. "Quo Vadis Domina? Reflections on What We Have Become and Want to Be," lector difficilior website: http://www.lectio.unibe.ch/13_1/pdf/brenner_athalya_quo_vadis_domina.pdf.
3 Collins, John J. The Bible after Babel: Historical Criticism in a Postmodern Age (Grand Rapids, MI: William B. Eerdmans Publishing Company, 2005).