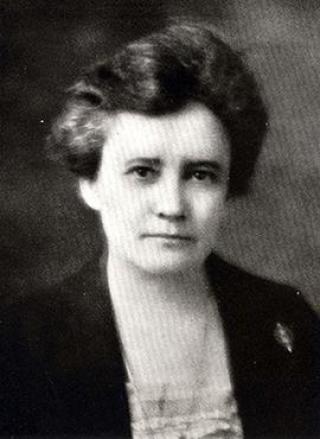 Suffragist, educator, visionary, public official, innovator, and groundbreaker – these are the roles Dr. Annie Webb Blanton undertook throughout her life. Although not as well-known as other famous American women, Dr. Blanton left a formidable legacy by improving the plight of women and children. Tenacious, persistent, and determined are words that aptly describe her.
Dr. Blanton and her twin sister, Fannie, were born in Houston, Texas on August 19, 1870. The family included two other sisters and three brothers. Their parents were Thomas and Eugenia Webb Blanton. At a young age, Dr. Blanton endured family tragedies. Her sister, Fannie, died at the age of 12 and her mother died when she was in high school. Dr. Blanton's family then moved to La Grange, Texas where she completed her high school studies. At the age of 17, she then began her teaching career at a one room county school in Pine Springs where she was known as "Miss Annie." A year later in 1888, her father died. By the young age of 18, Dr. Blanton had lost her twin sister and both parents. Summoning all her strength and fortitude, Dr. Blanton persevered and lived an incredible productive life.
After her father's death, Dr. Blanton moved her family to Austin, Texas. She taught in elementary schools and then at Austin High School while attending classes at the University of Texas. She graduated in 1899 with a Bachelor of Literature degree. In 1901, Dr. Blanton began teaching English at North Texas Normal School in Denton, Texas where she remained for 17 years. The school is now known as the University of North Texas. Dr. Blanton served as an associate professor of English at the University where she promoted gender unity. She also published grammar exercises books that were used throughout the United States.
Dr. Blanton's leadership skills and knowledge were recognized by her peers. In 1916, she became the FIRST WOMAN ELECTED PRESIDENT OF THE TEXAS STATE TEACHERS' ASSOCIATION. She worked tirelessly to increase support for public schools. Dr. Blanton also devoted her life to advocating for women's rights. She acknowledged the challenges facing female educators and joined the suffrage movement. She believed that the power of women working together could promote positive change.
Dr. Blanton was encouraged to seek the State Superintendent of Public Instruction position. Her candidacy was sponsored by the Texas State Women Suffrage Association. In 1918, Dr. Blanton was elected to the Superintendency. She was the FIRST WOMAN ELECTED TO A PUBLIC OFFICE IN TEXAS. As Superintendent of Public Instruction, Dr. Blanton worked to increase teacher pay, improve rural schools, and standardize instruction. She also promoted better teacher certification law as well as equality for women teachers. She supported increased school funding and established a system of free textbooks.
Dr. Blanton had won the position in the November general election of 1918. Interestingly, the July 1918 primary was the first time Texas women could exercise their voting rights.
Dr. Blanton then decided to continue a career in politics. She made an unsuccessful bid for the United States Congress. Her brother, Thomas, represented Central West Texas in the United States Congress from 1917-1936. Undaunted by her political setback, Dr. Blanton decided to further her educational pursuits. She obtained a master's degree in 1923 from the University of Texas at Austin. Dr. Blanton worked as an Adjunct Professor of School Administration for three years until going to Cornell University where she received a doctorate in rural education and rural sociology.
In 1927, Dr. Blanton returned to the University of Texas. By 1933, she was promoted to Professor of Rural Education. Dr. Blanton was only THE THIRD WOMAN to receive the rank at the University. She was named chairman for the Department of History of Education and remained a Professor of Education for the remainder of her career.
Constantly advocating for women's roles in the educational profession, Dr. Blanton had a history of involvement in national groups. She served as vice-president of the National Educational Association in 1917, 1919, and 1921. For six years, she served as a member of the National Council on Education. In 1929, Dr. Blanton decided to form an organization to take away barriers limiting the advancement of female educators. She selected eleven other women educators throughout Texas who agreed to join her in this endeavor. They became the twelve Founders and the Delta Kappa Gamma Society was born. On May 11, 1929, the first initiation was held. Dr. Blanton had determined the framework of the Society by outlining its purposes and policies in a tentative Constitution. She wrote the initiation ceremony and the lyrics for the official song. Dr. Blanton worked diligently to have Delta Kappa Gamma grow in an effort to help other key women educators. In 1934-1935 the printed "Bulletin" was first published. It summarized activities of Delta Kappa Gamma chapters. The "Bulletin" was mailed directly to all 4,000 members in September1936. By 1941, 35 states had joined the Delta Kappa Gamma Society with over 80 chapters. Dr. Blanton co-authored with Norma Smith Bristow a "Brief History of Delta Kappa Gamma" and published it in six issues of the "Bulletin" (1936-1939).
Having endured several health issues, Dr. Blanton passed away on October 2, 1945. She is buried in her family plot located at Oakwood Cemetery Austin, Texas. At her funeral, Delta Kappa Gamma Society members brought roses to honor their founder DR. ANNIE WEBB BLANTON. A rose ceremony is still conducted today for a Delta Kappa Gamma member who has passed away. Dr. Blanton's legacy is far reaching. She transitioned from being the one teacher at a rural school to being a university professor as well as a public elected official. She paved the way for females to follow their dreams as they pursue their chosen careers.
Dr. Blanton was the founder of the Delta Kappa Gamma Society which began with 12 members from one state, Texas. The Society has now spread and has an international presence. As of 2022, 17 countries are members of Delta Kappa Gamma International. The Society advocates, supports, and encourages women. The state of Texas has acknowledged the unique contributions of Dr. Blanton by honoring her. In March 2013, the Texas Historical Commission recognized Dr. Blanton for her significant role in Texas history with the official Texas historical marker at the new Dr. Annie Webb Blanton Elementary School in Argyle, Texas. It is the FIRST STATE MARKER HONORING A WOMAN IN DENTON COUNTY. The Denton Independent School District and Denton County Historical Commission co-sponsored the marker. A dormitory at the University of Texas at Austin is also named in Dr. Blanton's honor.
WORKS CITED:
Annie Webb Blanton, Women in Texas History

Blanton, Annie Webb (1870-1945) by Debbie Mauldin Cottrell
Texas State Historical Association

DKG International Society for Key Women Educators
Annie Webb Blanton

Legacy of Annie Webb Blanton, June 13, 2013
University of North Texas

Our Heritage in The DKG Society by Eunah Temple Holder
Sponsored by The Delta Kappa Gamma Society
Our Heritage Vol. 1 1919-1960
Modified 11-1-1018
Copyright 1960 by the DKG Society
Library of Congress Catalog card #60-15257

Texas Originals: Annie Webb Blanton
Humanities Texas