Donna Weng Friedman
A Q&A with award-winning pianist Donna Weng Friedman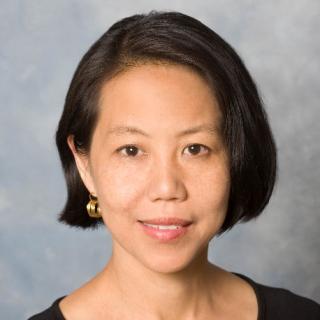 Early in 2021, the National Women's History Museum was honored to have award-winning pianist Donna Weng Friedman participate in NWHM Presents: Sundays@Home to discuss how poetry and music are often intertwined. Dedicated to honoring women whose activism and talents serve to inspire others, Ms. Weng Friedman is collaborating with NWHM on creating new educational programs for 2022 that feature leading female BIPOC role models in the arts to encourage girls to pursue their dreams.
Enjoying a varied career as a soloist, chamber musician, teacher, curator, and app developer, most recently Ms. Weng Friedman released her EP Heritage and Harmony: Silver Linings. Featuring exclusively AAPI/BIPOC artists, the album aims to promote understanding and tolerance among people of all backgrounds and combat racism. In collaboration with WQXR, she created and produced Heritage and Harmony, a virtual concert video series in celebration of Asian Pacific Heritage Month.  Ms. Weng Friedman is the co-creator and co-host of HER/MUSIC; HER/STORY, a miniseries on WQXR as well as a concert series that shines a light on women composers, past and present. She was the guest speaker on TEDx Santa Barbara's series Making Waves: Conversations with Influencers and Disruptor.
Ms. Weng Friedman has performed in concert halls worldwide, including Carnegie Hall, Lincoln Center and the 92nd St. Y, and she appeared as soloist with major symphony orchestras, including the Atlanta, Philadelphia and Shanghai Symphony Orchestras. An avid chamber musician, she has collaborated with St. Luke's Chamber Ensemble, Carter Brey, Ani Kavafian, David Shifrin, Elizabeth Mann, Kelly Hall-Tompkins and Anthony McGill. Ms. Weng Friedman has conducted master classes at the Shanghai and Beijing conservatories and is on the faculty of the Mannes School of Music.
Ms. Weng Friedman received a Bachelor of Arts degree from Princeton University where she was a University Scholar and a Masters of Music Degree from the Juilliard School, under the tutelage of Adele Marcus, where she was awarded the prestigious Gina Bachauer Award as well as the William Petschek Full Scholarship.
---
What excites you most about collaborating with the National Women's History Museum?
The National Women's History Museum's mission, "to tell the stories of women who have transformed our nation...to educate, inspire, empower, shape the future and provide a complete view of American history" resonates with me to the very core of my personal beliefs and professional practices.  As a concert pianist and producer/creator of the Heritage and Harmony programs, my commitment to sharing the stories and accomplishments of extraordinary but overlooked and underrepresented female artists aligns beautifully with the National Women's History Museum's vision.  By affirming the fact that women in all arts have played a much larger role in the past than they have been credited for, these education programs will present a more inclusive historical narrative as well as provide inspirational and aspirational role models for girls of all ages.  To me, there is nothing more exciting and worthwhile than working together with the NWHM to support and encourage school age girls of all ethnicities to find their true voice and give them a platform so that their voices can be heard and acknowledged.
What women artists have impacted the trajectory of your life and career ?
I grew up in Forest Hills, Queens, in a traditional Asian American family. I started taking piano lessons when I was six, went to Juilliard at age seven and started performing in concerts shortly thereafter.  I was (and still am) very petite and shy and was sometimes teased for being short. My nickname was Peanut, and I honestly felt more comfortable on stage than anywhere else.  When I was twelve, I received my first reviews from music critics in local newspapers.  Although the reviews were all very complimentary, several critics, mostly male, seemed to focus more on my size than on my music. "Small in stature, great in talent", "One wonders how someone so small can play with so much power" and "… practically standing at the piano in order to reach the pedals… will she be able to reach her full potential as a professional pianist moving forward?" These comments made me feel self-conscious and inadequate, and my dream of becoming a concert pianist suddenly seemed silly to me and unattainable. My mom understood my disappointment and felt my sadness.  She herself fled from her hometown in China during the Japanese occupation and came to this country in the 1940's with nothing but her own dreams to hold on to, so she wasn't about to let me give up on mine. She took me to a concert given by the legendary pianist Alicia de Larrocha.  Like me, Alicia de Larrocha was very petite, and the nickname given to her by the press was "the Little Giant", but as soon as she walked on stage, I knew I was in the presence of greatness.  Her playing took my breath away – she was the consummate artist, and I wanted to be just like her.  A few weeks later, she gave an interview on the radio, and her closing words were "Don't let anyone tell you small girls can't become great pianists!" – What a confidence booster! A year later, my mom took me to a concert featuring the celebrated pianist Mitsuko Uchida - the first female pianist of Asian descent I ever heard about –and that event was life changing. Having these two amazing women as role models helped strengthened my resolve to work hard and pursue my dreams. Given my own personal experience, I believe that children of all ethnicities, but especially our girls of color, would benefit greatly from strong female role models who carry positive messages.  These girls need to be given the opportunity to see themselves in the faces of extraordinary women, so that they can know what is possible for them to achieve in their own lives.
As Heritage and Harmony explores the cultural heritage of classical musicians of Asian descent by sharing their stories through discussing their connection to pieces preformed, what types of conversations do you hope this virtual concert series generates? 
I created the video series Heritage and Harmony in collaboration with WQXR last spring as a response to the rising number of hate crimes committed against members of our AAPI community. I believe that much of those horrendous behaviors stemmed from ignorance and fear, fueled by a single story about a cruel and deadly virus originating from China. By spotlighting the stories and music of leading classical musicians of Asian descent, my virtual concert series serves as both a recognition of the tremendous contributions to the musical canon by Asian American musicians, and a reminder of the need to stand together against mindless intolerance.  I believe that sharing our stories of heritage - our struggles and challenges as well as our triumphs- can lead to a greater understanding between people from different backgrounds and cultures. 
My heart aches from the ongoing violence against our AAPI community.  I recently released my pandemic album Heritage and Harmony: Silver Linings, featuring exclusively AAPI and BIPOC artists in an effort to promote understanding and tolerance among people of all ethnicities. Proceeds from the streaming sales of this album (on Spotify and Amazon) will go to the Korean American Community Foundation (KACF), an organization that fights against racism and supports diversity, equity and inclusion.  The music on Heritage and Harmony: Silver Linings helped get me through the pandemic year, which for me started with an assault for being Asian and ended with my entire family getting sick from COVID-19. My hope is that the music as well as the back story will resonate with people who are looking for a way to connect with and help support our hurting AAPI community. By listening to each track on Heritage and Harmony: Silver Linings, they can enjoy the glorious music of incredible but underrepresented AAPI/BIPOC artists while making a small but invaluable contribution to the AAPI community. In this case, action speaks louder than words, but the message is the same:  we are all in this together - and I can think of no better way to bring people together than through the unifying power of music.
Once a women's history museum is built, what types of stories would you like told through its exhibitions?
The stories that I look forward to hearing and sharing in exhibitions throughout the National Women's History Museum will be devoted to correcting the historical record by shining a spotlight on the accomplishments and lives of overlooked and underrepresented women past and present from all disciplines. The stories will highlight their struggles and challenges as well as their hopes, dreams and triumphs. I envision in-person performances, exhibits and lectures at the new space, engaging the community with beautiful music, poetry, dance, art and uplifting stories, all of which will inspire awe, respect, admiration and goodwill between people of all ages, genders and ethnicities. These will be the glorious stories told at the National Women's History Museum new site, leading the way to a better future united together in Heritage and Harmony.