Mankiller: Activist. Feminist. Cherokee Chief.
An Interview with Valerie Red-Horse Mohl, Director and Producer of the documentary, Mankiller.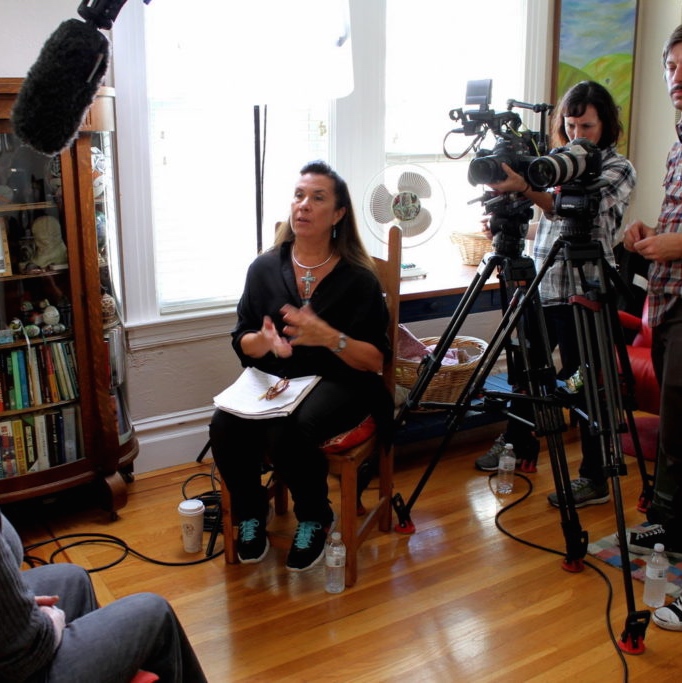 Activist. Feminist. Cherokee Chief.
MANKILLER is the powerful story of Wilma Mankiller, who found her voice in San Francisco's civil rights movement and returned to lead the Cherokee Nation as the first woman to be elected Principal Chief. "As a Native American woman myself, I am honored and humbled to be directing and producing this documentary in collaboration with my tremendous production team," Valerie Red-Horse Mohl, director and producer of the new documentary Mankiller says about her role with the film.
Red-Horse Mohl and her team raised more than half their budget from supporters around the world who contributed to their crowdfunding campaign. They fostered trust within Native communities as filmmakers who are true to their subjects, fair and honest in their portrayals and accurate in their storytelling. With news of world events unfolding around us, they realize how Wilma Mankiller's leadership style, her focus on consensus building and her ability to organize a community with quiet influence and humility, are all qualities that are extremely topical. "I truly believe we can learn rich and valuable lessons from her story and her legacy. I see this film as so much more than a biography; I believe it actually is a wakeup call," she said. "Wilma lived her life with the philosophy of 'Ga-Dugi' which translated means 'in a good way'—and our goal is that we embody 'Ga-Dugi' on this project to honor her."
The National Women's History Museum had the opportunity to learn more about the project, and here's more about what Valerie Red-Horse Mohl told us.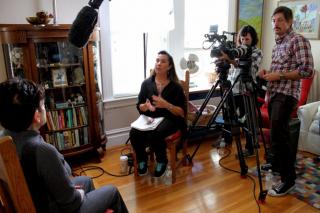 What was it about Wilma Mankiller that drew you to this project?
After Wilma passed away in 2010, her widower, Charlie Soap, and friend, Kristina Kiehl, decided to make a narrative indie feature film about one chapter in her life and leadership.  When this came to our attention, Shirley Sneve, from Vision Maker Media for PBS and I put our heads together and felt there also needed to be a non-fiction documentary about Wilma's life. But I was also very humbled and concerned that I might not be able to do Wilma's story justice; then once I knew Academy and Emmy Award-winner Gale Anne Hurd, executive producer of the most-watched scripted cable drama The Walking Dead and its companion series Fear the Walking Dead, and longtime NWHM Ambassador, would join me again for our third project, I couldn't wait to produce and direct this, as we work so well together.
But we both knew we couldn't make this film without the support of Wilma's family so when they also came on board together with our fantastic production team, we really knew we had an amazing opportunity for collaboration. As a Native American woman of Cherokee heritage, I have been a fan of Wilma Mankiller's for many, many years and was obviously drawn to the story of a strong woman role model. Then as we delved deep into the research and development phase, I realized how much more there was to Wilma's story and was drawn to her legacy as a truly positive example that our current leaders need to see and understand. Although I had no idea when we started this project in 2011 that the world would evolve to such a sad place of divisiveness and negativity in politics, it truly seems as if Wilma's message is being seen and heard through this film at a time when her voice is sorely needed.  
What was something you learned about her that surprised you?
Some surprises were our similarities. Once I started researching and really delving into who she was and her background it was almost eerie how many similarities there are between our lives. Her father was full blood Cherokee (as was mine)—her mother is 100% Caucasian (as was mine). Her family was relocated to San Francisco on the Bureau of Indian Affairs program as was my father (I was born near San Francisco because of this). Wilma rarely used political labels but was a uniter—I dislike labels and try to also be a uniter. These are just a few—but the connection I feel is uncanny.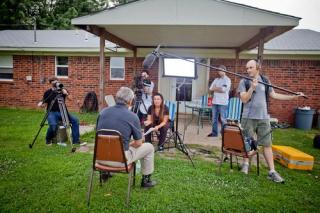 What do you think her legacy is?
I think Wilma's message is one that begs for us to return to her style of servant leadership. Wilma was an advocate for the feminist movement as well as an advocate for Native Americans, but if you look closely at her life she really was an advocate for all human beings. She loved and respected people and I feel we've lost that somewhere. She was effective, and she was able to bring about change. She did not back down but she did it with quiet stealth and respect. Her legacy is multi-faceted, but I see it in the foundations she laid at the Cherokee Nation in economic development and cultural preservation, in her children, in women and others she empowered and, in the love and respect she garnered that lives on.
What should girls and young women who may not know anything about her walk away with?
Now is the time more than ever in our history for people to become involved in their local community and the broader community and the Nation. We cannot sit back and complain about politics and policies and divisiveness; we must be part of the solution. I truly believe that the solution to unity in moving forward will come from our younger people. However, many people believe that in order to make a difference and run for office you have to have money or connections or be in some sort of position of power. Wilma did not have money or power. In fact, at one point she lived in her car. She was also very ill most of her life. She had to fight racism and sexism; she was viewed as someone with nothing and yet she made a huge and significant difference; her contributions continue to be felt today. Her story should empower people to get involved and make a difference regardless of their current standing or position in life. If she could do it, so can we! So in essence, I'd like to see it serve as a call to action. For example, when we screened in Washington, DC we partnered with some fabulous nonprofit bi-partisan organizations aimed at empowering women to run for office and we saw an increase in the number of women signing up to run. That's the kind of response I love to see! I also think there is important dialogue around servant leadership, a return to civility, bipartisan leadership, listening to opposing viewpoints and incorporating solutions that include everyone's points of view.
Who do you think might have inspired Wilma Mankiller?
I think Wilma looked to all of her Cherokee ancestors and the trials they survived as her inspiration—especially the women.
Is there anything we didn't ask that we should have or anything else you would like for us to know?
I am so very honored to not only have been given the opportunity to direct and produce this very important film but to do so beside my long time producing partner, Executive Producer, Gale Anne Hurd. This is our third film together and all of our documentaries have shed light on stories that have been neglected by the history books; people whose memories have been marginalized in some way. These are very important stories as are so many docs. I have spent a lot of time at film festivals with fellow documentary filmmakers and it continues to frustrate me that we all struggle with small budgets and grovel for grants to make films that are so very important. Films that change lives, have social impact and raise awareness need to continue to be made and hopefully the industry and budgets will evolve.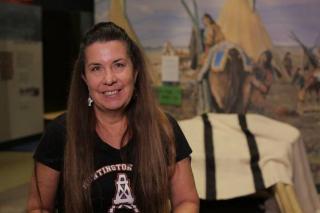 About Valerie
A filmmaker of Cherokee ancestry, Red-Horse Mohl's body of work spans over three decades of film and television content creation and production. A graduate of UCLA's Theater/Film Program, she has produced, directed and written over a dozen award winning films and television programs including, Naturally Native (Sundance Feature), True Whispers: The Story of the Navajo Code Talkers (PBS-also with Hurd), Choctaw Code Talkers (PBS-also with Hurd), Pop Hunter's Dew Drop Inn (PBS), Diversity in the Delta (PBS), My Indian Summer (CBS), and Beauty (NBC). Red-Horse Mohl is a member of the Directors Guild and Screen Actors Guild and was inducted into the National Association of Women Business Owners (NAWBO) Hall of Fame in 2008. In addition to her entertainment expertise, Red-Horse Mohl is an investment banker serving as owner/founder of Red-Horse Financial Group, Inc.; she holds seven FINRA securities licenses and has raised/structured over $3 billion in capital for American Indian Tribal Nations. Red-Horse Mohl is also the founder of three non-profit organizations.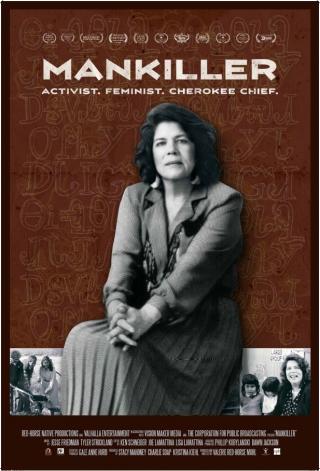 About Mankiller
This is the story of an American hero. One who stands tall amongst the likes of Robert Kennedy, Harriet Tubman, and Martin Luther King Jr. Someone who humbly defied the odds and overcame insurmountable obstacles to fight injustice and gave a voice to the voiceless. And yet few people know her name. This is the story of an American legend, Wilma Mankiller, who overcame rampant sexism and personal challenges to emerge as the Cherokee Nation's first woman Principal Chief in 1985.
MANKILLER examines the legacy of the formidable Wilma Mankiller and reunites the documentary team of Gale Anne Hurd and Valerie Red-Horse Mohl for their third and most powerful film. MANKILLER reminds audiences of the true meaning of servant leadership and serves as a wake-up call to take action for positive change.
The documentary is airing nationwide on PBS. Click here to see when it is airing in your area.