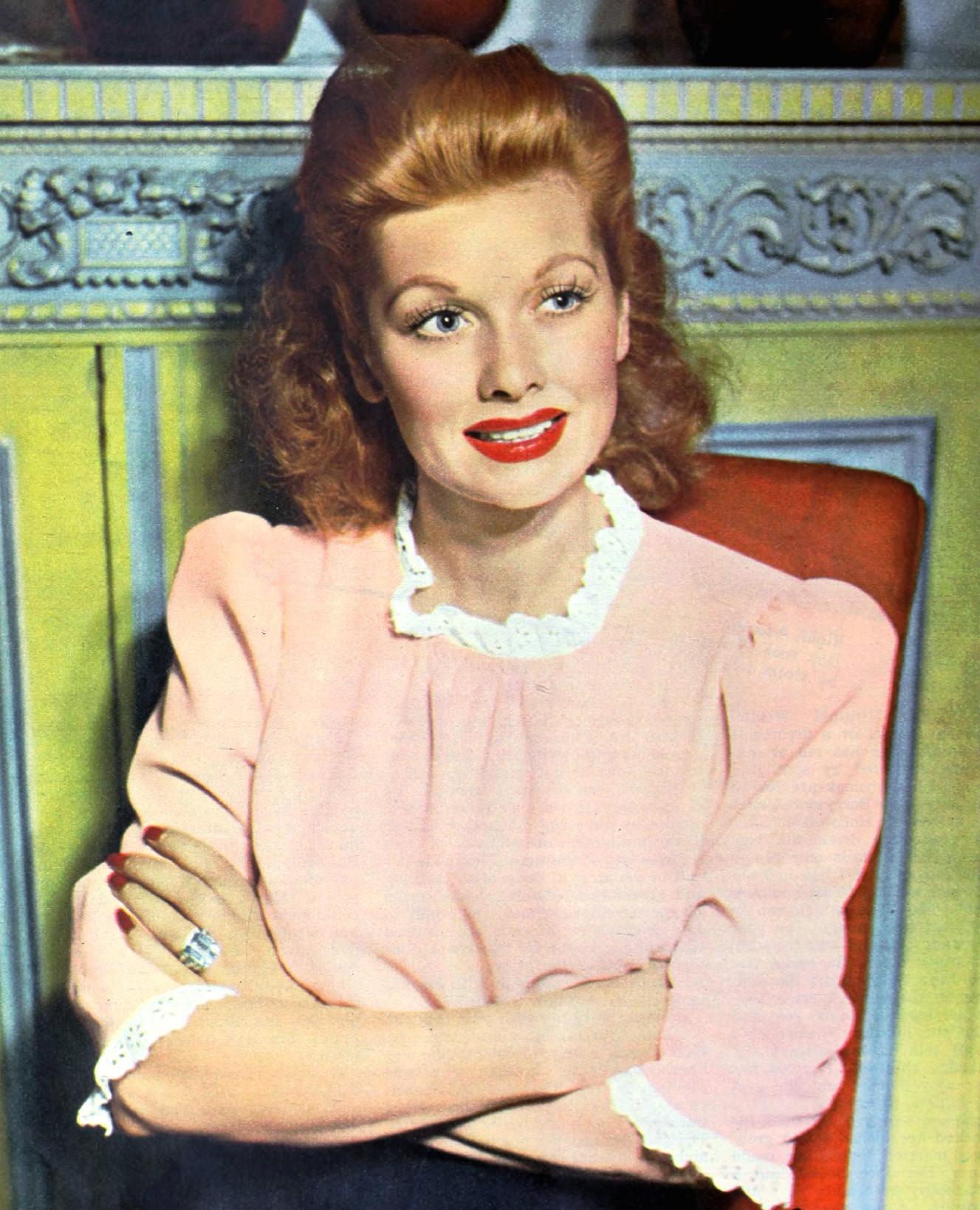 Credit
Macfadden Publications/Wikimedia Commons
This past Tuesday marked the 102nd anniversary of the birth of Lucille Ball, a veteran of television, film, radio, and stage. Her most notable role, Lucy Ricardo in I Love Lucy (1951-1957), became one of the most well-known and adored characters in television history, and turned Lucille Ball into a household name who continues to entertain generations of people worldwide. She has received a countless number of accolades, including winning four Emmy Awards (Best Comedienne, 1952 and Best Actress in a continuing Performance, 1955 for I Love Lucy, and Outstanding Continuing Performance by an Actress in a leading Role in a Comedy Series, 1967 and 1968 for The Lucy Show), being the first female inductee into the Television Academy's Hall of Fame and later being inducted into the National Women's Hall of Fame in 2001, receiving a Lifetime Achievement Citation from the Kennedy Center for the Performing Arts in 1986, and being posthumously honored with the Presidential Medal of Freedom in 1989.
Lucille Desiree Ball was born on August 6, 1911 in Jamestown, NY. Her father, Henry, died when she was three years old, so she was raised by her mother, Desiree, a concert pianist, and her maternal grandparents. Her grandparents instilled in her both a commitment to hard work and a love for the theater. She began performing in school plays as a child and decided to pursue a show business career at age 15. As a blonde and under the stage name, Diane Belmont, she tried her luck as a Broadway chorus girl during the 1920s. She had some brief luck in this endeavor but was ultimately fired from four different shows. She was repeatedly told by people in the industry and acting coaches that she should give up because she did not have enough talent. This did not deter her, however, and after illness prohibited her from working for a period of two to three years, she returned to New York City, looking for work under her own name. She took various jobs modeling in department stores, which eventually landed her a Cigarette Girl gig in Chesterfield Cigarette's national advertising posters in 1933.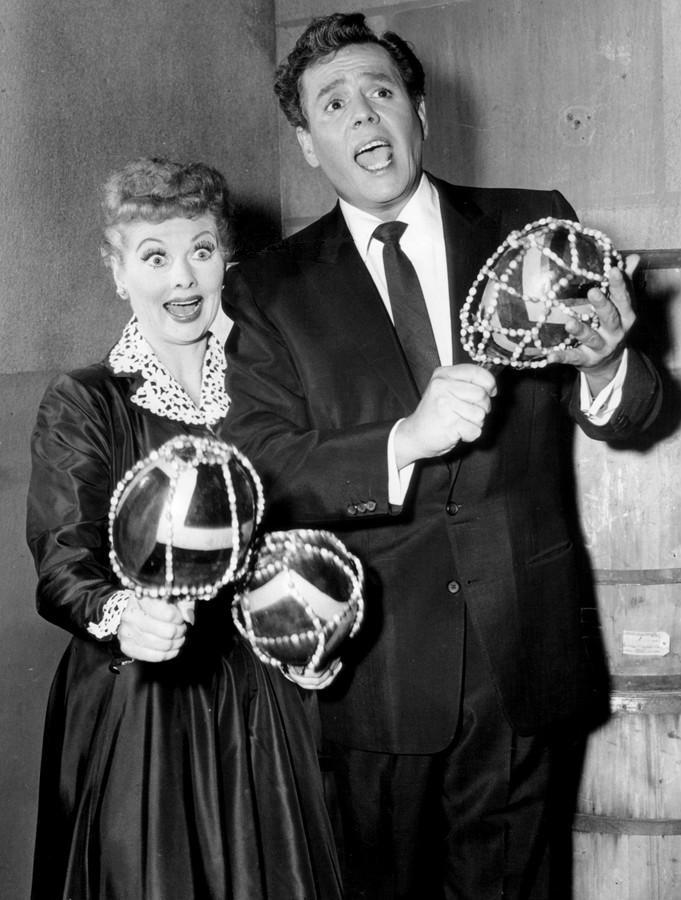 Credit
Ford Motor Company/Wikimedia Commons
Ball's stint as Cigarette Girl led to her being cast later that year as a Goldwyn Girl in the film, Roman Scandals – the start of her Hollywood career. She made most of the over 70 films in which she appeared throughout her career during the 1930s and 1940s, under contracts with Columbia, RKO, and MGM. Ball fared well in many B-movies, but failed to receive a breakout screen role that could launch her career. Forever trying to reinvent herself during this period, she took on many different types of roles and changed her look from blonde bombshell to the fiery red hair that later became synonymous with her. From 1947 to 1951, she took on radio, starring as the ditzy housewife in the CBS show, My Favorite Husband. Upon its venture into the burgeoning industry, CBS asked Ball to recreate her character in My Favorite Husband for television. Ball agreed but only if Desi Arnaz could play her onscreen spouse, Ricky. CBS initially said no, thinking American audiences would not be able to accept Cuban-born Arnaz and his accent as Ball's husband, despite the fact that they were married in real life. Ball and Arnaz offered to tour as a husband and wife vaudeville act throughout the summer of 1950 to prove to CBS that audiences would want to watch them. After the success of their vaudeville show, CBS agreed to shoot a pilot for what would become I Love Lucy.
While all sides were on board to shoot the pilot for I Love Lucy, Lucille Ball and Desi Arnaz, upon the formation of their production company, Desilu, had some kinks to work out. In the early years of television, most shows were broadcast live from New York with the use of one camera. However, recognizing the potential of having their show preserved on film, instead of it being broadcast live, Desilu insisted I Love Lucy be taped. They also wanted the rights to the show, which they got from CBS. These were both moves that allowed Ball and Arnaz to greatly profit from the reruns and syndication of their work, making them the first television star millionaires. Ball further insisted I Love Lucy be taped in front of a live studio audience and, drawing on her film experience, that it be taped using three cameras. Ball's influence made I Love Lucy one of the first television shows to be recorded in the way that became standard for television sitcoms. It also marked a shift from a New York centered television industry to a Los Angeles television industry, as I Love Lucy and future shows began filming in Hollywood to take advantage of the film industry's studios and multi-camera setups. I Love Lucy premiered on October 15, 1951 and it was an overnight success. For four of the six years I Love Lucy was on the air, it was number one in the ratings and never dropped below number three. It still to this day holds the record for most watched television episode of all time, "Lucy Goes to the Hospital," which aired on January 19, 1953. The episode, in which Lucy Ricardo gives birth to Little Ricky, coincided with Lucille Ball's real life pregnancy and cesarean section scheduled for the same day. It was such a major media event that 44 million people, or 72 percent of all American households with a television at that time, watched. President Eisenhower's inauguration the following day drew a television audience of 29 million.
Aside from being one of the first pregnant characters on television, Lucille Ball portrayed Lucy in ways in which women had not been before seen on television. Lucy is a housewife who in every episode resists domestic life and/or a wife's dependence on her husband, often to her husband's disliking. She vies to be part of the outside world (a recurring struggle for her is to work her way into Ricky's night club act), and is constantly coming up with schemes to get what she wants. Lucy was funny and zany, yet beautiful and feminine. Ball's talent for both verbal and slapstick comedy paved the way for future television women. In addition to opening new doors for women in front of the camera, Ball was also a powerful female figure behind the scenes. As co-owner of Desilu, she became the first woman to head a production studio. She and Arnaz divorced in 1960 and, in 1962, she bought out his share of Desilu, making her the sole head of the company. Throughout the 1950s and 1960s, Desilu was responsible for producing some of the other biggest shows in television history, from The Dick Van Dyke Show to Star Trek.
After I Love Lucy went off the air in 1957, Lucille Ball kept starring on television in The Lucy-Desi Comedy Hour(1957-1960), The Lucy Show (1962-1968), Here's Lucy (1968-1974), and Life with Lucy (1974). She continued to make movies and she also took on the lead role in the 1960 Broadway production, Wildcat. Lucille Ball died of a rupture in her heart on April 26, 1989.