Jackie Mitchell and the Bloomer Girls
Baseball's Unsung Heroines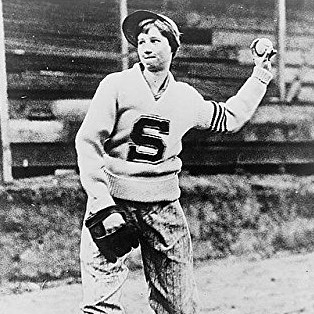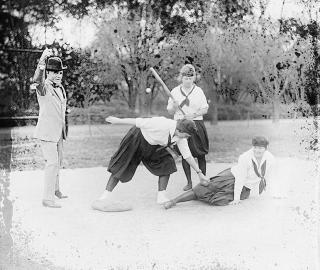 Credit
Library of Congress
While baseball is largely a male dominated sport today, the first team at any level to be paid to play baseball was an all-female African American team, the Philadelphia Dolly Vardens. The team played in long-sleeved calico dresses, high button shoes, and red jockey caps. The Dolly Vardens were paid to play baseball two years before the first men's team, the Cincinnati Red Stockings, formed in 1869. After Amelia Bloomer designed her famous Turkish-style pants, women donned the new clothes, took to the ball park as "Bloomer Girls," and traveled the country competing against both male and female teams. Numerous women earned their living playing baseball from the 1890s until the early 1930s. Yet public opinion still reflected an entrenched belief that baseball was far too dangerous and strenuous for the "delicate" female constitution.
During the 1930s in Tennessee, Joe Engel, owner of the AA minor league team the Chattanooga Lookouts, was always looking for ways to fill seats at games. Engel, known as the "Barnum of Baseball," frequently used publicity stunts as a way to get larger audiences into his stadium, as attendance dropped due to the financial hardship of the Great Depression. He caught wind of 17-year-old Jackie Mitchell and though he could garner more publicity for the Lookouts by signing her to the team. Mitchell was an all-around athlete who played multiple sports including tennis, basketball, and boxing, but her favorite was baseball. As a child, she lived next to future Baseball Hall of Famer Dazzy Vance who coached her on the "drop ball" pitch which she used while playing for an all-girls team in Chattanooga. On March 25, 1931, Engel signed Mitchell to the Lookouts and promoted his team as the only professional baseball team with a female pitcher. One week later, Mitchell was called to the mound in her first professional game.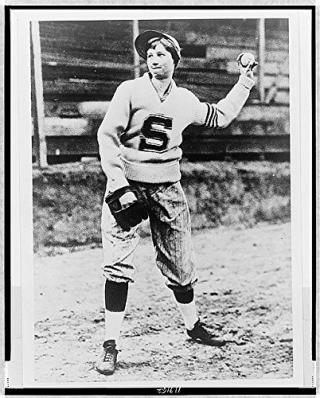 Credit
Library of Congress
During the 1930s, it was common for major league teams to play exhibition games against minor league affiliates. On their way back to New York from their Spring Training facility, the New York Yankees stopped in Chattanooga on April 2, 1931 to play an exhibition game against the Lookouts. Pitcher Clyde Barfoot started the game for the Lookouts, but was pulled by the manager after giving up hits to the first two Yankees hitters. Mitchell was called into the game to face the next two hitters in the lineup: Babe Ruth and Lou Gehrig. Mitchell's first pitch to Ruth was a ball. Ruth then swung and missed the next two pitches and was caught looking for strike three. Gehrig struck out swinging on three consecutive pitches. Mitchell only had the "drop ball" in her pitching repertoire, but she used it successfully to strike out two of the greatest hitters in baseball history in just seven pitches. The crowd of 4,000 gave her a minutes-long standing ovation. She walked the next batter, though, at which point Barfoot returned to the game to replace her – and ended up losing 14-4.
Babe Ruth was not happy about the outcome of his at bat against Mitchell. He allegedly yelled at the umpire, kicked the dirt, and threw his bat after being called out on strikes. After the game, Ruth is quoted as saying, "I don't know what's going to happen if they begin to let women in baseball. Of course, they will never make good. Why? Because they are too delicate. It would kill them to play ball everyday." Major League Baseball Commissioner, Kenesaw Mountain Landis, took Ruth's side on the issue and voided Mitchell's contract to play with the Lookouts, claiming baseball to be "too strenuous" for women.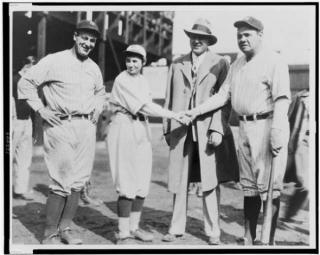 Credit
Library of Congress
Major League Baseball officially barred all women from the game on June 21, 1952. The All-American Girls Softball League was formed in 1943 and eventually became the 600-player-strong All-American Girls Baseball League (AAGBL) which played for twelve seasons. These teams were immortalized in the 1992 film, A League of Their Own, and the AAGBL finally dispelled the belief that the sport is not "too strenuous" for women.
After the AAGBL dissolved in 1954, few women were able to break the gender barrier. Toni Stone, Connie Morgan, and Mamie "Peanuts" Johnson played alongside men in the Negro Leagues, but a significant female representation in the sport has yet to materialize. In 1998, minor league pitcher Ila Borders became the first woman to win a professional game, but still could not break into the majors and retired two years later. In 2014, Mo'ne Davis became the first African American girl to play in, the first girl to pitch a winning game in, and the first girl to pitch a shutout game in the Little League Baseball World Series. As of 2017, she continues to be a rising star in the sports world and, although no one knows what the future holds, many believe she will be the first woman to play on a Major League Baseball team.
Originally published as "Baseball's Unsung Heroines" by Cathy Pickles, April 9, 2012 and "Historical Women Who Rocked: Jackie Mitchell" by Elissa Blatmann, April 2, 2013.
Updated and republished by Kenna Howat, Program Assistant.