Girls to the Front: How Young Women are Shaping Their Future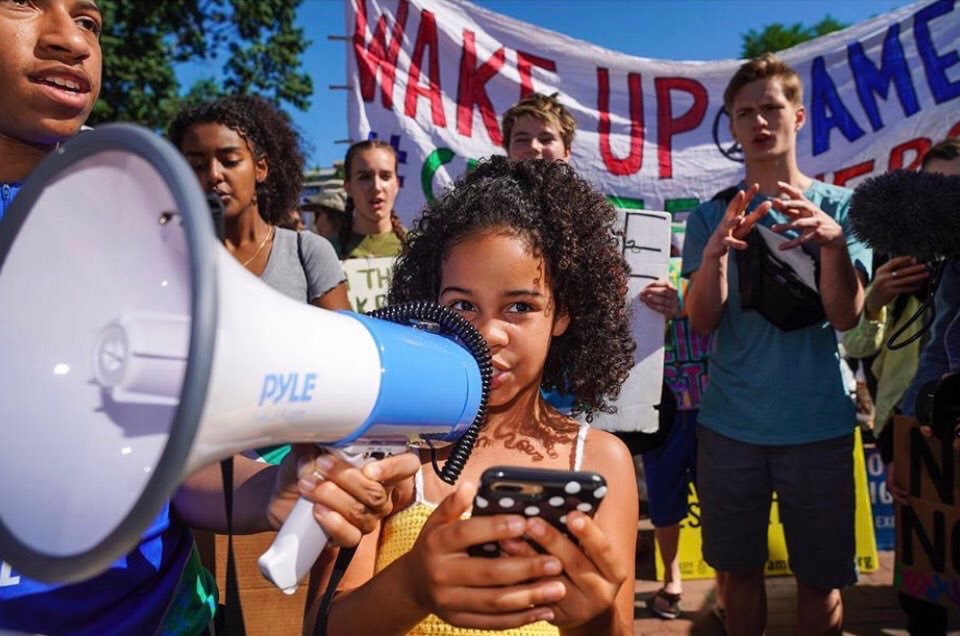 "There's just a part of me that stopped developing when I was 16," Melissa Campbell said in an interview with NWHM. "I went through a lot—but also, every teen goes through a lot. What happened to me was really terrible and has lifelong effects to this day, but it also was extremely run-of-the-mill...But that was also where I developed the sense that it just wasn't fair."
Campbell, who uses they/them pronouns, spent years working within activist organizations centered on teens. They are now pursuing a degree in social work in order to become a teen therapist—and have learned that those adolescent bristlings at the world were a superpower. Data shows that adolescents and young adults are more engaged psychologically with justice, equality, and fairness. "That is a specifically adolescent skill and quality," they explained, "to be able to see all of the things that are wrong and be like, that shouldn't be like that."
That same skill drove KaeLyn Rich into her own lifelong career in activism. "I grew up with a sense that if you are upset about something, you work to change it, and I was extremely lucky that I got that second message because it saved me from a totally different outcome related to the first," Rich told NWHM. "Like every teenage girl, I experienced shame, bullying, fatphobia, racism, and sexism, and those influenced the direction of my life, but I also had this really strong backbone. I knew I didn't deserve any of that. Even when I didn't quite know how to fight back against it, I always had an innate sense that it was wrong."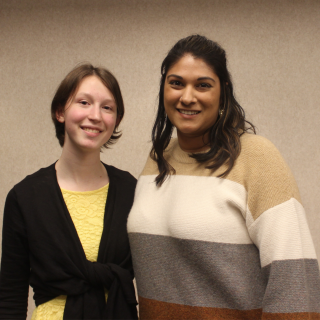 Therese Malinowski was just 16 when she began building Project Dandelion, the world's only database of college sexual assault statistics. "My first time being exposed to sex in general was in the context of the sexual assault of someone very close to me [in middle school]," she explained to NWHM. "I saw firsthand how truly destructive sexual assault can be, and it has really stuck with me since then. I knew then that I did not want anyone else to have to go through something like this ever again."

Malinowski's Girl Scout Gold Award project tookshape after she learned during a screening of the documentary The Hunting Ground that colleges covered up sexual assault cases. "I was absolutely disgusted," she said. "I knew I never wanted to go to a college like that. After watching, my friend and I decided to look into the colleges we were thinking about applying to in order to see if they were guilty of this, but quickly found that any information online was incredibly difficult to find, much less understand."
Malinowski and 25 student volunteers closed that gap for every campus in Illinois when they built the website together. Malinowski, now 20, is embarking on a second phase of development and looking for an organizational partner to expand the project moving forward while studying aerospace engineering at Purdue University. "The goal is to grow Project Dandelion into a national resource, and have it known well enough to the point where its existence encourages colleges to improve the culture of sexual assault on their own campuses."
Julia Trujillo was a junior in high school when she co-founded an Intersectional Feminist Club and realized that menstrual stigma was impacting its members. "So many of my peers and I had these shared experiences of struggling to handle our periods in school," she recalled to NWHM. "So many of us had stories of missing class or leaving school entirely because we were unprepared, and our school did not provide accessible period products."
Trujillo and her fellow clubmates began surveying students and doing research on period poverty, which only further fueled her fire. "I realized this problem was something that disproportionately impacted students from low-income backgrounds, including students within our own community," she told NWHM. That's why, when the club secured free products on campus after a "grueling eight-month campaign," Trujillo kept working—"left with the realization that all across my state and country, other students were facing the same injustice and would have to endure the same battle to gain access to this basic hygiene necessity." Trujillo formed a legislative action committee at her high school and partnered with a state representative to draft legislation to fund free menstrual products in low-income districts across Colorado—leading outreach to stakeholders, editing language with the bill drafter, and ultimately testifying in support of HB 1131 before a state congressional committee to earn her own Gold Award.
Trujillo, now 19, encountered "a seemingly endless number of roadblocks throughout the entire process"—including COVID-19's impact on the state's budget, which ended the battle for her bill in the Senate. But it hasn't slowed her drive. "I took all this opposition and pushback and saw it as fuel to keep going...When I found myself faced with opposition and refusal to acknowledge the validity of period poverty and stigma, I chose to remember that despite the setbacks, I was engaging in subversive discourse. Normalizing the discussion around menstrual equity will only make it easier to view period product accessibility as a matter of public health and safety and help build a future where period equity is actualized."
Anya Sastry was only a freshman in high school when the outcome of the 2016 election called her to action. "I simply couldn't remain silent," she explained to NWHM. "The work had to start."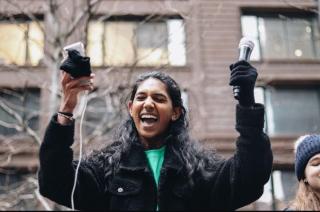 Sastry has organized anti-gun violence and Black Lives Matter protests, phone-banked for political candidates, and participated in the US Youth Climate Strike—first as co-state lead for Illinois and then as national outreach director. She also directed the documentary film Frontliners, which explored the Indigenous fight against an oil pipeline in Minnesota and a Latinx community protesting pollution in Chicago, and now works with the Sunrise Movement and interns at the social impact agency Soze.
Havana Chapman-Edwards, who just turned 10 in January, has also done activist work across a range of subjects—from climate justice to immigration rights. She has spoken at international conferences and the United Nations about girls' education; sat in the chamber during a House of Representatives vote on anti-gun violence legislation; and has raised over $50,000 for books, laptops, and other educational materials for girls around the world. Most recently, Chapman-Edwards started a non-profit called Girls Have Rights "to eliminate barriers and obstacles so girls have access to their basic human rights."
Chapman-Edwards' journey began when she was living in West Africa for two years and met a girl named Addi who sold mint leaves outside a local grocery store. "Every time we came to the store, I watched people walk past her like she was invisible," Chapman-Edwards explained to NWHM. "Or worse, they would flick their hand and shoo her away like she was as a fly... She was an outsider in her own community." But Chapman-Edwards knew there were a lot of other girls like Addi—and girls like her.
"This happens every day to girls who look like me in America, too," she said. "Whether it's gun violence, environmental racism, lack of access to education—Black and brown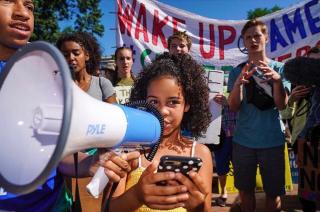 girls experience more barriers and obstacles to their human rights than others. This is why, for the past four years, I have been speaking at rallies, started book clubs, even going to the Capitol and lobbying our representatives in Congress."
While student activism isn't a new phenomenon, Gen Z activists are now coming into movements with a unique perspective, including the lowest belief in "American exceptionalism" in generations. They're more interested in sweeping change than simple reforms, and a large majority wants "an activist government." They don't want to do things the way they have always been done. They also bring a sense of urgency to the table, since their generation will be forced to contend with the consequences of decades of political inaction and compounding inequities.
"As a young person, especially during the years in which I was 15 or 16, it was easy for adults who wanted to shut me down to use age as an excuse," Sastry, now 18, recalled. "The common line was: 'Oh, you're too young to know what you're talking about.' My response? 'When leaders start acting like children, children have to start acting like leaders.'"
"Older people can settle into our ways," Rich noted. "We can very easily fall into that trap of 'We know what's best.' Young people are bringing new ideas. They don't care about the status quo. They're really just hungry for change. When I work with young people, what I hear from them is that they are not interested in incremental change. They want to see this change happen now, in their lifetimes."
"Part of it is just that you haven't been beaten down by the world yet," Campbell explained, "but then also it's true that [teens are] wired for empathy in a way that you kind of lose as you get older...And that is such a powerful energy to harness in social change and changing the world."
"My age directly inspired [Project Dandelion]," Malinowski shared. "If I wasn't a junior in high school thinking about which colleges to apply for and where I wanted to spend the next four years, I don't think learning about sexual assault mishandlings at college would have felt as directly impactful. I learned about this issue exactly when it mattered most to me, and realizing how much I wanted this to exist gave me a sense of obligation to create this for others, even if I couldn't have this resource when I needed it most." In addition to empathy, Gen Z leaders also approach social issues with an intersectional lens shaped by their generation being the most diverse generation in history. Rich has seen this play out in her own meetings with girl activists across the country: "They're looking at systemic issues much bigger than where they are personally situated," she noted. "Young people bring a really sophisticated analysis of how issues intersect. They're not the single-issue voters. They're not all-out for whatever it is, repro rights or LGBTQ rights. They care about all of those things and they see them as overlapping and interconnected in a way that adults should really learn from. They're really invested in collective liberation."
They are also invested in collective leadership. When a cohort of teens Campbell supported at an intergenerational feminist organization called SPARK led a viral protest against air-brushing in teen magazines, only one received media coverage—and she pushed back. "The way the Seventeen magazine thing got talked about was, 'This one girl from Maine stands up to this editor,'" Campbell recalled. "[She] eventually stopped taking interviews. She was like, 'If you're not going to talk about my teammates, then we're not talking.'"
"My friends and I help, support and cheer for each other," Chapman-Edwards confirmed. "I have learned that one girl is powerful, but a movement of girls is unstoppable."
"My power truly does come from the people around me," Sastry shared. "It comes from my parents who have supported me since the beginning. It comes from my co-organizers who have taught and continue to teach me lessons on inner strength, community power, liberation... It comes from the communities who have allowed me to be a part of their advocacy work, who have welcomed me in with open arms and showed me the ways in which they fight for their well-being."
"When we work together, we are stronger," Chapman-Edwards added. "I have seen already that when we are united, we can't be silenced. United we can't be stopped. If we support one another, we rise together."
Gen Z's shaking-up of our political landscape is far from over. In a June 2020 poll by CIRCLE, 83 percent of young people said they "believe they have the power to change the country"—and as more young people rise to the occasion, more are inspired to do the same.
"I'm absolutely going to keep organizing at every opportunity I get," Sastry told NWHM. "We still have racism and inequity deeply embedded at the core of this country and its institutions—and so, the work continues." Trujillo, who took a "COVID gap year" to intern with the state representative who sponsored her menstrual equity legislation, will be pursuing a politics and policy major at Willamette in the fall and hopes to someday work as a political journalist.
But Gen Z's rise will change our society beyond laws, policy, and the structures of activist spaces. Young women and girls today are deliberately moving through the world and coming together within it differently—and the reverberations of that will be long-lasting for all of us.
"One of the things that is so powerful about the skills that we developed as teenagers is that the more we practice them, the more we become ourselves as adults," Campbell noted.
"If you are teaching or helping a young person find a way to get at the system from the outside, you are teaching them ways of creative intervention that they're going to be able to use to build whatever life they're trying to."
"I went into this project as a completely different version of myself," Trujillo admitted. "I was insecure and unsure of how I would fit into the world as a young adult. Today, I feel charged with passion and am so much more confident in my intelligence and my ideas. I feel like I can take on any task. I did so many things that scared me during my work on this bill that it now feels as though there is no challenge the world can throw at me that I won't be able to work through."
"Because I started this work at a point in my life when I was an adolescent and was being shaped by the experiences I was going through, my organizing work is at the core of who I am," Sastry added. "It has impacted how I approach life and how I view the world around me. I am more grounded in my own power and am not afraid to speak up.Ithasledmetooneofmycore life principles, which is to empower others and to provide space for others to be bold and unapologetically themselves."
"I have absolutely no doubt that young people are currently leading us forward and will continue to pave the way," Rich concluded. "We just need to follow."
---

Carmen Rios is a feminist writer and broadcaster who has spent the last decade telling feminist stories. Her work has been published by platforms including Ms., Autostraddle, BuzzFeed, Bitch, CityLab, DAME, Everyday Feminism, Feministing, GirlBoss, SIGNS, and the Women's Media Center. Follow her at @carmenriosss.