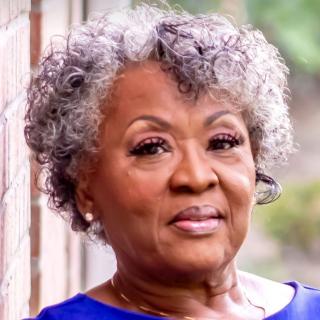 Willie Pearl Mackey King worked for the US Equal Employment Opportunity Commission for 32 years, where she served as an accounting officer and financial manager. In addition, King worked six years as a contractor for the US Office of Compliance on Capitol Hill after her retirement.
From February 1962 to February 1966, King worked for the Southern Christian Leadership Conference under the late Dr. Martin Luther King, Jr. as a member of his executive staff.  King performed a variety of administrative duties and traveled with Dr. King.  While in Birmingham, Alabama with Dr. King, she typed his famous Letter from Birmingham Jail.  She and Dr. Wyatt Tee Walker transcribed the letter, which was written on newspaper edges, table napkins, toilet paper, and whatever scraps of paper that Dr. King could find to write on.
Mrs. King is a member of the Montgomery Hills Baptist Church in Silver Spring, Maryland.  She has served as Chairperson of the Board of Deacons, Chairperson of the Board of Trustees, Chairperson of the Pastoral Search Committee, and is a teacher in the AGAPE Sunday School Class.
She is a sought-after speaker who is willing to share her journey of service.  Some of her speaking engagements include CNN, Church of the Ascension, College of Southern Maryland, District of Columbia Baptist Convention, Legacy of Fannie Lou Hammer, Federal Bureau of Investigation—DC Chapter and Headquarters, Howard University Student Campus Ministry, International Association of Official Human Rights Agencies, Larry King Live, Leisure World Association for African American Culture, M&T Bank, Montgomery Hills Baptist Church, Senate Judiciary Committee, Takoma Park Baptist Church, The Transition Network—DC Chapter, US Department of Energy, US Equal Employment Opportunity Commission, US Department of the Treasury, Federal Deposit Insurance Corporation, US Merit Systems Protection Board, US Department of Veterans Affairs Acquisition Academy, Washington Interfaith Network, Metropolitan Baptist Church, and Wisconsin Avenue Baptist Church.
In 2019, King received the Civil Rights Legend award from the International Association of Official Human Rights Agencies, and in 2021 she received the African American Living Legend award from Montgomery County, Maryland and recorded her life story with the National Women's History Museum.  On November 20, 2022, King was inducted into the Hall of Fame, Montgomery County Maryland Office of Human Rights.
King studied at Dimery College, Georgia State University, University of Maryland, Montgomery College, and LaSalle University.  She holds a bachelor's degree in business management.
King has one daughter, three grandchildren, and two great grandchildren.