Elisabeth Freeman
England | September 24, 1876 - February 27, 1942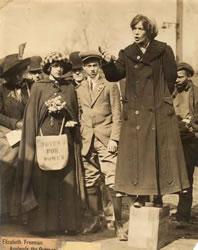 Father
John
Mother
Mary Hall
Siblings

Clara Jane Freeman

John Francis Freeman

Employment

1905-1911 Women's Social and Political Union in England

Worked for The NY Suffrage Party and other organizations in NYC, Ohio, and Texas organizing and speaking for suffrage.

In 1916, she was in Waco TX and investigated a lynching for the NAACP and went on a speaking tour for them to raise money for anti-lynching fund.

1916  Women's Campaign Train for Charles Evans Hughes

1917-19, Emergency Peace Federation and then the People's Council of America, pacifist groups.

In the 20's she worked in the beginnings of the "welfare" dept in NYC and various other jobs, including the Lighthouse for the Blind.

She opened her own antique shop in Provincetown for many summers in the 1930's

Affiliations

Christian Science Church

Fellowship of Reconciliation

NAACP

National Woman's Party

Interests and Hobbies

Activism

Antiques

Theatre

Societal Contributions

Elisabeth Freeman was a full-time organizer and speaker for many causes. She was comfortable on a soap box on the street as well as on the stage and was known as an excellent extemporaneous speaker. She was one of a few women's suffrage speakers who also addressed the injustices done to African Americans. She was also active in opposing World War I and was named in the Lusk Report as a radical. She learned her organizing skills at the feet of Emmeline Pankhurst and Emmeline Pethick-Lawrence of the WSPU in England and identified as a militant suffragette. She was also active in women's trade union support and was a friend of Rose Schneiderman and other figures in the labor movement.

Additional Comments

Her life and activities have been documented by an extensive collection of clippings, photos, and letters, many of which are on the web. She is also featured in Patricia Bernstein's book, The First Waco Horror.