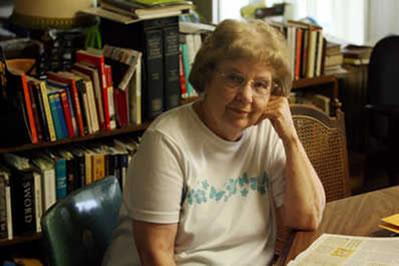 Father
Robert Mitchell Garrett
Mother
Icie Chambliss
Spouse
Thomas Clint Nelson
Children

Caroly Joy Parmely

Susan (Sunie) Elaine Nelson

Tom Nelson

Grandchildren

Stephanie M. Parmely, PhD

Alexis Keller

Siblings

Doris Bosarge

Bernice Henry

Michellene (Mickie) McKintosh Mackintosh

Education

BS Organizational Behavior University of San Francisco at age 61

MA Liberal Studies in History and Religion Excelsior College at age 82

Employment

Medical records work

first Tumor Registrar passing national exams in Fresno

Affiliations

English/Scotch/Irish. Maternal and paternal ancestors came to Virginia in the early 17th century. Both ancestors descended from many of the crowned heads of England and Europe. Fascinating to study via in the internet.

Interests and Hobbies

Reading

Studying

Listening to The Teaching Company lectures

Genealogical research via the internet to find ancestors and family

Societal Contributions

Aside from sharing a legacy of positive thinking with her children, grandchildren and those she comes in contact with, Elaine enjoys lively debates and discussions. She has written over 13 letters to the editor of her local paper, leads a bible study at church where she also played the organ for over 15 years.

Additional Comments

Political Philosophy: Substance over style; close watch on actions rather than words. Usually votes Democrat in presidential elections.