Fashioning a College Experience
The Seven Sisters Colleges and the American Fashion Industry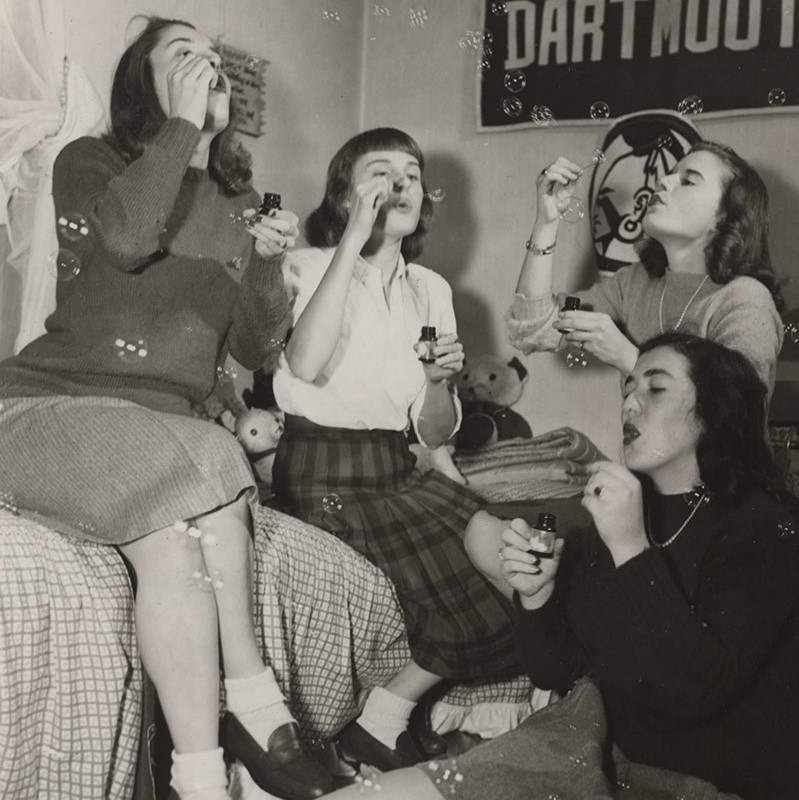 In 1935, Harper's Bazaar announced that, "[The College girl's] contribution to fashion is as American as Coca-Cola, baseball and hitch hiking." Indeed, by the mid-1930s, the "American College Girl" was a national ideal, representing intelligence, youth, and a healthful, active lifestyle that was reflected in their clothing. From Bermuda shorts and blazers, to saddle shoes and Shetland sweaters, America's college women defined casual, effortless and convenient dressing. However, few college women have made a more significant or lasting impression on American fashion than the students of the Seven Sisters colleges: Barnard, Bryn Mawr, Mount Holyoke, Radcliffe, Smith, Vassar, and Wellesley. Founded in the nineteenth century to be the women's equivalent of the Ivy League, the colleges have always had a complex and high-profile relationship with clothing. For the students themselves, clothing became a way to facilitate a fulfilling campus experience. They prioritized garments that achieved three main objectives: to look like collegians, to be comfortable, and to foster camaraderie and tradition within their unique campus cultures. For the fashion industry, the students provided generations of designers with inspiration based on their classic American style and unique sensibility as college women.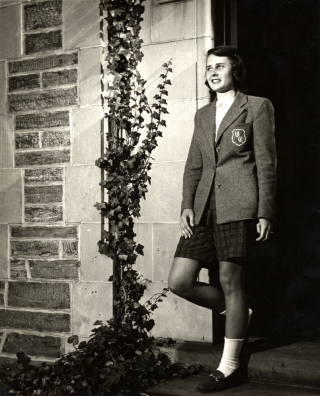 Credit
Archives and Special Collections, Vassar College Library
An early priority for students was finding garments that outwardly conveyed their identity as collegians, but that also firmly established the colleges as institutions of lasting significance. A central source of inspiration were the neighboring Ivy League schools, where clothing had quickly come to include a number of garments with prominently placed college letters and crests. Such clothing conveyed both academic prestige and the wearer's place within a well-established legacy. It was precisely this sense of heritage that the Seven Sisters wanted for themselves, as Scribner's noted at Wellesley shortly after the college opened, the prevailing student attitude was one of responsibility and pride: "We are the ancients; we are making the college and its history; and the four years of our life here form not only an epoch in our own existence, but in the existence of the college." With this in mind, Seven Sisters women developed their own unique collegiate garments, including the Ladies Letterman (a thick knit sweater or cardigan upon which the college letter was lovingly hand stitched), and the official college blazer (a flannel blazer with the school crest neatly embroidered upon the breast pocket).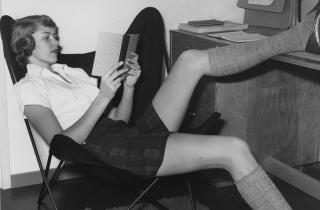 Credit
Archives and Special Collections, Vassar College Library
Whether eschewing hoop skirts for bloomers, or opting for denim over dirndls, the Seven Sisters were staunch advocates for comfortable campus clothing. Students emphasized taking advantage of the relative seclusion of the campus by actively embracing opportunities that would have been greatly hindered by typical feminine fashion beyond the campus gates. As such, Seven Sisters campus style came to include both menswear, for a looser fit, and athletic attire, for easier movement on and off the athletics fields. Bloomers, sweaters, and golf skirts would all evolve into the classic combination of Black Watch or flannel Bermuda shorts, oxford-cloth button-downs, crew neck Shetland sweaters, knee socks, saddle shoes, and penny loafers. This commitment to comfort was noted by Simone de Beauvoir when she visited Vassar in 1947: "In the library they seem so comfortable and free: they read curled up in deep armchairs or sitting cross legged on the floor, scattered through little rooms by themselves or gathered together in large halls […] How I envy them."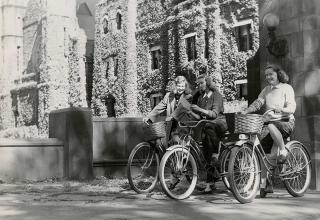 Credit
Mount Holyoke College Archives and Special Collections
Students also cultivated specific styling traits that contributed to a sense of camaraderie. From buttoning cardigans backwards to ensuring one's Bermuda shorts had a small buckle at the back waistband, there were small details that demonstrated inclusion in the campus culture. Denim on the Seven Sisters campuses became particularly significant in this regard: Whether choosing the best fit, perfecting the ankle roll, accomplishing supreme fraying or even patching holes with brightly patterned cotton calico, the "rules" were detailed in student guidebooks written for students, by students. Upperclassmen would school freshmen on all the best techniques to achieve the denim look and wearing this controversial garment the "right way" was a badge of Seven Sisters honor.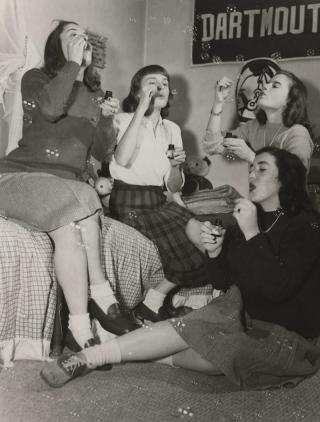 Credit
Mount Holyoke College Archives and Special Collections
Ultimately, the Seven Sisters had created a mode of dressing that not only reflected their own needs and wants as students but was attractive and easily adaptable and adoptable by young women regardless of college status. Whether it was East Coast fabric merchants selling Seven Sisters branded taffetas in the early twentieth century, or Modern Knitting offering seven individual knitting patterns for "Seven Sisters Sweaters" in 1916, the fashion industry reacted quickly to the high profile, and often surprising, trends emerging from the intimate campus communities at the colleges.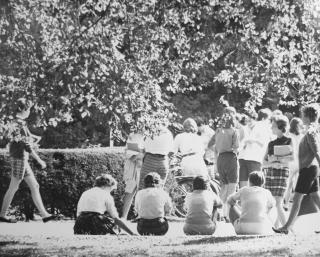 Credit
Archives and Special Collections, Vassar College Library
By the 1930s, when the American fashion industry was thriving with the rise of American sportswear, the Seven Sisters style, became a phenomenon. Not only was their style a youthful and distinctive take on American sportswear (a wardrobe of relaxed, straightforward separates that could be easily mixed and matched for any event or time of day), but the students themselves represented a spirit of ambition and determination, and a lifestyle of activity and academic achievement. Assuring this reputation for style prowess, Life magazine ran a prominent feature on Vassar College in 1937 that dedicated a substantial amount of attention to "Vassar Clothes." Less than one month later, headlines read, "Vassar Sets Styles for Millions," and Macy's announced that it would sell all of the outfits seen in the article. From that point forward, all of the Seven Sisters were positioned as leaders in the lucrative business of college girl fashion, becoming a recognizable "brand" in college trends.
Seven Sisters students were recruited to advisory positions on "College Boards" at major department stores, where they would work in the "College Shop" department offering prospective students sound advice on the best purchases and generating excitement about college clothes. Similarly, they were called up to guest edit and model in the annual college issues of popular fashion magazines, including Mademoiselle, where Smith College graduate, Sylvia Plath, famously spent a summer and then wrote a thinly veiled account of her experiences in The Bell Jar. Their style became so far reaching and so identifiable as "Seven Sisters" and as an "authentic" campus look that fashion companies like Peck & Peck, which had established itself as the collegiate fashion purveyor of choice among many American young women, even photographed their catalogues with models at Smith's Northampton campus. However, by the 1960s, the style became bigger than the colleges themselves and was picked up and reinterpreted by many significant designers.
From Brooks Brothers to Thom Browne, Seven Sisters campus style has influenced fashion today. Ralph Lauren, particularly in the 1980s, was creating ensembles that could have belonged to a 1940s Barnard girl, with Shetland sweaters, pearls, button downs, and Peter Pan collar shirts, and continues to play with variations on a Seven Sisters theme. Similarly, Perry Ellis found an affinity with the style of each of the Seven Sisters, even creating and naming designs in their honor, including "Bryn Mawr Coats," "Vassar Suits" and "Seven Sisters Hand Knits." In many ways, the "Ivy League Look" and "Seven Sisters Style" have evolved to fall under the modern fashion umbrella term of "preppy." However, while the Seven Sisters have changed so very much since their founding (only five remain all-female undergraduate colleges, as Vassar went coeducational in 1969 and Radcliffe is now the Radcliffe Institute for Advanced Study), and while the phrase "Seven Sisters" may be used less as a fashion descriptor today, their influence in the world of fashion, as with so many other worlds, is keenly felt. You can see Seven Sisters style everywhere from a J. Crew catalogue to the runways of New York Fashion Week and in international fashion collections around the globe, where the look still reflects the American ideal it represented almost a century ago.
Seven Sisters Style is not insignificant or fickle or foolish, rather it is a style built upon brave ideas and values. As such, the history of Seven Sisters style is both a vital thread woven through the fabric of American fashion history, and a testament to the determination and forward-thinking spirit of America's earliest female collegians.
---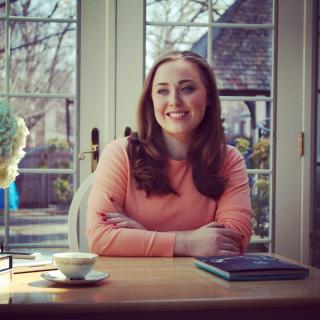 Rebecca C. Tuite is a London-born fashion historian and writer based in West Hollywood, CA. She is a doctoral candidate at the Bard Graduate Center and Gallery and is working toward her PhD in Decorative Arts, Design History and Material Culture. Tuite is the author of Seven Sisters Style: The All-American Preppy Look. She is working on her second book, The 1950s in Vogue: The Jessica Daves Years, 1952-1962, forthcoming from Thames & Hudson in 2019.
Originally published in Volume 23 of A Different Point of View "Women in Fashion". 
de Beauvoir, Simone. America Day by Day. Translated by Carol Cosman. London: Orion Books, Ltd., 1999. First published 1954 as L'Amérique au jour le jour, by Éditions Gallimard, Paris.
Goodloe, Abby Carter. "Undergraduate Life at Wellesley." Scribner's Magazine. May 1898. 515-538.
"Random Notes on Some of the Big Stories which LIFE Recorded." LIFE. March 15, 1937.
"The Smile of America." Harper's Bazaar. August 1935. 39.
Tuite, Rebecca C. Seven Sisters Style: The All-American Preppy Look. New York: Rizzoli, 2014.
"Vassar: A Bright Jewel in U.S. Educational Diadem." LIFE. February 1, 1937. 24–31.