Department Stores: Changing the Fashion Pattern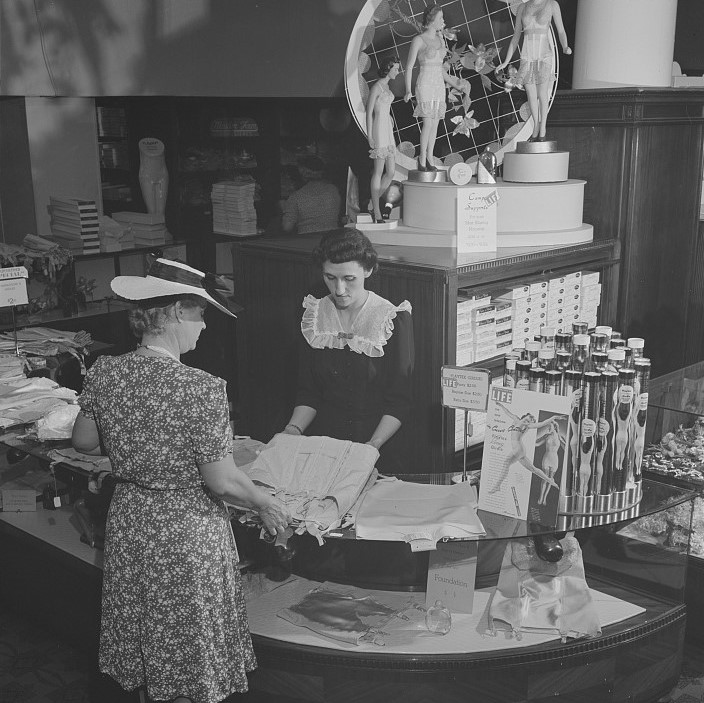 Changing the Fashion Pattern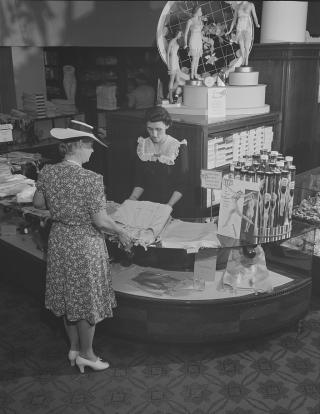 Credit
Library of Congress
Department stores such as Lord & Taylor, Macy's, and Woodward & Lothrop played important roles in the relationship between the fashion industry and marketing to the female consumer. They became popular towards the end of the 19th century and turn shopping into a social experience. These stores were not just a place to buy something. They were designed to be an activity a group of women could enjoy together, often with food and entertainment. According to Dr. Elaine Abelson, "The department stores were for and about women. Most of the things that were sold in the stores are either clothing for women or there's material, millinery, or sewing goods. There are all sorts of things for the woman and for the household. There are men's clothes as well, but they are a secondary thought in these department stores. Men usually had a separate entrance and the men's department was usually separate so that men didn't have to go through the women's department."
Department stores were designed to bring several types of goods under the same roof. More importantly adding tea rooms, lunch counters, and other comforts we're done to make shopping more pleasant. Trying on ready-made fashions could be more fun than a fitting with the seamstress or milliner who might not know latest styles. Shopping became an important part of social life, especially for urban and middle-class women.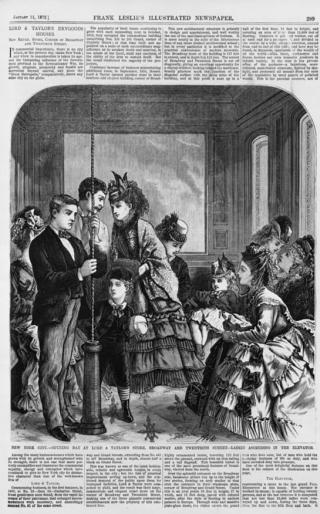 Credit
Library of Congress
"Some historians see the progenitors of urban department stores as having started even before the Civil War, but pretty much everybody agrees that the heyday of the American department store began in about the 1870s and 1880s, when in American cities of all sizes department stores emerged and promoted urban shopping of a kind that really had not been seen before. They offered for their customers, what one historian has called dream worlds. Displays were full of light and color, they had concerts, they had childcare, they had post offices. It was not only services they were offering that made it fun to go shopping. They had lunch rooms, they had restaurants, they had both fancy and not so fancy places where you could stop and eat while you were doing your shopping. Department stores fairly early offered opportunity even for poor women to shop, even though they tried to keep the poor women and the richer women away from each other. The basement gave an opportunity for women who didn't have the money to be shopping on the upper floors to come into the department store and participate in the activity of shopping." says Dr. Susan Strasser.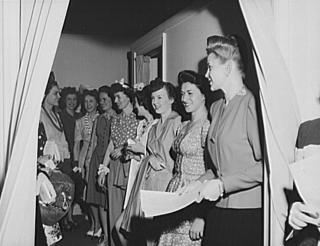 Credit
Library of Congress
Most modern department stores of the 20th century wanted to wield style authority and after World War II stores appealing to the upper class widened the distance between themselves and discount stores. In addition to eye popping window and interior displays they relied on fashion shows, fashion magazines, and visits from designers to keep the public aware of their fashion stance. Dr. Abelson found that, "The ladies' mile in New York City is emblematic of this new consumer culture that takes hold of the city and ladies' mile ran from Fourteenth Street to Twenty-Third Street on Sixth Avenue and on ladies' mile was a host of stores. There were about eight different stores most names don't exist anymore except for Lord & Taylor, which was on ladies' mile before it moved to its present location on Fifth Avenue. And the atmosphere of ladies' mile was intoxicating. The number of things one could buy, the number of places one could buy them in was quite remarkable."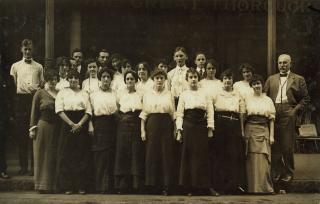 Credit
Library of Congress
The new merchandising methods aimed at women led inevitably to the employment of more female clerks. Though these jobs were almost always low-paying and seldom led to the executive suite they were nonetheless jobs that had not been available to women a century earlier. Dr. Abelson also noted that "The jobs for women were mostly in the sales position, there were some women managers, there were certainly women buyers. The jobs for women opened up on a number of levels. Most of them were for working-class girls, and they were girls, and they were white, but there was a secondary level of both managers and buyers in the department stores that suddenly gave work to women who were on the cusp of the middle class or in the in the middle class." Dr. Elaine Abelson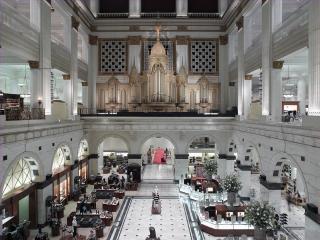 Credit
Library of Congress
The fashion industry is a big and glamorous business and American women have lent their talents to its developing it. The focus on women as the primary consumer meant department stores were created for women. The décor, entertainment, and salesforce were all developed with the female consumer in mind.