Building on the Past
A History of Women in Architecture
In May 2011, Architect Barbie made her debut at the American Institute of Architects (AIA) National Convention in New Orleans. The more than twelve thousand AIA members in attendance, an overwhelmingly male crowd (only 16 percent of AIA members are women), must have been surprised to encounter the pink-and-white Mattel booth in the vast exposition hall, which was occupied primarily by companies selling new building materials and technologies. The Mattel booth featured Architect Barbie and her Malibu Dreamhouse as well as a lively workshop area that filled each day with children who came to learn about the history of women in architecture, meet female practitioners, and try their hand at designing a floor plan for their own dream home. Four hundred girls were exposed to architectural practice that week, and many expressed excitement at the idea that they might grow up to be builders. The homes they envisioned testified to their awareness of their spatial needs and a desire to shape their own environments. One little girl designed a home with a special room for monsters, acknowledging their existence while getting them out from under her bed.
As a profession, architecture does not have a history of welcoming women and continues to struggle with their integration. Although women account for half of American architecture graduates, they represent only 20 percent of licensed practitioners and even fewer partners of architectural firms. The reasons more women than men leave architecture are poorly understood, but the traditionally macho culture of the profession, which idealizes starchitects and dismisses so-called feminine values, such as collaboration, has certainly played a role. So, too, has women architects' invisibility in popular culture and history books, although they have practiced in the United States for more than one hundred and thirty years. For young women seeking to enter architectural practice, knowing the history of female pioneers offers an anchoring sense of roots.
In 1881, Buffalo native Louise Bethune became the first woman architect in the United States to open her own firm. Buffalo was booming, and its spirit of innovation attracted some of the country's greatest architects, including H. H. Richardson, Louis Sullivan, and Frank Lloyd Wright. Bethune designed public, commercial, and industrial buildings in the city, among them some of the first structures in the United States to use the new building technology of a steel frame and poured concrete slabs. Many consider the Hotel Lafayette, richly decorated in the French Renaissance style, her architectural masterpiece.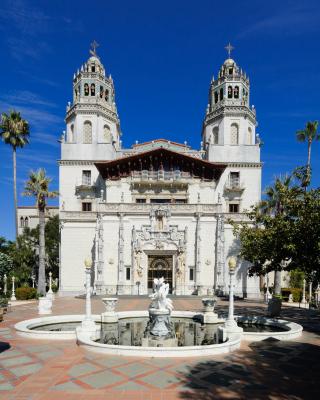 Julia Morgan is arguably the best-known female architect in the United States, thanks in part to having had William Randolph Hearst as a loyal patron. Although millions of visitors have admired Hearst Castle in San Simeon, California, Morgan's architectural legacy is found throughout the state, where she designed more than seven hundred buildings during her long and prolific career. Morgan also has the distinction of having been the first woman to be accepted for architectural study at the prestigious École des Beaux-Arts in Paris, which she entered in 1898. Morgan's many accomplishments were recently acknowledged by the AIA, which awarded her the 2014 AIA Gold Medal. Almost sixty years after her death, Morgan became the first female architect to receive the AIA's highest prize, which has been awarded since 1907.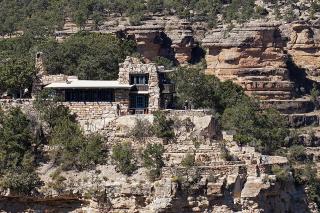 Credit
Mario Roberto Durán Ortiz
Mary Jane Colter, raised in St. Paul, Minnesota, brought a great sensitivity for history and landscape to the lodges and hotels she designed in the American Southwest for the Santa Fe Railway and the Fred Harvey Company. From 1905 to the mid-1930s, Colter designed a series of buildings at the Grand Canyon whose bold designs, archeological references, and use of local materials fired tourists' imaginations and remain immensely popular sites. She is credited with inspiring the style known as National Park Service Rustic, nicknamed Parkitecture, developed by the National Park Service in an effort to blend visitor facilities with their natural and historic surroundings. Others claim Colter's fusion of cultural influences set the standard for Southwestern design. In Gallup, New Mexico, for example, Colter's 1923 railway hotel, El Navajo, daringly combined modernist, Spanish, and Native American architectural elements and featured Navajo sand paintings in the lobby. The hotel was demolished in 1957, shortly before the architect's death, to widen Route 66.        
A different sort of experimentation, social and urban in nature, drove Alice Hands and Mary Gannon, two young and dynamic architects in New York City, to form the country's first female architectural partnership in 1894. Among other ambitions, Hands and Gannon sought to better house the city's marginal populations, an early example of designing for social justice. To study the problems faced by the poor, Gannon and Hands lived in tenements and experienced their deficiencies first-hand, something that few male colleagues were willing to do. On this basis, they designed model tenements that were praised by housing reformers for being affordable, sanitary, practical, and even beautiful. In 1895, Hands and Gannon designed a series of residences in New York City for self-supporting working women, a new social type that had become highly visible in the nation's urban centers at the end of the nineteenth century. When Hands and Gannon disbanded their firm sometime after the turn of the century, they slipped into obscurity, as did the story of their unusual collaboration.
A similar eclipse has befallen the women architects who worked in Frank Lloyd Wright's studio. A Girl Is a Fellow Here, a 2009 documentary produced by the Beverly Willis Architectural Foundation (BWAF), focused attention on the forgotten history of the many creative female hands in his firm. At a time when the majority of Americans viewed architectural skills and the female gender as fundamentally incompatible, Wright recognized women's abilities and employed a surprising number of them over the years. He was not as good, however, at giving them credit for their contributions. Marion Mahony Griffin, who graduated in 1894 with an architecture degree from the Massachusetts Institute of Technology (MIT) and was hired by Wright the following year as his first employee, played a particularly important role. During the fifteen years she worked in his studio, she helped to develop Prairie School architecture and to popularize Wright's work through her exquisite drawings of his designs.     
In the 1930s, many designers fled Germany to avoid religious or political persecution, thus also spreading modernism to new shores. Bauhaus-trained architect Hilde Reiss was among the female émigrés who served as ambassadors for the new style in the United States. In 1946, she was hired by the Walker Art Center in Minneapolis to serve as the curator of its new Everyday Art Gallery, one of the first museum spaces in the country devoted to modern design. Like Reiss, Elsa Gidoni fled Berlin in 1933, but spent five years in Tel Aviv designing buildings in the International Style before moving to New York in 1938. Although, like many refugees, she initially struggled to find work, she eventually became a project designer at the New York City firm of Kahn and Jacobs and contributed to modernist department stores, office buildings, and industrial facilities along the East Coast.
After the war, the enormous demand for housing propelled experiments in new domestic materials and technologies. In 1948, architect Eleanor Raymond, working with MIT researcher Maria Telkes, constructed the Dover Sun House in Dover, Massachusetts, the first occupied solar-heated home in the United States. During this period, and indicative of other social changes under way in the nation, Norma Merrick Sklarek, born in Harlem, New York, was studying architecture at Columbia University. Despite facing discrimination because of her gender and race as well as a lack of role models, Sklarek rose to senior positions at major architectural firms, achieving many firsts for African American women.     
By 1950, women had established a significant history in American architecture. However, it would be several more decades before the effort to record this history began in earnest. In 1985, the International Archive of Women in Architecture was founded at Virginia Tech to help preserve the material record. The past decade has seen a wealth of new books on the topic, and online resources, such as the BWAF's Dynamic National Archive, a public database of women designers, are helping to expose younger audiences to this national history. Unfortunately, museums have lagged in collecting and disseminating the work of women architects. Exhibitions that make accessible the blueprints, drawings, and models created by these pioneers or that point us to their still-standing legacy beyond the museums' walls remain rare.
---
Despina Stratigakos is a professor of architectural history at the University at Buffalo. She has published widely on issues of diversity in architecture, including the award-winning A Women's Berlin: Building the Modern City. She is a trustee of the Beverly Willis Architecture Foundation and has served on the advisory board of the International Archive of Women in Architecture.
Originally published in Volume 15 of A Different Point of View.