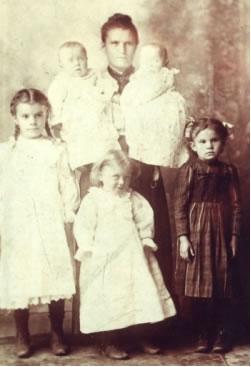 Father
Ivan Cernic
Mother
Anna Cernic
Spouse
Marko Slobodnik
Children

Anna Slobodnik Keca

Catherine Slobodnik Bjekich

Mary Slobodnik Cohil

Rose Slobodnik Klobucar

Victoria Slobodnik

John Slobodnik

Josephine Slobodnik Jurjevich

Theresa Slobodnik Chirich

Affiliations
St. Joseph Church, Joliet, Illinois
Interests and Hobbies

Winemaking

Gardening

Raising chickens

Culinary arts

Societal Contributions

Anna Cernic Slobodnik is my maternal grandmother and for ten years through part of my childhood and adolescence she was a mother to me. My grandmother emigrated from Slovenia in the late 19th century and settled in Joliet, IL where she married and raised seven daughters and a son. When I came to live with my grandmother, she took me into her warm arms and gave me a big hug. It made me feel loved and wanted. She was a widow with only one daughter living at home, my Aunt Josie who was like a big sister to me. Grandmother only spoke Slovenian but Aunt Josie spoke both Slovenian and English. Over time, I learned to speak some Slovenian, too. Aunt Josie told me about the large home that they used to live in when she was younger. The house was sold to the Pluth family that had 12 children and Grandmother financed it herself. When the depression hit and Mr. Pluth lost his job, Grandmother did not foreclose but let the family live there until they were able to resume payments. After Grandmother sold the big house, she moved into a 2-bedroom home. There was also a 1-bedroom rent house on the same property that had a cellar with a coal bin and room for a wine press and several wooden barrels. In addition to making wine for her own use, she had a garden and chickens. She always had large crocks of sauerkraut and sour turnips ready to use and frequently made sausages. I always managed to have chores to help in these endeavors.

Additional Comments

Whenever the family gathered for fellowship, the home was filled with laughter and song. Grandmother always prepared a large potica (nut bread). My job was to shell the walnuts and mince them in a crock with the handle of the hammer. Grandmother prepared the dough which was stretched to cover the surface of her round dining room table. After combining and cooking the nuts with honey, eggs, milk, and spices, I got to help spread this mixture onto the dough which was then rolled in jelly-roll fashion and put into a large roasting pan to bake slowly for about two hours. The aroma permeated the whole house. After Aunt Josie married, I took her bedroom. Until then, I slept on the floor rolled up in a big down comforter usually close to the big pot belly stove that warmed the living room. There was also a big coal-fired black range in the kitchen that always had a large pot of soup and baked bread ready to be served for whoever came to visit, as well as, a bottle of wine on the table. When a neighbor was ill or had a new baby, Grandmother was always there with her soup and bread and helped with other chores as well. She always impressed me with those spiritual qualities of compassion, kindness, generosity, fairness, and self-control. Grandmother was a very loving and caring person and she showed it with her acts and deeds every day she used to let me brush her long silver hair that she rolled into a bun. Frequently, she would say how a woman holds up three corners of a home. After mending something after a dozen or more times, she would say, "Just one more time." These sayings, somehow, sounded more profound in Slovenian than in translation but certainly made a lasting impression on me. Grandmother lived long enough to see me married, but died before any of my children were born. On one of my visits with her shortly before she died, she wished that she could have lived long enough to see my children but knew that she wouldn't. I wish to express my gratitude to my grandmother and to the thousands of other mothers and grandmothers who are holding up three-quarters or even all corners of their homes.