Kerry Washington
SAG, Emmy, and Golden Globe Nominated Actress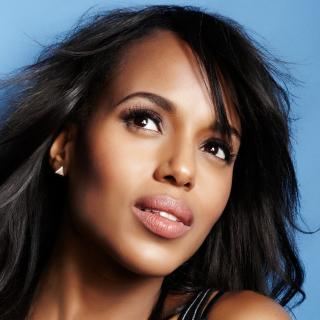 Kerry Washington is a versatile and fearless performer who continues to astound with the depth of her talent. A native of the Bronx, New York, Washington has received high acclaim for her work in film, television, and theater.
Currently starring in the hit ABC drama Scandal, Washington broke barriers by becoming the first African-American woman since 1974 to headline a network TV drama. She has received wide public recognition for her portrayal of Olivia Pope, the lead character in the Peabody Award-winning series, along with two Primetime Emmy Award nominations in 2013 and 2014, a 2014 Golden Globe nomination, a 2014 SAG Award nomination, two NAACP Image Award wins in 2013 and 2014, and a nomination for the 2015 People's Choice Award for Favorite Dramatic TV Actress. With steamy on-air chemistry and a flair for fashion, Kerry Washington has turned Olivia Pope into an iconic character.
Washington was most recently seen in the HBO TV movie Confirmation, which she stars in and executive produces. In 2016, Washington received Emmy, Critics' Choice, NAACP, Golden Globe and SAG Award nominations for her performance. The film details the explosive 1991 Clarence Thomas Supreme Court nomination hearings, which brought the country to a standstill and forever changed the way people think about sexual harassment, victim's rights, and modern-day race relations.
Washington's acclaimed performance as Broomhilda von Shaft in the bold, bloody, and stylistically daring Django Unchained earned her a BET Best Actress Award and a NAACP Image Award for Outstanding Supporting Actress. Quentin Tarantino's 2012 incendiary masterpiece, starring Jamie Foxx, Leonardo DiCaprio, Christoph Waltz and Samuel L. Jackson, received universal acclaim, four Golden Globe nominations, and five Academy Award nominations.
Washington is also known for her role as Della Bea Robinson in the 2004 Academy Award-nominated film Ray, the story of legendary soul musician Ray Charles, as portrayed by Jamie Foxx. Her inspiring performance earned her the NAACP Image Award for Best Actress. In 2006, Washington garnered critical acclaim for her role in The Last King of Scotland, playing Idi Amin's wife Kay opposite Academy Award-winning actor Forest Whitaker. She took away an NAACP Image Award nomination for Outstanding Supporting Actress in this powerful film depiction of the sorrowful, blood-soaked atrocities of the Ugandan dictator.
In 2009, Kerry made her Broadway debut in David Mamet's Race, starring alongside James Spader and David Alan Grier, in a tension-filled drama of three lawyers, two black and one white, who must decide whether to defend a white man charged with a crime again a black woman.
Washington's performances over the years have received many accolades, including a Teen Choice Award for Best Breakout Performance for Save the Last Dance, an Independent Spirit Award nomination for Best Actress for Lift, an NAACP Image award nomination for Best Actress for Peeples, and a Best Actress nomination at the BET awards for both For Colored Girls and Night Catches Us, with the latter performance also nominated for the NAACP Outstanding Actress award. Washington's film credits include Mr. & Mrs. Smith, Fantastic Four, Little Man, The Dead Girl, I Think I Love My Wife, She Hate Me, Fantastic 4: Rise of the Silver Surfer, Miracle at St. Anna, Life is Hot in Cracktown, Lakeview Terrace The Details, A Thousand Words, and Mother and Child.
Washington is active in many social and political causes. In 2009 she was appointed by President Barack Obama to the President's Committee on the Arts and the Humanities. Washington is a strong supporter of President Obama and has campaigned on his behalf; she commanded the national stage on the final night of the 2012 Democratic National Convention in a moving address that urged Democrats to get out the vote. In 2013 Washington was honored with the NAACP President's Award, which recognized her special achievements in furthering the cause of civil rights and public service. In 2014, Time magazine included Washington on its annual Time 100 list of the Most Influential People in the World. Washington received the GLAAD Media Vanguard Award in 2015 and the ACLU Bill of Rights Award in 2016.
Washington currently serves as both a brand ambassador and creative consultant for Neutrogena. She is a brand ambassador for Movado, a creative ambassador for OPI and serves as a spokesperson for the Allstate Purple Purse Foundation.