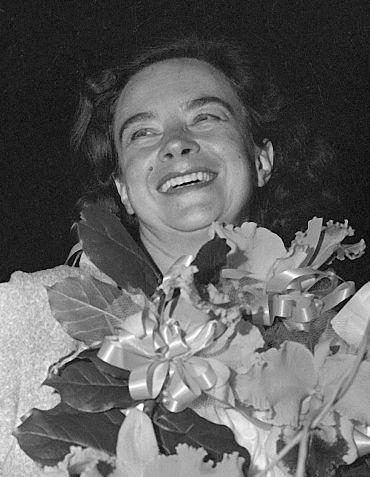 Geraldine "Jerrie" Mock was the first woman to fly solo around the world. Born in 1925, Jerrie Mock first flew at five years of age in a Ford TriMotor and became one of the first women aeronautical engineering students at Ohio State University where she was a Phi Mu.
Flying cross-country with her husband, she enjoyed listening to other pilots on the radio en route to various destinations and she eventually began planning her own flight because she "just wanted to see the world." Joan's departure date and flight path was the same as Amelia Earhart's last flight and though not in direct competition with each other, media coverage soon began tracking the progress of each pilot fascinated with who would complete the journey first.
Jerrie's trip began March 19, 1964, from Columbus, Ohio, and ended April 17, 1964, in Columbus, Ohio. It took 29 days, 21 stopovers and almost 22,860 miles. On May 4, 1964, President Lyndon B. Johnson presented Mock with the Federal Aviation Administration's Exception Service Decoration. Her self-described status as "the flying housewife" notwithstanding, Mock had thoroughly prepared for the flight and accomplished it in a professional manner, trouble-shooting as necessary and handling bureaucracy and diplomacy with firmness and grace.