Felisa Rincón de Gautier (Doña Fela)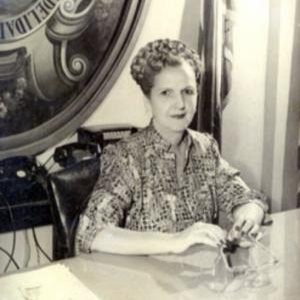 Felisa Rincón de Gautier, affectionately known to the public as Doña Fela, became the first female mayor of a capital city in the Americas when she was appointed mayor of San Juan, Puerto Rico in 1946. She went on to win reelection four times, serving in office until 1969. Doña Fela devoted herself to public welfare, working to improve housing, public health, and employment for the city's most vulnerable residents.   
Doña Fela was born on January 9, 1897 in Ceiba, Puerto Rico, 33 miles southeast of San Juan, to an upper-class family. Her father, Enrique Rincón Plumey, was a lawyer and her mother, Rita Marrero Rivera, was a schoolteacher. The family moved to San Juan when Doña Fela was ten years old. The eldest of nine children, she was often sent to live with relatives and even left school to care for her younger siblings after the death of her mother.
As a teen, Doña Fela became a talented seamstress. Interested in studying fashion, she moved to New York City as a young adult to learn design and how to operate a clothing business. She returned to San Juan where she opened the successful "Felisa's Style Shop." For the entirety of her career, Doña Fela was known for her style and elegance. She always wore her hair in a trademark chignon updo and never appeared without her bright red lipstick and nail polish.
Doña Fela belonged to the Liberal Party (of which her father was a well-connected member) and she became active in the campaign for woman suffrage in Puerto Rico. Puerto Rican women who could pass literacy tests voted in their first major election in 1932 (universal suffrage passed in 1935). Doña Fela was the fifth woman on the island to register to vote, doing so against the wishes of her father. She soon became the Liberal Party's representative for the registration of women. In this role, Doña Fela went door-to-door informing women of their rights and encouraging them to register. The poverty she witnessed while canvassing in the slums of San Juan affected her deeply. Her desire to improve these conditions became the driving force behind her political agenda.
At this time, she met and became a supporter of Luis Muñoz Marín (the future governor of Puerto Rico from 1949-1965). Following the Liberal Party's defeat in the 1936 election and the intraparty conflicts that resulted, Doña Fela helped Muñoz Marín found the Popular Democratic Party (PPD) in 1938. Muñoz Marín named Doña Fela the President of the PPD's San Juan Committee in 1940 and party leadership encouraged her to run for mayor of San Juan in 1944. In 1940, Doña Fela had married Jenaro A. Gautier, an attorney who was the PPD's secretary general at the time. Due to her husband and father's resistance to her candidacy, she declined the opportunity, but when Mayor Roberto Sánchez Vilella resigned in 1946, Doña Fela accepted the appointment as mayor of San Juan.
As mayor, Doña Fela termed her political philosophy "benevolent maternalism." She worked to distribute food and shoes to poor children, build centers for elder-care, and offer legal aid to low-income residents. Dedicated to improving public health, Doña Fela spearheaded the renovation of the San Juan Municipal Hospital complex, making it the first hospital on the island to receive full accreditation from the American Hospital Association and paving the way for the founding of the School of Medicine in 1950. Likely her most notable achievement was the establishment in 1949 of "Maternal Schools," preschool/childcare centers that were the model for the federal Head Start program in the United States. They were designed to allow mothers to pursue employment outside the home, as increasing women's participation in the economy was very important to Doña Fela.
Much of Doña Fela's political backing came from the city's poor residents, who supported her within the Popular Democratic Party. She campaigned tirelessly to win over the electorate: "My opponents campaign just before elections and then they disappear," she once said. "I start campaigning the day after the election and never stop."
Doña Fela remained a stalwart ally of Governor Muñoz Marín as well as an ardent supporter of commonwealth status for Puerto Rico, one of the founding principles of the PPD. Earlier in her life she had been in favor of independence for the island, but her views changed and she supported the Constitution of the Commonwealth of Puerto Rico that went into effect in 1952.
Under her leadership, the city built new schools and housing projects for its expanding population. While Doña Fela was mayor, San Juan grew from a population of about 180,000 to 500,000, but she still managed to maintain a personal connection with her constituents. Throughout her time in office, she held open houses every Wednesday at City Hall, during which residents could come to her to share their concerns or seek assistance. She is also well-remembered for delighting and astonishing San Juan's children by flying in planeloads of snow and distributing gifts at Christmastime.
Doña Fela was devoted to protecting the cultural heritage of San Juan. Her administration created the Historical Monument Commission, which preserved much of the colonial architecture in the historic section of the city, known as El Viejo San Juan ("Old San Juan"). Doña Fela's conservation work led San Juan to receive the "All American City Award" from the National Civic League in 1959.
Doña Fela was reelected four times, serving as mayor of San Juan until January 13, 1969. She remained active in politics after leaving office. Doña Fela served as a delegate to Democratic Party nominating conventions (in fact, at her last convention in 1992, she was the oldest delegate in attendance at the age of 95) and took part in committees concerning urban issues. She also served as a Goodwill Ambassador to countries across the globe. Doña Fela was the recipient of numerous awards and honors, from states, civic groups, and religious organizations throughout the world.
Doña Fela died in San Juan on September 16, 1994 at the age of 97.
_________________________________________________________________________________
Felisa Rincón de Gautier, conocida cariñosamente como Doña Fela, se convirtió en la primera alcaldesa de una ciudad capital en el continente americano en 1946, cuando fue elegida alcaldesa de San Juan, Puerto Rico. Fue reelegida en cuatro ocasiones, sirviendo en el cargo hasta 1969. Doña Fela se dedicó al bienestar colectivo, trabajando para mejorar la vivienda, la salud pública y el empleo de los residentes más vulnerables de la ciudad.
Doña Fela nació el 9 de enero de 1897 en Ceiba, Puerto Rico, a 33 millas al sureste de San Juan, en el seno de una familia de clase alta. Su padre, Enrique Rincón Plumey, era abogado y su madre, Rita Marrero Rivera, era maestra de escuela. La familia se mudó a San Juan cuando Doña Fela tenía diez años. Al ser la mayor de nueve hijos del matrimonio, a menudo la enviaban a vivir con parientes e, incluso, abandonó la escuela para cuidar a sus hermanos menores tras la muerte de su madre.
En su adolescencia, Doña Fela se convirtió en una costurera talentosa. Interesada en estudiar moda, se mudó a la ciudad de Nueva York para aprender diseño y cómo manejar un negocio de ropa. De regreso a San Juan, abrió la exitosa "Felisa's Style Shop". A lo largo de su carrera, Doña Fela fue reconocida por su estilo y elegancia. Siempre llevaba el cabello recogido con su moño característico, y nunca se aparecía sin su lápiz labial rojo brillante y un esmalte de uñas.
Doña Fela pertenecía al Partido Liberal (del cual su padre era un miembro bien conectado) y se involucró activamente en la campaña por el sufragio femenino en Puerto Rico. Las mujeres puertorriqueñas que pudieron aprobar las pruebas de alfabetización votaron en la primera elección importante en 1932 (el sufragio universal se aprobó en 1935). Doña Fela fue la quinta mujer de la isla en registrarse como electora, en contra de los deseos de su padre. Pronto se convirtió en la representante del Partido Liberal para el registro de mujeres. En este rol, Doña Fela fue de puerta en puerta informando a las mujeres de sus derechos y animándolas a registrarse como votantes. La pobreza que presenció mientras hacía proselitismo en las barriadas de San Juan la afectó profundamente. Su deseo de mejorar estas condiciones se convirtió en la fuerza motriz de su agenda política.
En ese tiempo conoció y se convirtió en partidaria de Luis Muñoz Marín (el futuro gobernador de Puerto Rico de 1949-1965). Tras la derrota del Partido Liberal en las elecciones de 1936 y con los conflictos que se generaron al interior del partido, Doña Fela ayudó a Muñoz Marín a fundar el Partido Popular Democrático (PPD) en 1938. Muñoz Marín nombró a Doña Fela presidenta del Comité por San Juan del PPD en 1940 y la dirección del partido la animó a postularse para la alcaldía de San Juan en 1944. En 1940, Doña Fela se había casado con Jenaro A. Gautier, un abogado que para entonces era el secretario general del PPD. Debido a la resistencia de su esposo y su padre a su candidatura, ella rechazó la oportunidad, pero cuando el alcalde Roberto Sánchez Vilella declinó en 1946, Doña Fela aceptó el nombramiento como alcaldesa de San Juan.
Como alcaldesa, Doña Fela denominó a su filosofía política "maternalismo benevolente". Trabajó en la distribución de alimentos y zapatos a niños pobres, en la construcción de centros para el cuidado de personas mayores y en la asistencia legal a las personas de bajos ingresos. Dedicada a mejorar la salud pública, Doña Fela encabezó la renovación del complejo del Hospital Municipal de San Juan, convirtiéndolo en el primer hospital de la isla en recibir la acreditación completa de la Asociación Estadounidense de Hospitales y allanando el camino para la fundación de la Facultad de Medicina en 1950. Probablemente, su logro más notable fue el establecimiento en 1949 de las "Escuelas Maternales": centros preescolares y de cuidado infantil que sirvieron de modelo para el programa federal Head Start en los Estados Unidos. Estos centros fueron diseñados para que las madres pudiesen buscar empleo fuera del hogar, ya que aumentar la participación de las mujeres en la economía era muy importante para Doña Fela.
Gran parte del respaldo político de Doña Fela provino de los habitantes pobres de la ciudad, quienes la apoyaron dentro del Partido Popular Democrático. Ella luchó incansablemente para ganarse al electorado: "Mis oponentes hacen campaña justo antes de las elecciones y luego desaparecen", dijo una vez. "Yo empiezo a hacer campaña el día después de las elecciones y no paro nunca".
Doña Fela siguió siendo una aliada incondicional del gobernador Muñoz Marín, así como una ferviente defensora del Estado Libre Asociado para Puerto Rico, uno de los principios fundacionales del PPD. A principios de su vida había favorecido la independencia de la isla, pero su punto de vista cambió y apoyó la Constitución del Estado Libre Asociado de Puerto Rico que entró en vigor en 1952. Bajo su liderazgo, la ciudad construyó nuevas escuelas y proyectos de vivienda para su creciente población. Mientras Doña Fela era alcaldesa, la población de San Juan creció de unas 180 mil a 5 mil personas; aun así, ella se las arregló para mantener una conexión personal con sus electores. Durante su tiempo en el cargo, realizó jornadas de puertas abiertas todos los miércoles en el Ayuntamiento, durante las cuales los residentes podían acudir a ella para compartir sus preocupaciones o buscar ayuda. También se le recuerda por deleitar y maravillar a los niños de San Juan volando en aviones llenos de nieve y distribuyendo regalos en Navidad.
Doña Fela se dedicó a proteger el patrimonio cultural de San Juan. Su administración creó la Comisión de Monumentos Históricos, que conservó gran parte de la arquitectura colonial en la sección histórica de la ciudad, conocida como Viejo San Juan. El trabajo de conservación de Doña Fela llevó a San Juan a recibir el reconocimiento "All-American City Award" de la Liga Cívica Nacional en 1959.
Doña Fela fue reelegida cuatro veces, y ejerció como alcaldesa de San Juan hasta el 13 de enero de 1969. Siguió activa en la política después de dejar el cargo. Doña Fela participó como delegada en las convenciones de nominación del Partido Demócrata (de hecho, en su última convención en 1992 y con 95 años, fue la delegada de mayor edad en asistir) y formó parte de comités relacionados con asuntos urbanos. También actuó como Embajadora de Buena Voluntad en países alrededor del mundo. Doña Fela recibió numerosos premios y honores de estados, grupos cívicos y organizaciones religiosas de todo el mundo.
Doña Fela murió en San Juan el 16 de septiembre de 1994 a los 97 años.
Espinosa, Mariola. "Rincón de Gautier, Felisa." In Notable American Women: A Biographical Dictionary Completing the Twentieth Century, edited by Susan Ware and Stacy Lorraine Braukman, 545-546. Cambridge, MA: Belknap Press, 2004.
Hutt, Katherine. "Former San Juan Mayor Felisa Rincon de Gautier Dead at 97." AP News. September 17, 1994. Accessed November 28, 2020. https://apnews.com/article/39ac037413ff69f9a27b64421dfbdcdf
Matos Rodriguez, Felix V. "Rincón de Gautier, Felisa." In Latinas in the United States: A Historical Encyclopedia, edited by Vicki Ruiz and Virginia Sánchez Korrol, 624-625. Gale Virtual Reference Library. Bloomington: Indiana University Press, 2006.
Negrón Hernández, Luis R. "Felisa Rincón de Gautier: Official Biography." Translated by Ann Shevlin. PReb. Accessed November 28, 2020. https://www.preb.com/biog/felisare.htm
Pace, Eric. "Felisa Rincon de Gautier, 97, Mayor of San Juan." New York Times. September 19, 1994. https://www.nytimes.com/1994/09/19/obituaries/felisa-rincon-de-gautier-97-mayor-of-san-juan.html?searchResultPosition=1
MLA – Brandman, Mariana. "Felisa Rincón de Gautier." National Women's History Museum, 2020. Date accessed.
Chicago – Brandman, Mariana. "Felisa Rincón de Gautier." National Women's History Museum. 2020. www.womenshistory.org/education-resources/biographies/felisa-rincon-de-gautier
Spanish Translation Provided By: NBCUniversal Telemundo
Photo Credit: Municipio de San Juan, Museo Felisa Rincón de Gautier