Brig. Gen. Wilma Vaught (USAF, Ret.)
Founding President, Women in Military Service for America Memorial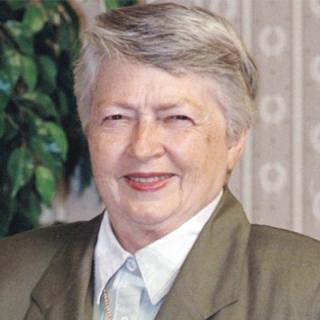 Brigadier General Wilma L. Vaught, USAF, Retired, is President Emeritus of the Board of Directors of the Women In Military Service For America Memorial Foundation, Inc.  Under her leadership, the non-profit foundation built and operates the $22.5 million Women's Memorial, the nation's only major memorial to pay tribute to the nearly 3 million women who have served in the nation's defense beginning with the American Revolution.
A native of Illinois, General Vaught earned a Bachelor of Science Degree from the University of Illinois, Champaign-Urbana; a Master of Business Administration degree from the University of Alabama, Tuscaloosa; an Honorary Doctorate of Public Affairs from Columbia College, SC; and an Honorary Doctorate of Letters from the National Graduate School.
Her military career spans some 28 years, with a variety of assignments both in the US and overseas, including Vietnam and Spain. For many years, she was one of the nation's most highly decorated military women, and the only woman for some 22 years to achieve general officer rank in the comptroller field.
She is a member of a number of boards and associations and the recipient of many national level awards, including the 1998 Women's International Center Living Legacy Patriot Award; the 1998 National Society, Daughters of the American Revolution (NSDAR) Medal of Honor; the 1998 National Association of State Directors of Veterans Affairs Veteran Advocate of the Year Award; the 1998 National Association of Women In Education Women of Distinction Award; and the 1998 VFW James E. Van Zandt Citizenship Award. In the year 2000, she became the first recipient of the NSDAR Margaret Cochran Corbin Award; one of only two recipients of the Air Force Women Officers Associated Pioneer Award; and she was inducted into the National Women's Hall of Fame. General Vaught was a 2003 National Women's History Project National Women's History Month Honoree as well as a recipient of the 2003 The Chapel of Four Chaplains Legion of Honor Bronze Medallion Award. She was awarded the Intrepid Award by the National Organization for Women in 2006, the US Air Force Woman of Distinction Merit Award in 2007, the General Federation of Women's Clubs Women's History Month Honoree in 2008 and in 2010 was inducted into the US Army Women's Foundation Hall of Fame. More recently in 2012, she was the first recipient of the USAF Brigadier General Wilma Vaught Visionary Leadership Award as well as a recipient of the Sea Services Leadership Association North Star Lifetime Achievement Award. The White House honored her as a Champion of Change in 2013 and she was awarded the NSDAR President General's Medallion. In 2015, the National Graduate School established the Brigadier General Wilma L. Vaught Military Women Service Scholarship in General Vaught's honor.