Women in Television
Promoting and Advocating for Change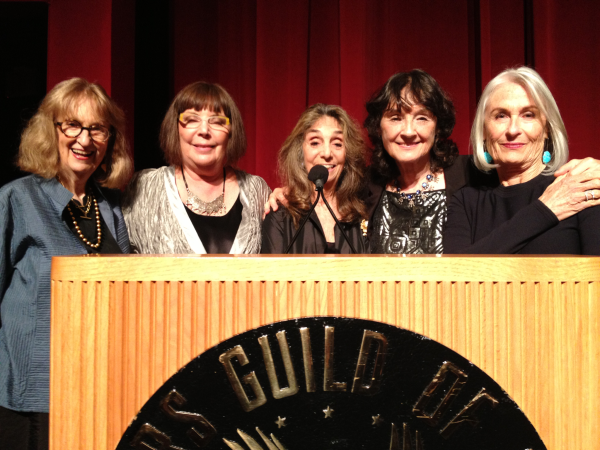 It defies culture in so many ways. It affects the way we see ourselves and the way we are seen by others. It gets into the DNA of how we treat each other, the policies we make, what we're able to say and do to each other. For there only to be one dominant voice determining what's said and saying it is something that all like-minded people who believe in the dignity of everyone should be concerned about. – Ava DuVernay
The narrative of women working behind the camera in television is one that begins with pioneering women directors like Joan Darling (the first female director nominated for an Emmy Award), Joan Tewkesbury, Lesli Linka Glatter, Randa Haines, Martha Cooley, Elaine May, and Ida Lupino. It continues with powerhouses Shonda Rhimes, Ava DuVernay, Mindy Kaling, Elizabeth Meriwether, Courtney Kemp Agboh, Lena Dunham, Jenni Konner, Tina Fey, Jenji Kohan, and Julie Plec.
Historically, women have been underrepresented behind the camera, and often left out of television roles that are complex and powerful. The 2016 Boxed In study from the San Diego State University's Center for the Study of Women in Television and Film reports that these trends continue today: 9 percent of male characters were portrayed as leaders, compared to only 5 percent of female characters. Ninety-one percent of shows across screen-based platforms employed no women directors, 76 percent had no women creators, and 71 percent no female writers.
Changing the Ecosystem
It is possible to change these dismal statistics. As more women fill above-the-line roles in television, they can employ other women and write more diverse and relatable roles for women. Director/screenwriter Ava DuVernay recently hired only women as directors for OWN's new TV series, QUEEN SUGAR. These directors, So Yong Kim, Neema Barnette (the first black woman to direct an episode of sitcom television), Kat Candler, Salli Richardson-Whitfield, Victoria Mahoney, and Tanya Hamilton have all booked other gigs because of this opportunity.
Geena Davis, who was the first woman to depict the U.S. President on TV and founded the Geena Davis Institute on Gender in Media, reasons that the answer to shaking up the gender divide in film and in television roles is to simply write more women into scripts, as lead and minor characters. This idea is being explored more explicitly by actress Rose McGowan, whose production company, Damage Inc., is partnering with Series Fest to help sponsor emerging female writers who are writing episodic content about, for, and featuring women. "Society is in dire need of voices that are not from within the Hollywood ecosystem."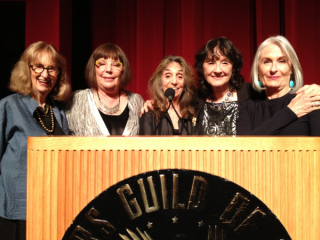 Credit
Courtesy of Lynne Littman
Equal Pay
Along with representation disparities, women suffer from pay disparity. In 1979, a group of crusaders known as "The Original Six" called Hollywood studio's to task when they formed the Women's Steering Committee at the Directors Guild of America.
The original committee founders, Susan Bay Nimoy, Nell Cox, Joelle Dobrow, Dolores Ferraro, Victoria Hochberg, and Lynne Littman,  started their activism when only 0.5 percent of all films and TV shows were directed by women. Their research led to a gender discrimination suit against Warner Brothers and Columbia Pictures in 1983 that was dismissed on a technicality in 1985. That dismissal continues to have economic ramifications for women. The Directors Guild rewards "points" to directors who work on films; this determines the amount of their pensions and health benefits upon retirement. If you don't have an equal opportunity to work, you don't have an equal opportunity for a well-pensioned retirement.
Gillian Anderson was shocked to realize that pay disparity was still an issue when she revealed in The Hollywood Reporter recently that she was offered half of her co-star's pay to reprise her role as "Scully" on the X-FILES revival. While Anderson eventually received equal pay for the series, she has become more of an activist for equal compensation.
What About the News?
Non-fiction media doesn't have a better record when it comes to equal opportunity. The Women's Media Center reported in 2014 that 63 percent of men receive byline credits, and while some broadcast television outlets have women as primary anchors, the news is still reported by men 60 percent of the time. One should wonder if this influences the news we receive.
With the explosion of on-screen content and new distributors such as Netflix, Hulu, and Amazon, there should be more opportunities for women working in television, and for audiences clamoring to see more inclusiveness in media.
What's Next?
Currently, women have renewed their protest for equal opportunities on both sides of the camera, but it may be up to audiences and consumers to vote with their eyes and pocketbooks and support the programs and depictions that represent their experiences.
Why should we be content when the stories of half the population are disregarded or told by people with little actual experience of those stories?
Melissa Hougton is executive director of Women in Film and Video DC office. Special thanks to Gabrielle Mitchell (George Mason University) and Read Masino (Georgetown University) for their research for this article.
Gertz, Matt. Stagnant American Newsroom Diversity In Charts. N.p., 2013. Web. 15 Sept. 2016. < A census done by ASNE reveals that women in newsrooms have never exceeded 38% (Stagnant American Newsrooms).>.
Davis, Geena. "Geena Davis' Two Easy Steps to Make Hollywood Less Sexist." The Hollywood Reporter, December 11, 2013. 
Desta, Yohana. "Ava DuVernay and Queen Sugar Look Like the Future of Television." Vanity Fair, September 13, 2016.
Lauzen, Martha M. "Boxed In 2015-16: Women On Screen and Behind the Scenes in Television." Center for the Study of Women in Television & Film, San Diego State University, September 15, 2016.
Rich, Katey. "How Gillian Anderson Fought Inequality on The X-Files Twice, and Won." Vanity Fair, January 22, 2016.
Sandberg, Elise. "Rose McGowan and SeriesFest Partner on Women's Script Competition." The Hollywood Reporter, July 28, 2016.
Syme, Rachel. "The Original Six: The Story of Hollywood's Forgotten Feminist Crusaders." Pacific Standard, February 26, 2016.