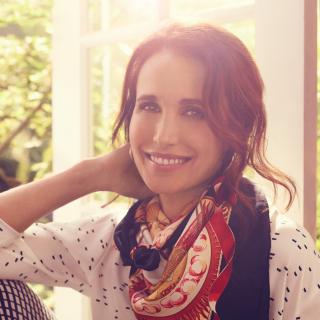 Andie MacDowell has had a hugely success career across both film and television.  She was most recently seen in the Fox Searchlight feature READY OR NOT, as well as Hulu's limited series FOUR WEDDINGS AND A FUNERAL. Her film, LOVE AFTER LOVE, in which she stars opposite Chris O'Dowd, premiered at the Tribeca Film Festival to great critical acclaim. Before that, Andie was seen in Lorenzo di Bonaventura's drama for Lionsgate, ONLY THE BRAVE opposite Jeff Bridges, Jennifer Connelly, and Josh Brolin. Additionally, she appeared in Warner Bros' Magic Mike XXL opposite Channing Tatum and Matt Bomer, as well as the critically acclaimed TV series Cedar Cove for three seasons, playing a Municipal Court Judge. She also appeared in the season 1 finale of NBC's TRIAL AND ERROR opposite John Lithgow.
Andie first gained attention starring in Sex, Lies, and Videotape, opposite James Spader and directed by Steven Soderbergh.  She then went on to star in several highly revered films including Groundhog Day, playing Bill Murray's love interest; Four Weddings and a Funeral, which garnered her a Golden Globe nomination for Best Actress in a Motion Picture-Comedy/Musical;  Multiplicity, opposite Michael Keaton; Michael, opposite John Travolta and William Hurt; Short Cuts, opposite Julianne Moore; Green Card, for which she was nominated for a Golden Globe; An Object of Beauty, opposite John Malkovich; and the 2011 revival of Footloose, opposite Miles Teller and Julianne Hough.
Andie MacDowell has been the face of L'Oreal for the past 33 years.