Suffrage Centennial Traveling Exhibit
The Museum is taking history to communities across the country with an innovative traveling multimedia exhibit using augmented reality (AR) technology to inspire students and young adults from the ages of 10 to 24 years old.
This state-of-the-art exhibit will showcase women's accomplishments from the Seneca Falls Convention in 1848, through the suffrage movement, and include contemporary women's success stories. The exhibit will include diversity and inclusion themes, and a mobile app to engage audiences nationwide. This disruptive, interactive, experiential exhibit will educate girls & boys and inspire them to see there are no obstacles to becoming whatever they want to be, regardless of gender.  
While currently in the exploratory stage, the goal is for the exhibit to launch in conjunction with the centennial celebration of the suffrage movement and travel across the country through 2021 during the centennial celebration of the suffrage movement. As part of the study, a team of noted educators and scholars are undertaking extensive research to ensure the exhibit will be inclusive of the full breadth of women's history, and will also be the only large-scale traveling exhibit to utilize cutting-edge technology during this important milestone in women's history.
Take Our Survey
Interested in hosting or partnering with the exhibit? Interested in visiting the exhibit? Take our survey and give us your input!
The right of citizens of the United States to vote shall not be denied or abridged by the United States or by any State on account of sex.

19th Amendment to the Constitution of the United States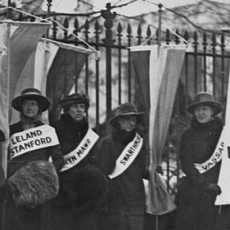 Our suffrage resource center, Crusade for the Vote, has more information about the suffrage movement. You can find primary and secondary sources, videos, images, lesson plans, and much more.