The History of Nursing in the United States
Brief Historical Overview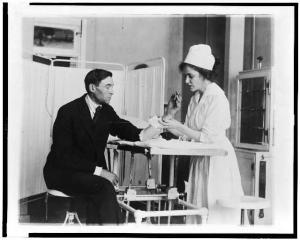 While it may seem strange in our modern world; for thousands of years people were born at home, died at home, and, if they became ill, were treated at home. Trained doctors were rare in early America. Most people lived in small communities where basic medical knowledge and care was handed down generation to generation. Women played an essential role; they were the primary caregivers and "keepers" of medical knowledge and they were the midwives that helped bring new life into the community. Their skills and knowledge was largely through passed down or from learning from other women.
At the beginning of the Revolutionary War, it is estimated only 200 doctors in the colonies had medical degrees. Nurses did not have degrees for the simple fact that there was no formal training for nurses until the mid-19th century. However, George Washington recognized the need to better the care for the sick and wounded and, in July 1775, the Continental Congress approved medical support for a Continental Army of 20,000 men. The plan called for one nurse for every ten patients and "that a matron be allotted to every hundred sick or wounded, who shall take care that the provisions are properly prepared; that the wards, beds, and utensils be kept in neat order; and that the most exact economy be observed in her department."
While not professionally trained, the woman gained experience and knowledge and set the stage for expanding and standardizing the career of nursing. War creates necessity and medical treatment has always advanced and evolved through necessity. The Revolutionary War through Iraq and Afghanistan have advanced the practice and technology of medicine as well as the essential role and skill of the nursing profession. From the Revolutionary War through modern day, millions of women serving as nurses, increasing knowledge, training, and skill. Eventually, extraordinary nurses helped open the door to becoming ranking officers in the military. In 1970, Colonel Anna Mae Hayes, Chief of the Army Nurse Corps, became the first woman promoted to Brigadier General. Since the 18th century nurses have served near battlefields to care for the wounded first as caregivers and later as highly trained combat and surgical professionals.
Professionalizing the field of medicine happened over time. By the late 18th century, medical schools and structured medical training began to develop. In the United States, even as larger cities grew, hospitals were still rare before 1860; however, there were efforts to build professional knowledge in healthcare. In 1839, Dr. Joseph Warrington founded the Nurses Society in Philadelphia in an effort to improve the care of new mothers and infants. He published The Nurses Guide to help set standards and improve nursing. In 1861, Elizabeth Blackwell, the first woman to graduate medical school in the United States, created a nursing course to help train women serving as nurses for the Union Army. Both Dorthea Dix and Clara Barton also worked throughout the Civil War to establish standardized and professional care for Union soldiers. While Dorthea Dix required that nurses be over thirty and "plain"; thousands of women joined the cause as nurses; many of whom started the war with very little training. 
In addition, nursing brought such volunteers as Louisa May Alcott and Walt Whitman. Whitman traveled to nurse his younger brother and then spent more than a year volunteering in Union Hospitals in Washington, DC caring for the wounded and, occasionally, writing to loved ones for them. His poem, "The Wound Dresser," recounts nursing wounded and dying soldiers.
Catholic nuns, particularly the Sisters of Charity, played a key role in advancing nursing in the United States. They served in both the Civil War and again, at the request of the War Department, in the Spanish American War. After the Civil War, nuns were instrumental in opening almost 500 hospitals as well as nursing schools to standardize and professionalize nursing in the United States.
The social reform movement of the late 19th century, principally the Settlement House movement pioneered by Jane Addams in Chicago, played a significant role in advancing professional and training opportunities for women in the fields of social work and nursing.   Within 30 years, there were over 400 settlement houses in 32 states. Lillian Wald founded the Henry Street Settlement House in 1892, and was instrumental in spurring public health care nursing in New York city. Working largely in immigrant and poor communities, reformers worked to improve education and healthcare in the poorest neighborhoods. The social reform movement also played a critical role in changing attitudes. While it was acceptable for women to nurse family and friends at home, many if not most Americans In the 18th and 19th centuries found it hard to accept women working outside of the home as anything other than teachers. It wasn't until after the Civil War that these attitudes gradually began to change. The Reform movement and the Suffrage movement began to impact the perception of women's roles.
With the number of hospitals and professionalized medical care growing by the late 1860s, healthcare began to move from the home into hospitals with skilled staff to care for and treat disease and illness. As the field advanced, the nursing profession evolved and grew. Two pioneers in professionalizing the field of medicine for women were Dr. Ann Preston and Dr. Maria Zakrzwska. Not only were they in the minority as women physicians, they founded women's hospitals run by and for women in addition to training female doctors and nurses.
Racial prejudice and segregation, particularly in the south, kept most African American women from becoming professional nurses. Like women of all races, African American women were the caretakers in their communities; however, until 1879, racial prejudice barred them from formal training. In 1879 Dr. Zakrzwska's nursing school broke a significant racial barrier when Mary Eliza Mahoney graduated and became the first African American professional nurse in the United States. Seven years later, in 1886, Spelman Seminary in Atlanta, Georgia opened and enrolled students in the first nursing program for African American women.
In the 20th and 21st centuries, medicine and medical treatment has been revolutionized by technology. Ideas, procedures, instruments, and technology that seem ordinary to us would have been inconceivable to 18th century medical professionals. Consider just a few of the advances that have radically changed medical care in the last century:
Sanitation and sanitary procedures in hospitals and surgeries
Clean water supplies
Vaccines
Blood typing
Antibiotics
Radiology – x-rays to cat-scans – to MRI
Organ transplant
Anesthetics
Improved surgical procedures
Given the growth of medical knowledge and practice, doctors and nurses now focus their training and specialize in particular fields including: general practice, general surgery, pediatrics, neurology, pathology, obstetrics, cardiology, orthopedics, endocrinology, radiology, gynecology—to name just a few.  
When looking at the advancements that have revolutionized medicine and nursing, it is important to remember the history and landmarks that brought the profession forward. Women started with medical practices that had been handed down for centuries as they were the caretakers of their communities. In many ways, that has not changed. Nurses today keep alive the tradition of community "caretakers," who, through revolutionary advancements and technology, have become highly trained and skilled medical personnel using advancements in medicine that would astonish the women who paved the road in nursing for almost 200 years.
By Nancy Hayward
Works Cited
"Chronology." US Army Center of Military History. 
"Walt Whitman's Letter for a Dying Soldier to His Wife Discovered." National Public Radio. March 12, 2016.