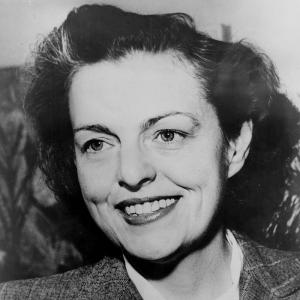 Helen Gahagan Douglas was not only a famous actress, but she was also a tough politician. Her early life and career centered around her work on Broadway where she became a celebrated actress. Later, she became the first Democratic woman elected to Congress for California. Her training as an actress helped her speak passionately about topics including equal rights for women and African Americans and protection for workers. Her work led her to run against then Senator Richard M. Nixon for a seat in Congress and, although Douglas lost, she continued her advocacy work.
Helen Gahagan Douglas was born November 25, 1900 to Walter Hamer Gahagan II and Lillian Rose Mussen Gahagan. She was one of five children. Her father owned several construction and shipyards, which made the Gahagan family wealthy. When Douglas was young, she and her family moved from New Jersey to Park Slope in Brooklyn, New York.
Soon after moving to New York, Douglas fell in love with acting. She dreamed of becoming an actress, and especially enjoyed taking drama classes at school. However, her father did not approve of her dream. In high school, she failed her classes because she was spending too much time in the drama department. Her father was angry and told her that going to college was more important than acting. Douglas listened to her father and attended Barnard College. While at Barnard, she was able to stay close to her family and close to Broadway.
Douglas attended college from 1920 to 1922. While in school, she and fellow student Alis De Sola wrote a play titled Shadow of the Moon. Elizabeth Grimball, Douglas' mentor, produced the play. She gave Douglas the lead role of the fairy queen. Playwright Harry Wagstaff Gribble saw Douglas' performance and offered her a role in one of his plays. In order to take the role, Douglas had to leave school. Her father was furious. Gribble offered to speak to her father. The next day, as Douglas was preparing for the opening as the lead in Dreams for Sale, she signed a five-year contract to act on Broadway. That night she made her debut, and the next morning the headline of the Brooklyn Eagle read, "Helen Gahagan Becomes Stage Star Overnight."
Douglas continued acting, becoming more and more popular. Her father continued to disapprove of her career choice, but after a few years they were able to make up. In 1927, Douglas decided to become an opera singer. She was trained by Madame Cehanovska, a Russian voice coach. After two years of training, Douglas made her debut in Europe and became famous throughout Austria, Germany, and Czechoslovakia.
In 1930, Douglas returned to the United States. She began acting again and while starring in Tonight or Never she met Melvyn Douglas. They got married in 1931.
After their marriage, they moved to Los Angeles. Douglas disliked living in Hollywood. However, in 1935, she starred in the movie She as the title character "She," an ice goddess. Her role inspired the Evil Queen in Disney's Snow White.
While living in California, and raising her two children, Peter and Mary Helen, Douglas became involved in politics. She was shocked that many Americans did not know about Hitler's rise to power, and that some Americans even supported him. Douglas also watched thousands of people move to California because the Dust Bowl had ruined the farms that they worked on. The struggles that Douglas saw inspired her interest in politics. She became friends with Eleanor Roosevelt, and Roosevelt was a mentor to Douglas.
In 1944, Douglas ran for Congress in California's 14th District. While campaigning, she met with people all throughout the district. She was elected and served in Congress from 1945 until 1951. During her time in Congress, she fought for civil rights, supported laborers, and spoke out against communism. As one of only nine Congresswomen at the time, Douglas was able to bring more awareness to the inequality of women in the United States. When asked about being a woman in Congress, she replied, "Politics is a job that needs doing- by anyone who is interested enough to train for it and work at it. It's like housekeeping; someone has to do it. Whether the job is done by men or women is not important- only whether the job is done well or badly." At the end of her third term in Congress, Douglas decided to run for Senate.
During the Senate race, Douglas ran against Democrat Manchester Boddy. He accused Douglas of being a communist sympathizer, otherwise known as a "pink lady." This rumor caused people to dislike and mistrust Douglas. Despite the difficult campaigning and the accusation of being a communist, Douglas remained calm. In the final election, she defeated Boddy by a two to one margin.
The name "pink lady" was picked up and used by Douglas' Republican opponent, Richard M. Nixon. He chose to further smear Douglas through a whisper campaign, or a campaign based on rumors. He had pink flyers passed around detailing her alleged communist beliefs. During the campaign, Nixon and Douglas rarely crossed paths, however they did exchange names for one another. To Nixon, Douglas was still the "pink lady," and Douglas coined the name "Tricky Dick" for Nixon. This name stayed with him for the rest of his political career. Nixon's plan to distract people from Douglas' campaign and have the public focus on the false rumors worked in his favor. Nixon won the Senate seat, and Douglas did not become the fourth woman in the Senate.
Despite her loss in the Senate race, Douglas continued to travel and lecture. She wrote a book about her friendship with Eleanor Roosevelt and she returned to the Broadway stage. She was also a Special Ambassador appointed by President Lyndon B. Johnson to head the United States delegation at the inauguration of the President of Liberia. Douglas lived the rest of her life in New York City, where she died of cancer on June 28, 1980.
APA: Anderson, A. (2018, September 25). Helen Gahagan Douglas. Retrieved from https://www.womenshistory.org/education-resources/biographies/helen-gahagan-douglas
MLA: Anderson, Ashlee. "Helen Gahagan Douglas." National Women's History Museum, 25 Sept. 2018, www.womenshistory.org/education-resources/biographies/helen-gahagan-douglas.
Chicago: Anderson, Ashlee. "Helen Gahagan Douglas." National Women's History Museum. September 25, 2018. https://www.womenshistory.org/education-resources/biographies/helen-gahagan-douglas.