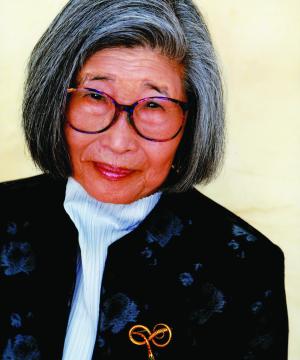 A leading advocate for culturally sensitive mental health care, Dr. Reiko Homma True is dedicated to improving mental health treatment for the Asian-American community and other minority populations. She is a devoted mentor who has worked hard to support other Asian-American women pursuing careers in psychology.
Dr. Reiko Homma True was born in Niigata, Japan in 1933. From a young age, she was taught the Three Obediences of East Asian Confucianism: women should obey their fathers, their husbands, and then their sons. But True sought to invest in herself, rather than place obedience above all else. Growing up, True was active in her church and volunteered with childcare programs. She was one of the few female students in her class to graduate from the English and International Business Program at Tokyo University. But after graduation, she struggled to find work. Many employers rejected her because she was a woman, or only offered her opportunities that did not match her education and qualifications.
By 1958, True had married and given birth to a son. She and her family moved to San Franscisco that year and True took a clerical job at a California state agency. With the encouragement of her boss, True pursued a career in social work and enrolled in graduate school at the University of California, Berkeley.
As True gained exposure to the mental health care system, she observed the many ways in which racial disparities affected the care patients received. While training in a psychiatric clinic in San Francisco, she saw the struggles the area's Asian-American population encountered in the system and felt that the treatment model did not adequately take into account cultural differences. True began to advocate for a culturally sensitive approach to mental health care, one that did not rely on racial generalizations but instead drew on specific cultural knowledge. She was part of an effort that lobbied the local governments in the San Francisco Bay area to implement mental health services that addressed cultural and linguistic differences. The effort helped lead to the creation of Oakland's Asian American Community Mental Health Program, the first mental health center in California devoted to a minority population.
True received her master's degree in social work from Berkeley in 1964 and helped establish a support group in the Bay Area called Himawari-kai (Japanese for "sunflower"). The group assisted Japanese women who were new to the United States, particularly women married to American servicemen (often called "war brides" in the years following World War II), who were suffering from isolation, abuse, or abandonment. True claimed that the sunflower was an appropriate symbol for the group because "it represented our hardiness, thriving in foreign soil."
Feeling that her work required even deeper study of mental health, True returned to school in 1972. She earned her doctorate in 1976 from the California School of Professional Psychology (CSPP), part of Alliant International University. True was a founding member of the Asian American Psychological Association in 1972, as well as a leader in the drive to establish the Board of Ethnic Minority Affairs in the American Psychological Association in 1980.
In 1976, True began working at the National Institute of Mental Health, where she developed community health care programs in Arizona and Nevada for people from different backgrounds, such as Native Americans, African Americans, and Hispanic Americans. She worked to gain the trust of these communities through dialogue centered on their specific needs. For five years she created programming to combat the stigma surrounding mental health issues in these communities.
True served as Deputy Director for the San Francisco Community Health Services beginning in 1981. She worked directly with local mental health initiatives and developed programs for minority and women's groups, such as services for children who suffered domestic and sexual abuse as well as a rape crisis center. In 1985, True became the Director of Community Mental Health Services and Substance Abuse Services, the first woman and person of color to hold the position. In 1989, when a 7.1-magnitude earthquake hit San Francisco, True's department quickly assembled a mental health response unit to assist the public with the extensive damage it caused.
In addition to her community work, True has made significant contributions to the academic study of mental health. In 1990 she published an influential article on the importance of culturally sensitive care. "Psychotherapeutic Issues with Asian American Women" highlighted the need for health care professionals to reevaluate the assumptions that underlie Western concepts of psychology, as well as the need to take practical steps like utilizing interpreters to improve communication with patients.
Building off her experience from the 1989 earthquake, True traveled to Kobe, Japan following the devastating 7.3-magnitude earthquake that struck there in 1995. Disaster mental health care was not common in Japan at the time. True was named a Fulbright Senior Scholar and worked for six months at Kobe University Medical School to develop a Mental Health Disaster Assistance Program that trained mental health professionals to treat survivors of the earthquake. She also helped conduct mental health disaster training following the 2011 Tohoku Region Disaster (an earthquake and tsunami).
True retired from the San Francisco public health department in 1996. True served as the president of the Asian American Psychological Association from 1997-1999. As president, she implemented mentoring efforts to support Asian-American women in psychology. In 2002, she received the organization's inaugural Okura Community Leadership Award, and in 2003 she earned its Lifetime Achievement Award. True's other honors include the American Psychological Association's Committee on Women in Psychology Leadership Award (1999) and recognition as an Outstanding Alumna by the Japanese American Women Alumnae of UC Berkeley (2001).
In 2012, True assumed leadership of the Clinical Psychology Master's Program in Tokyo, run by her alma mater, Alliant International University's California School of Professional Psychology. Today, True continues to work on behalf of the Asian-American community, both supporting Asian-American psychologists in their careers and providing mental health care for non-English speaking individuals and other minorities in San Francisco's Japantown. She also works with NichiBei Care, an organization that offers mental health care to Japanese people all over the world.
"Opening Doors: Immigrant Profiles." Angel Island Immigration Museum. Accessed April 7, 2022. https://www.aiisf.org/aiimopeningdoors
"Reiko Homma True." Monitor on Psychology. American Psychological Association. February 2006, Vol 37, No. 2. Accessed April 20, 2022. https://www.apa.org/monitor/feb06/true
"Reiko True, PhD." American Psychological Association. 2012. Accessed April 20, 2022. https://www.apa.org/pi/oema/resources/ethnicity-health/psychologists/true
"Reiko True." WikiMili. November 03, 2021. Accessed April 25, 2022. https://wikimili.com/en/Reiko_True
Sandhu, S. (2020). Profile of Reiko True. In A. Rutherford (Ed.), Psychology's Feminist Voices Digital Archive. Retrieved from https://feministvoices.com/profiles/reiko-true