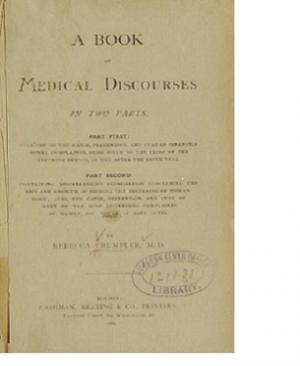 As the first African American woman to receive a Medical Degree (MD) in the United States, Dr. Rebecca Lee Crumpler challenged the prejudice that prevented African Americans and women from pursuing medical careers. Despite her achievements, very little is known about Dr. Crumpler and her life story is still being written.
Dr. Rebecca Lee Crumpler was born Rebecca Davis in 1831 in Christiana, Delaware to Absolum Davis and Matilda Webber. Her childhood was spent with an aunt in Pennsylvania. Her aunt frequently cared for sick neighbors, and Crumpler accompanied her aunt on these trips. In her book, published in 1883, Crumpler wrote these experiences with her aunt inspired her to go into medicine. Crumpler wrote, "Having been reared by a kind aunt in Pennsylvania, whose usefulness with the sick was continually sought, I early conceived a liking for, and sought every opportunity to be in a position to relieve the sufferings of others."
By 1852, Crumpler had moved to Charlestown, Massachusetts to begin her medical career as a nurse. In the early 1850s, there was no formal school where one could become licensed as a nurse (the first one opened in 1873), so she performed her medical duties without any formal education. Crumpler assisted several doctors in the Boston area for eight years. Her life in Massachusetts also included a husband; Crumpler married Wyatt Lee, a Virginia laborer, in 1852 in Charlestown.
 In 1860, Crumpler became the first—and only—African American woman accepted to the New England Female Medical College in Boston. The College, established in 1848, was the first to award MD's to women. It was also unique in that it allowed Crumpler to attend as most medical schools barred all African Americans—both men and women—from attending. Crumpler attended the school on a scholarship from the Wade Scholarship Fund created by Ohio abolitionist Benjamin Wade. Crumpler worked diligently at her studies but had to take a leave of absence after two years to attend to her sick husband. After Wyatt died of tuberculosis in April 1863, Crumpler asked to re-enroll. Some of the faculty expressed worry regarding the amount of time it was taking her to finish her studies and were hesitant to let her come back, but several of the school's patrons—who were all abolitionists—advocated for Crumpler. On March 1, 1864, Crumpler received a "Doctress of Medicine" from the New England Female Medical College. She was 33 years old. She remains the only African American woman to receive a medical degree from the school, since in 1874 it merged with Boston University Medical School. Dr. Crumpler began practicing medicine in Boston. According to historian Vanessa Northington Gamble, at the time Dr. Crumpler received her degree, there were 54,543 physicians in the country; 270 of them were women—all white—and 180 were African American men.
In 1865, Dr. Crumpler married Arthur Crumpler in Boston. Arthur was a fugitive slave who had arrived in Boston in 1862 and then served in the Union Army during the Civil War. The Crumplers would have one daughter, Lizzie Sinclair Crumpler, in 1870, but it is believed she died young. Arthur would go on to work as a porter at West Newton English and Classical School. Arthur was also a student, taking night classes to learn to read and write at age 74. In 1891, the Boston Globe reported these classes made him the oldest student in Boston. Arthur died in 1910.
Dr. Crumpler received her degree just as the Civil War was ending. Millions of newly emancipated African Americans were in need of support, including medical care, and Dr. Crumpler wanted to help. The Crumplers went to Richmond where she worked with the Freedmen's Bureau and other charity and missionary groups to care for formerly enslaved men, women, and children. The majority of her patients had no access to medical care beyond what the Freedmen's Bureau and volunteers were willing to provide due to poverty, lack of resources, lack of connections, and racism. Dr. Crumpler felt Richmond would be "a proper field for real missionary work, and one that would present ample opportunities to become acquainted with the diseases of women and children." Dr. Crumpler continued to work despite the extreme sexism, racism, and rudeness she experienced from colleagues and others to treat her patients. The discrimination these African American patients experienced encouraged an increasing number of African Americans to pursue medicine.
The Crumplers returned to Boston in the late 1860s where Dr. Crumpler continued practicing medicine. Moving to Beacon Hill, a mainly African American neighborhood at the time, Dr. Crumpler saw patients in and around her house on Joy Street. She treated her patients regardless of their ability to pay. She also treated patients despite her troubles getting prescriptions filled by pharmacists, ridicule from administrators and doctors, and no admitting privileges to local hospitals because of her race. In 1880, the Crumplers moved to the Hyde Park neighborhood of Boston where Dr. Crumpler stopped practicing. In 1883, Dr. Crumpler published a book based on journal notes she kept during her years of practice. A Book of Medical Discourses is believed to be the first medical text written by an African American author. It described Dr. Crumpler's experience as a doctor and covered topics such as maternal and child health, pregnancy, nursing, and teething. Scientific American magazine describes it as the forerunner to the famous What to Expect When You're Expecting (1984).
Dr. Rebecca Lee Crumpler died of fibroid tumors on March 9, 1895, at age 64. She was buried in Fairview Cemetery in the Hyde Park neighborhood without a headstone. In 2019, a fund-raising campaign was started to give both Dr. Crumpler and Arthur, who was buried next to her, headstones; 125 years after her death, in 2020, those headstones were installed. Due to her work, Virginia's governor declared March 30, 2019 "Dr. Rebecca Lee Crumpler Day." Her Beacon Hill home is now a stop on the Boston Women's Heritage Trail and one of the first medical communities for African American women is named the Rebecca Lee Society. Today, only 2% of practicing physicians identify as African American women.
There are no surviving pictures of Dr. Rebecca Lee Crumpler. Her perseverance and dedication to those in need still serves as an inspiration.
Published October 1, 2021
Works Cited
Amy Laskowski, "Trailblazing BU Alum Gets a Gravestone 125 Years after Her Death," Bostonia: Boston University's Alumni Magazine, August 7, 2020, https://www.bu.edu/articles/2020/rebecca-lee-crumpler-first-black-female-physician-gets-gravestone-130-after-death/
"Changing the Face of Medicine: Dr. Rebecca Lee Crumpler," National Library of Medicine, NIH, October 14, 2003, updated June 3, 2015, https://cfmedicine.nlm.nih.gov/physicians/biography_73.html
Cindy Shmerler, "Overlooked No More: Rebecca Lee Crumpler, Who Battled Prejudice in Medicine," Overlooked, New York Times, July 16, 2021, https://www.nytimes.com/2021/07/16/obituaries/rebecca-lee-crumpler-overlooked.html
"Dr. Rebecca Lee Crumpler," National Park Service, https://www.nps.gov/people/dr-rebecca-lee-crumpler.htm
Dr. Howard Markel, "Celebrating Rebecca Lee Crumpler, first African-American woman physician," PBS News Hour, March 9, 2016, https://www.pbs.org/newshour/health/celebrating-rebecca-lee-crumpler-first-african-american-physician
Sara Diaz, "Rebecca Davis Lee Crumpler (1831-1895)," Blackpast.org, March 12, 2007, https://www.blackpast.org/african-american-history/crumpler-rebecca-davis-lee-1831-1895/
MLA – Rothberg, Emma. "Dr. Rebecca Lee Crumpler." National Women's History Museum, 2021. Date accessed.
Chicago – Rothberg, Emma. "Dr. Rebecca Lee Crumpler" National Women's History Museum. 2021. www.womenshistory.org/education-resources/biographies/rebecca-lee-crumpler.
Photo Credit: Front page of Dr. Crumpler's "A Book of Medical Discourses." There are no existing photos of her. Public domain, courtesy of the U.S. National Library of Medicine.