Celebrating Asian American Women
Asian American women have made a significant impact on the United States in a wide variety of fields. Despite facing both racial discrimination and sexism, these women stood strong, challenged stereotypes, and paved the way for future generations.
Anna May Wong (1905-1961)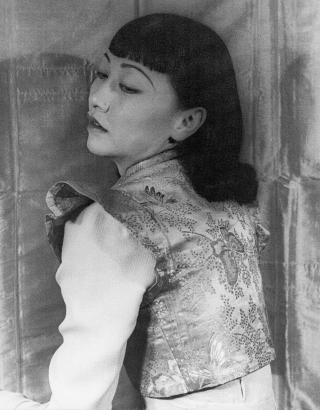 Credit
Library of Congress, Prints & Photographs Division, Carl Van Vechten Collection, [reproduction number, e.g., LC-USZ62-54231]
As the first Chinese-American movie star, Anna May Wong used her fame to challenge racism and stereotypes in Hollywood. Born in 1905 in Los Angeles, California to second generation immigrants. Wong was named Liu Tsong at birth, meaning "willow frost" but later chose the more American sounding name, Anna May, to help her fit in in the movie industry. Growing up in Los Angeles, Wong was captivated by the world of Hollywood and spent much of her childhood at the movies and hanging around studios begging directors to give her a role in their movies. Her persistence paid off when she earned her first role as an uncredited extra in the 1919 silent film The Red Lantern when she was 14. Soon after this, she started receiving more roles and eventually dropped out of school to pursue her acting career full-time.
In 1922 at 17 years old, Wong earned her first leading role in The Toll of the Sea, the first technicolor feature made in Hollywood. Wong played the part of Lotus Flower, a young Chinese girl who falls in love with an American man and drowns herself after he leaves her for an American woman. This movie was unusual for the time because it featured an interracial romance during a time when interracial marriages were forbidden by US law. Wong was frequently relegated to supporting roles and prevented from being cast in any role involving a kiss with a white man.
Wong was often cast as the stereotypical "dragon lady" villain, despite her superior acting ability and her captivating on screen presence. Racism in Hollywood and across the country prevented Wong from playing more complex roles. The Chinese Exclusion Act of 1882 prevented Chinese immigration to the United States and fueled discrimination throughout the country. Frustrated with her limited options for roles in the United States, Wong moved to Europe in 1928 where she found success starring in German and Austrian films.
Despite gaining international recognition in Europe, once Wong returned to the United States she continued to face discrimination in Hollywood. She was frequently told that she was "too Chinese to play Chinese," and was often passed over for Chinese roles in favor of white actresses in yellow-face. Wong began to speak out against racism and refused to play offensive stereotypical roles, choosing to act exclusively in B-list movies that allowed her the opportunity to play strong Chinese characters. In an interview, Wong asked "why is it that the screen Chinese is always the villain? And so crude a villain—murderous, treacherous, a snake in the grass! We are not like that. How could we be, with a civilization that is so many times older than the West?"
Despite the discrimination she faced, Wong continued to fight racism in Hollywood until her death in 1961. While discrimination still exists in Hollywood, Wong's legacy paved the way for actresses of color in Hollywood.
Dr. Chien-Shiung Wu (1912-1997)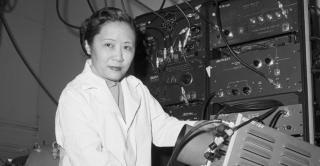 Credit
Library of Congress
Dr. Chien-Shiung Wu, often referred to as the "First Lady of Physics" and the "Chinese Marie Curie," was a renowned physicist who made important contributions to the Manhattan Project and performed groundbreaking experiments in the field of physics that disproved the Law of Conservation of Parity. Wu was born on May 31, 1912 in a small town near Shanghai. Her father strongly believed in women's education and supported her studies. Wu attended a girl's school started by her father before continuing her education in physics at the university and graduate level in China. After graduating, Wu decided to move to America where she could further her education. Wu enrolled at the University of California, Berkeley where she completed her PhD in 1940. After receiving her PhD, Wu taught physics at Princeton University and Smith College from 1942-1944.
In 1944 Wu joined the research staff at Columbia University and began work on the Manhattan Project which helped the United States develop the atomic bomb during World War II. Her work helped create the process for separating uranium metal into the U-235 and U-238 isotopes by gaseous diffusion.
After the war Wu continued conducting research at Columbia University, focusing on beta decay. In 1956 two of Wu's male colleagues, Tsung Dao Lee and Chen Ning Yang, asked for her help in designing experiments to test their theory that the Law of Conservation of Parity did not hold true during beta decay. Wu's experiments proved Lee and Yang's theory and helped them earn the 1957 Nobel Prize in Physics, however she was not acknowledged or credited for her contributions simply because she was a woman. Throughout her career Wu struggled for gender equality, correcting people who called her by her husband's name, and fighting for equal pay.
Despite the sexism she faced, Wu continued to have a successful career. She became the first woman to serve as president of the American Physical Society and won several awards and honors throughout her lifetime including the National Medal of Science and the Comstock Prize.
Patsy Takemoto Mink (1927-2002)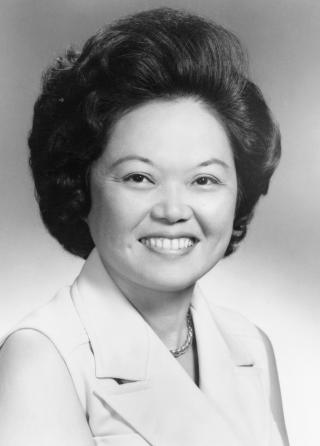 Patsy Takemoto Mink made history when she was elected to the United States House of Representatives, becoming the first woman of color elected to the national legislature and the first Asian-American congresswoman. Mink was a trailblazer for women in politics and a strong advocate for women's rights, education, civil rights, and social welfare.
Patsy Matsu Takemoto was born on December 6, 1927 in Paia, Hawai'i Territory to second generation Japanese immigrant parents. After graduating high school as valedictorian and class president, she went on to study at Wilson College in Chambersburg, Pennsylvania and the University of Nebraska, before returning to the Hawaii where she graduated with a degree in zoology and chemistry from the University of Hawai'i. She then went on to earn her law degree at the University of Chicago where she met her husband, John Francis Mink.
After returning to Hawai'i, Mink started her own law practice, becoming the first Japanese-American woman to practice law in Hawaii. She began her political career in 1956 when she was elected to Hawai'i's House of Representatives. In 1964 she was elected to the United States House of Representatives.
Throughout her political career, Mink fought for equal opportunities for women. One of Mink's greatest legislative achievements was the passage of Title IX of the federal Education Amendments, which ensured equal financing for women's athletic and academic programs at federally funded institutions. Mink also helped pass the Women's Education Equity Act in 1974 which funded programs to promote gender equity in schools, to create more educational and job opportunities for women, and to remove sexist stereotypes from school curricula and textbooks. In an interview Mink explained her support for women's rights: "because there were only eight women at the time who were Members of Congress, that I had a special burden to bear to speak for [all women], because they didn't have people who could express their concerns for them adequately. So, I always felt that we were serving a dual role in Congress, representing our own districts and, at the same time, having to voice the concerns of the total population of women in the country."
Mink overcame racial and gender discrimination to fight for the rights of those that did not have a voice. Mink introduced and sponsored education acts that established bilingual and special education programs and advocated for a universal health care plan to ensure that people of all backgrounds and walks of life received the medical treatment they needed.
Toni Ko (1973- )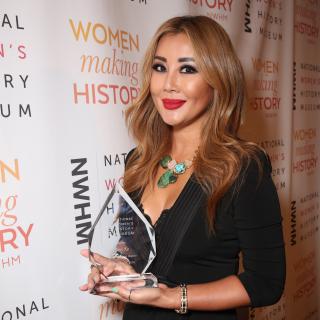 Toni Ko, a first-generation Korean immigrant has made a name for herself in the business world. Thanks to her work ethic and business savvy, Ko was recently named one of Forbes' richest self-made women.
Ko moved to California from Dageu, South Korea with her family in 1986 when she was 13 years old. As a teenager she learned the ins and outs of business working for her family's perfume and cosmetics retail store after school and on weekends. Ko's passion for makeup inspired her to fill a gap in the beauty market by creating department store quality cosmetics for drugstore prices.
In 1999 by the age of 25, Ko had started her company NYX Cosmetics with the financial assistance of her parents. She started off doing everything on her own and quickly grew her company through her savvy use of social media. Ko soon gained the attention of L'Oreal who purchased the company for $500 million in 2014. After a brief retirement, she used her entrepreneurial skills to launch her current company, Perverse Sunglasses in 2016.
Ko continues to be an inspiration to female entrepreneurs. Her advice to women is: "Stand your ground! Don't let people, your surroundings, or events intimidate you. Speak up, speak loudly, and be demanding of what you want."