The Abduction of Olive Oatman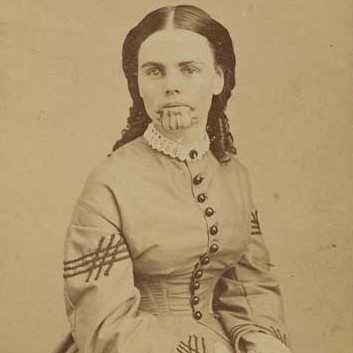 Credit
Benjamin F. Powelson/National Portrait Gallery
Olive Ann Oatman was just an 11-year-old girl in the summer of 1849 when her father, Royse Oatman, a former farmer and store-owner from New York, decided to relocate her, her mother, three sisters, and three brothers to the New Mexico Territory (now Arizona). Royse Oatman could not have known the tragic and horrific fate that would befall his family, and so with a mind to forge a better life for them, he and his family joined a colony of Brewsterite Mormons planning to settle in the Yuma area.
Some 50 colonists, including the Oatman clan, gathered at Independence, Missouri in the Spring of 1850. They organized a wagon train under James Brewster and on August 10, embarked on their perilous journey down the Santa Fe Trail. It did not take long for dissension to cause confusion and conflict among the wayfarers and to cause the group to split. Eight of the wagons now followed the Rio Grande-Gila route with Royse Oatman at the helm. With a shift in his objective and a new determination to go to California, Oatman led his party with little mercy. They rode long and hard under the sun's oppressive heat and atop the unruly terrain, and when several of his oxen collapsed from exhaustion and members of the crew wanted to stop and rest, Oatman forged on with his family, fearing that his stock would perish before reaching California.
The Oatmans had been traveling for nearly a year by March 18, 1851. The family was moving along the Gila River (later known as Oatman flat) when some 19 Yavapai attacked them. They were eighty miles from Fort Yuma. Young Olive, now thirteen, watched in horror as her mother, father, brothers and sisters were bludgeoned in their heads with war clubs until they died. Only she and her sister, Mary Ann, aged seven, were spared. Her brother Lorenzo, fifteen, was left for dead but managed to escape.
Olive and Mary Ann were abducted and brought to a Yavapai rancheria where they were "made to be drudges for the village and often beaten. In their new lives the young girls were expected to bring wood, tend fires, gather grass seeds" and perform other tasks. A year past and the Yavapai sold the Oatman sisters to some visiting Mohaves, who took them on foot to their village on the Colorado River north of Bill Williams Fort. "The Mohave lived in better shelters than the Yavapai's wickiups and they treated the sisters with more kindness– providing them with ground on which to grow wheat, corn, and melons. [Historians] have found evidence that the girls were reasonably happy in their captivity."
Olive and Mary Ann were both marked with blue tattoos on their chins, a tattoo that all Mohave women wore. Tattoos were a way of identifying people in the afterlife. "[They] pricked the skin in small regular rows on our chins with a very sharp stick, until they bled freely," Olive would later write.
A drought plagued the region in 1853 causing crops to dry up and many Indians to starve. Young Mary Ann grew too weak to accompany Olive on her hunts for seeds, roots and other grains and she died. Meanwhile, Lorenzo Oatman, who was left for dead during his family's massacre had been rescued by Maricopa Indians and returned to the families that had stayed behind when his father insisted on moving towards California. They took him to Fort Yuma and immediately began a frantic effort to trace his sisters' whereabouts. His efforts were successful and on Feb. 22, 1856 the Fort Yuma Commandant sent Fransisco, a Yuma Indian who helped trace Olive Oatman to the village in Mohave Valley, to arrange for her release. She was released and brought to the post.
Olive had assimilated so well into Mohave culture during the four years that she lived among them that she had nearly forgotten English. But after returning to the east to live with relatives in Albany, New York and attending school, she quickly regained her mother tongue. She shared her story with a California Clergyman, Rev. Royal B. Stratton, who chronicled her experience in a book called Life Among the Indians; Being an Interesting Narrative of the Captivity of the Oatman Girls (1857). She also used her voice to share her harrowing story, giving lectures on her captivity and on customs of Native Americans. Olive eventually married John B. Fairchild in 1865 and relocated to Sherman, Texas. She remained there until her death in 1903.
Olive Oatman's legacy lives on and can be seen as an historical counterpart for the character of Eva on AMC's Hell On Wheels.
Edward T. James et al., eds., Notable American Women 1607-1950: A Biographical Dictionary. Cambridge: Belknap Press, 1971.