Emma Z. Rothberg, Ph.D
Associate Educator, Digital Learning & Innovation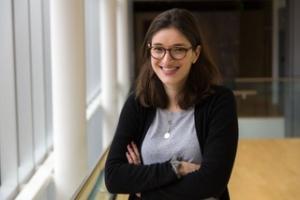 Emma Z. Rothberg, Ph.D. is the Associate Educator of Digital Learning & Innovation at the National Women's History Museum. Her activities include ensuring rich and diversified online educational experiences for virtual audiences, providing leadership and oversight to digital learning strategies, and digital assets management across the organization. She oversees the development, implementation, and evaluation of online educational programming.
Rothberg earned a B.A. in History from Wesleyan University and an M.A. and Ph.D. in History from the University of North Carolina at Chapel Hill. Her graduate research focused on gender, cultural, and urban history in the United States. Prior to joining the National Women's History Museum as Associate Educator, she served as the U.S. Supreme Court Justice Ruth Bader Ginsburg Predoctoral Fellow in Gender Studies, 2020-2022 at NWHM and as the Co-Director of the Digital History Lab at UNC from 2019-2021.
Rothberg's professional interests include the role of digital humanities in expanding public awareness and knowledge of history.