Lisa Marsh Ryerson, Secretary
President, AARP Foundation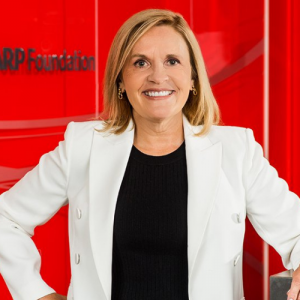 Lisa Marsh Ryerson is president of AARP Foundation, the charitable affiliate of AARP. A bold, disciplined and collaborative leader, she sets the Foundation's strategic direction and steers its efforts to realize an audacious vision: a country free of poverty, where no older person feels vulnerable. Since she took the helm, AARP Foundation has developed pioneering initiatives, explored new avenues for collaboration, and secured unprecedented funding to support programs and services that truly change lives.
Ms. Ryerson has spearheaded innovative partnerships with other organizations to create and advance effective solutions that help vulnerable older adults increase their economic opportunity and social connectedness. These include The Root Cause Coalition, co-founded by AARP Foundation and ProMedica, which brings the full power of health care to bear in the collective fight to address the root causes of health disparities by focusing on hunger and other social determinants of health. The Foundation's newest collaborative effort, Connect2Affect, draws together aging, volunteer and health care organizations to help end isolation and build the social connections older adults need to thrive.
During her tenure, the Foundation has launched initiatives that include Age Strong, the Summer of Service to Seniors ℠, Work for [email protected]+, the Aging in Place $50K Challenge, and evidence-based grantmaking. The Foundation also brought Experience Corps under its umbrella and expanded the reach and outcomes of its workforce programs including its longstanding sponsorship of the Senior Community Service Employment Program (SCSEP).
Ms. Ryerson's expertise in higher education — through over 18 years of service as the president and CEO of Wells College in Aurora, N.Y. — has enabled her to build new links between AARP Foundation and higher education. This includes work with community colleges to increase employment opportunities for older adults. During her first year at the Foundation, she helped procure a $3 million federal grant from the Social Innovation Fund to expand the BACK TO WORK 50+ retraining program for the long-term unemployed. Other achievements include the release of a groundbreaking report on the state of housing for America's older adults and implementing an "innovation pipeline" to generate, test and analyze new ideas to help low-income seniors.
She also has served on the boards of numerous higher education and nonprofit organizations, both at the local and national level.  These include the National Association of Independent Colleges & Universities, Southern New Hampshire University, the Congressional Hunger Center, the Root Cause Coalition, and L.A. Kitchen.
Ms. Ryerson holds a Bachelor of Arts from Wells College and a Master of Science from the State University of New York College at Cortland. Lauded for her leadership, she has received numerous awards and honors. Ms. Ryerson has an Honorary Doctor of Humane Letters from the State University of New York at Albany for having "met and exceeded each of John Quincy Adams' standards for leadership"; an Honorary Doctor of Humane Letters from Southern New Hampshire University; and most recently an honorary degree of Doctor of Social Services from Dickinson College.