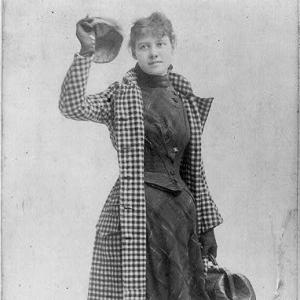 In 1887, Nellie Bly stormed into the office of the New York World, one of the leading newspapers in the country. She expressed interest in writing a story on the immigrant experience in the United States. Although, the editor declined her story he challenged Bly to investigate one of New York's most notorious mental hospitals. Bly not only accepted the challenge, she decided to feign mental illness to gain admission and expose how patients were treated. With this courageous and bold act Bly cemented her legacy as one of the foremost female journalists in history.
Nellie Bly was born Elizabeth Jane Cochran on May 5, 1864. Her family owned a lucrative mill in Cochran, Pennsylvania. At the age of six, Bly lost her father. Unable to maintain the land or their house, the family moved. Her mother also remarried but later divorced due to abuse. While attending Indiana Teacher's College, Elizabeth added an "e" to her last name becoming Elizabeth Jane Cochrane. Due to the family's financial crisis she was unable to finish her education. No longer in school, Bly focused on helping her mother run a boardinghouse. One day an upset Bly decided to pen an open letter to the editor of the Pittsburgh Dispatch. Her short but important piece pointed out the paper's negative representation of women. The editor not only read Bly's response, he printed her rebuttal, and offered Bly a job as columnist. As a newspaper writer, she took the pen name Nellie Bly. Although Bly was a popular columnist, she was often asked to write pieces that only addressed women.
Wanting to write pieces that addressed both men and women, Bly began looking for a paper that would allow her to write more serious work. In 1886, she moved to New York City. As a woman, Bly found it extremely hard for her to find work. After pretending to be mentally ill for 10 days, the New York World published Bly's articles about her time in the insane asylum on Blackwell's Island in a six-part series. Ten Days in a Mad-House quickly made Bly one of the most famous journalists in the United States. Furthermore, her hands-on approach to stories developed into a practice now called investigative journalism. Bly's successful career reached new heights when she decided to travel around the world after reading the popular book Around the World in 80 Days. Her trip only took 72 days, which was a world record. Bly would only hold it for a few months.
In 1895, Bly married millionaire Robert Seamen and retired from journalism. Bly's husband died in 1903 leaving her in control of a massive manufacturing company. In business, her curiosity and independent spirit flourished. Bly went on to patent several inventions related to oil manufacturing, many of which are still used today. In her later years Bly returned to journalism, covering the woman suffrage movement and World War I. While still working as a writer Bly died from pneumonia on January 27, 1922.
Lutes, Jean Marie. "Into the Madhouse with Nellie Bly: Girl Stunt Reporting in the Late Nineteenth Century America." American Quarterly, 54 no 2. (June 2002) 217-253.
PHOTO: Library of Congress
MLA – Norwood, Arlisha. "Nellie Bly." National Women's History Museum. National Women's History Museum, 2017. Date accessed.
Chicago- Norwood, Arlisha. "Nellie Bly." National Women's History Museum. 2017. www.womenshistory.org/education-resources/biographies/nellie-bly.
Bly, Nellie. Ten Days in the Madhouse.  New York, Nellie Bly Press, 2017.

Goodman, Matthew.

Eighty Days: Nellie Bly and Elizabeth Bisland's History-Making Race Around the World

.

Kroeger, Brooke.  Nellie Bly: Daredevil, Reporter, Feminist, New York: Crown, 1994.